Remember when Pod2g announced that the upcoming iOS 5.1.1 jailbreak would be "some weeks away?" We're not even at two weeks and Pod2g just announced that the jailbreak is near ready for release, only "a matter of days" according to his new estimate, thanks to work from Planetbeing and Pimskeks.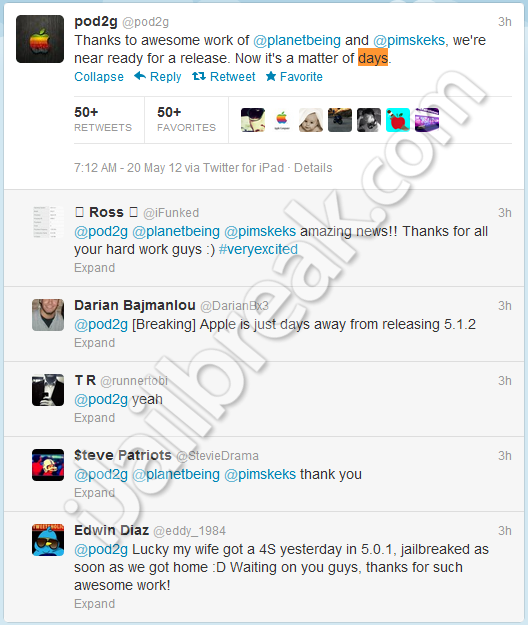 David Wang, (@Planetbeing), is a developer who was part of the "Dream Team" that introduced the iPhone 4S and iPad 2 untethered jailbreak for iOS 5.0.1. You might remember him for his involvement in the iPhone 3G port of the Android operating system. Wang's contribution to the previous unlock involved getting A5 devices out of sandbox.
Nikias Bassen (@Pimskeks) is a iOS developer/hacker affiliated with the Chronic Dev Team, and was part of libimobiledevice, which was an effort to bring iPhone, iPad, and iPod Touch support to Linux platforms (the current release works with all iPhone models). Bassen was also involved in iOS 5.0/5.0.1 Absinthe jailbreak.
Thanks to this Dream Team of highly capable homebrew developers, the iOS 5.1.1 jailbreak progressed faster than expected. For third generation iPad owners, and those of you who can't downgrade with SHSH blobs, the new jailbreak will allow you to install all the tweaks and Cydia apps you've been missing. (I don't even want to imagine what I'd do without SBSettings.) The iOS 5.1.1 jailbreak is set to release in a few days, so check back to iJailbreak.com for more updates.
Will you be installing iOS 5.1.1 when the jailbreak is released, or are you going to stay at iOS 5.0.1? (Reconfiguring an iPhone can take an afternoon, so I find.) Let us know in the comments section below if you will be taking part in the upcoming jailbreak.