Half hour ago we told you the Dev-Team released a new version of the PwnageTool that supports jailbreaking the iOS 4.2.1 firmware untethered.This means that you can now upgrade to the iOS 4.2.1 firmware without updating your iPhones baseband. A perfect solution for all of you users who have been stuck on the iOS 4.1 firmware and are just dying to update. Besides obviously the added ability to jailbreak and preserve your iPhone's baseband, this new version of the PwnageTool also patches Apples anti-jailbreak iBooks error. Meaning you can now browse through your iBooks on a jailbroken iDevice.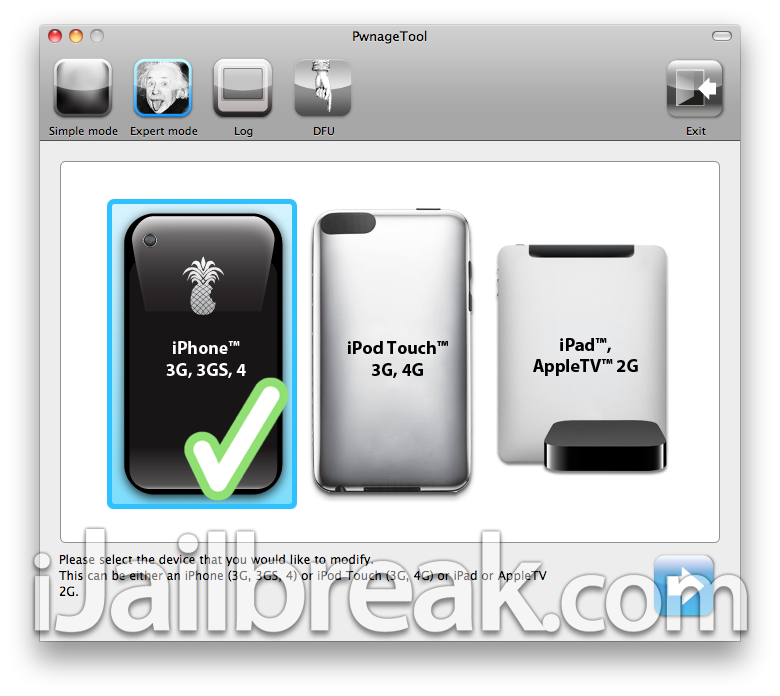 Note: This new version of the PwnageTool (4.2) supports all iDevices except the iPod Touch 2G.
Step 1) – The first thing you will need to do is download the PwnageTool to your Desktop (Click the download link below).
Download PwnageTool 4.2
Note: The PwnageTool tool is only available for the MAC OS X operating system.  If you have Windows, it is possible to run the PwnageTool but only via VMWare (we may make a tutorial on how to do this at a later date).
Step 2) – Once you have downloaded the PwnageTool, you are going to need to now run it. Once the PwnageTool is up and running, click okay to the pop-up window. Now if you have never used the PwnageTool you will notice there are many options presented to you. We will guide you through to process so do not get overwhelmed. The first thing you must do is click on the expert mode button in the top left hand corner of the screen (you will notice by default, Simple mode is selected, but we want Expert mode).
Now once you ensure Expert mode is selected, you will need to select the iDevice you are going to jailbreak, once you do select your iDevice a big check mark will appear over the one you selected. Click the Blue Arrow to continue…
Step 3) – In this window you will be selecting your iOS 4.2.1 firmware.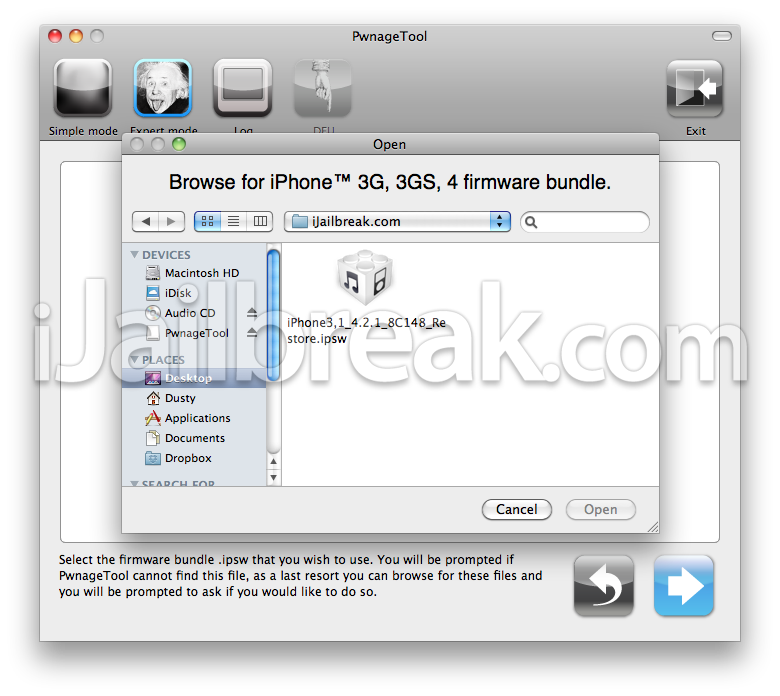 Once you have selected your firmware file, please click the blue arrow to continue…
Step 4) – Once you have clicked the blue arrow you should be at a screen with several options. From this screen you can go through the process of customizing your jailbreak.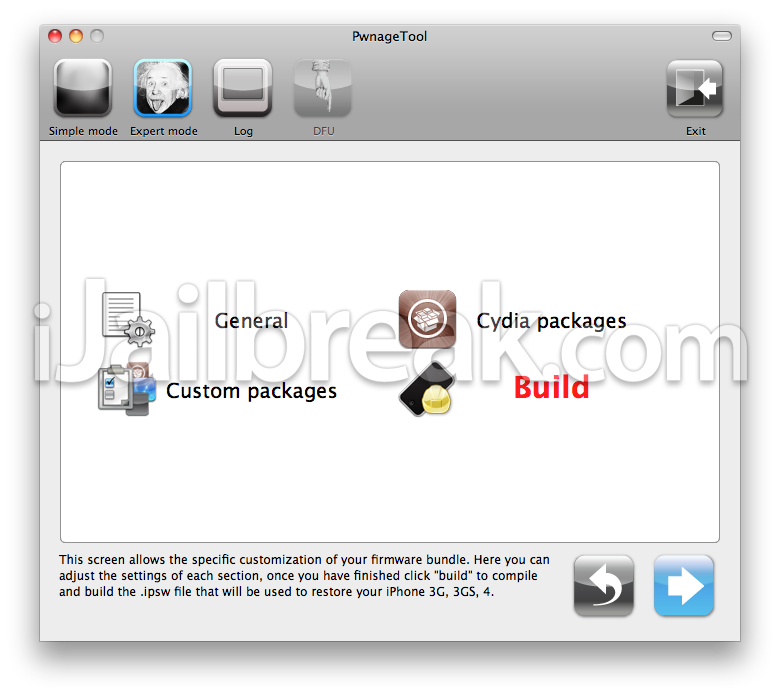 Note: The only important thing to note here is if you are using an unofficial carrier. If this is the case make sure you select the activate iPhone option.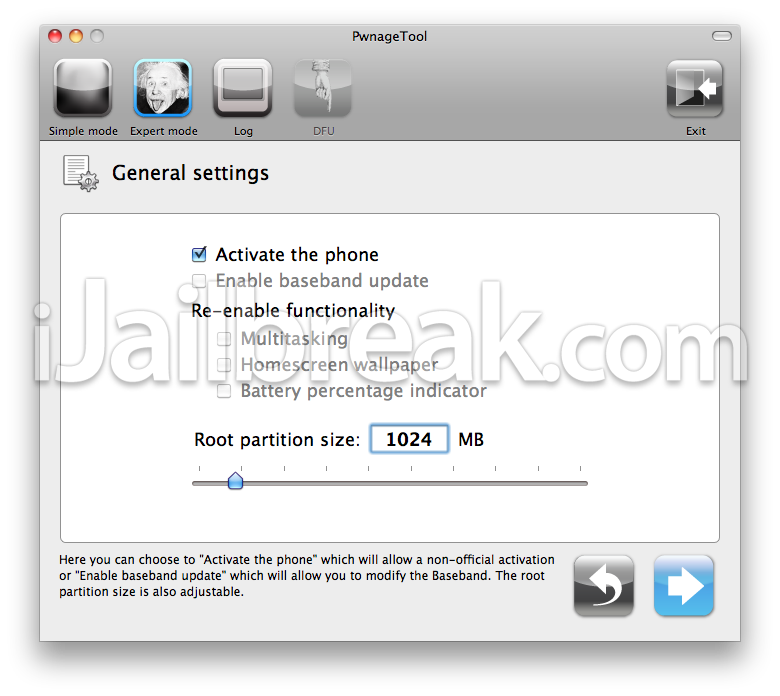 Once you are done customizing your jailbreak, you will need to go back to the main screen and click the build button.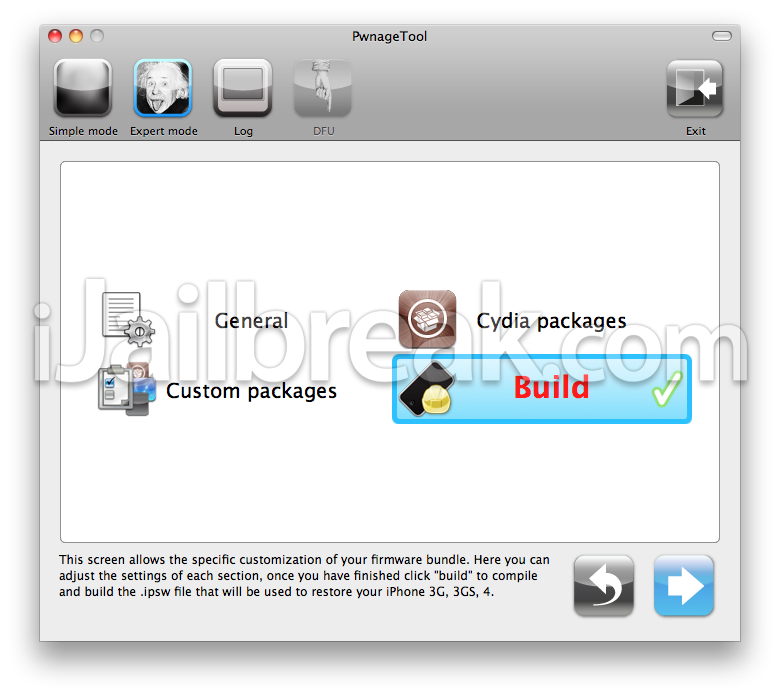 You will then need to select a directory to save your custom firmware file to. Once you do this you simply need to wait for it to build. This can take a few minutes…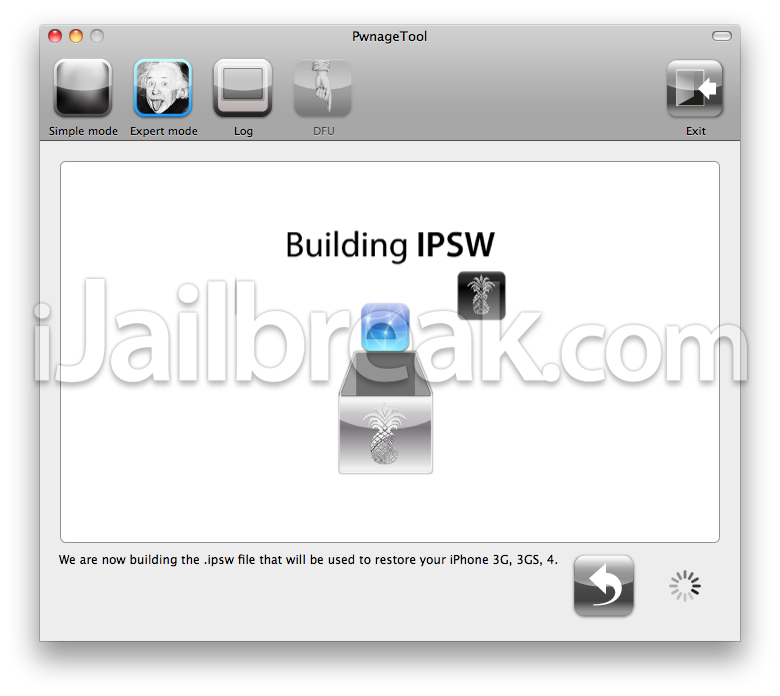 Step 5) – Once you have built your custom IPSW, you will need to put your iPhone 4 into DFU mode.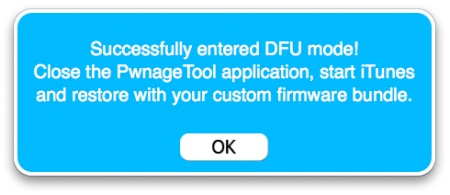 Follow the on-screen instructions that the PwnageTool presents to you:
Hold Power and Home buttons for 10 seconds
Now release the Power button but continue holding the Home button for 10 more seconds
You device should now be in DFU mode
Step 8 ) – Once your iDevice is successfully in DFU mode, iTunes should pop-up saying your iDevice is in recovery mode (it is actually in DFU mode), iTunes will also prompt you to restore your iDevice. Hold down the ALT button and click on the restore button, you can now browse and select your custom firmware file you created. Once you have selected this firmware file, simply wait for it to be restored on your iPhone.
Note: Ensure you do not do anything to disturb your iDevice, while iTunes is restoring the custom iOS 4.2.1 firmware file.

Once your iDevice has been successfully restored to the custom iOS 4.2.1 firmware, you should notice your iDevice is now jailbroken untethered on the iOS 4.2.1 firmware (Cydia should be on your SpringBoard). Please let us know if you have any questions related to this tutorial.