If you currently run a form of the the Linux operating system on your computer like Ubuntu. You will be glad to know that you can now Jailbreak your iPad 2 Untethered on the iOS 5.0.1 firmware with Absinthe v0.3 for Linux. Thus, without further a due, in this how to from iJailbreak.com you will learn how to Jailbreak your iPad 2 running the iOS 5.0.1 firmware with Absinthe for Linux.
Linux iPad 2 Untethered Jailbreak Absinthe
Perquisites: The first thing you need to do before starting this how to is make sure your iPad 2 is backed up. As the Absinthe Jailbreaking tool was just released, there is a good chance that you may experience an error Jailbreaking it. Thus, it is always a good idea to make sure all your content on your iPad 2 is backed up. Additionally, if you iPad 2 has a passcode lock you must disable it, and furthermore you will need to disable any current VPN's setup on your iPad 2.
Recommendation: It is our personal recommendation that you restore your iPad 2 to factory settings on the iOS 5.0.1 firmware. This will dramatically reduce the chance you have of experiencing an error while Jailbreaking it.
Step 1) – The first thing you will need to do is ensure that you have libimobiledevice installed on your Linux machine. If your Linux computer recognizes your iPad 2 when you plug it into your computer then chances are you have this library installed. If Linux does not recognize that you have an iPad 2 plugged into your computer then you will need to open up terminal and type in the following commands:
sudo add-apt-repository ppa:pmcenery/ppa
sudo apt-get update
sudo apt-get install libimobiledevice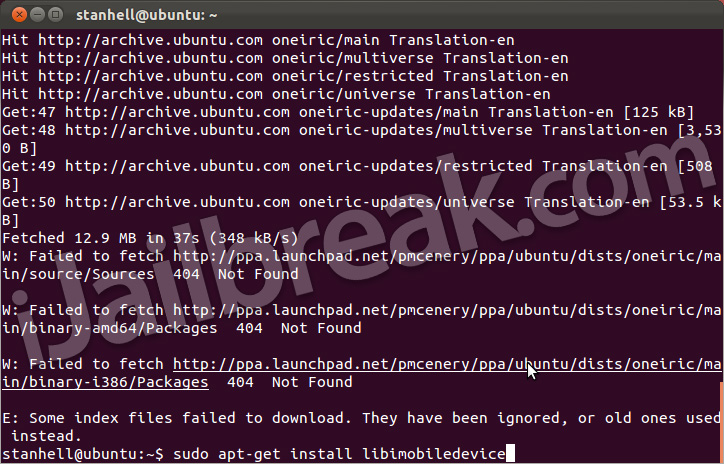 Note: Please keep in mind that these commands are for Ubuntu (the form of Linux I am using), and may not work with other forms of Linux. Additionally, if you are having troubles please click here, or go to the official libimobiledevice by clicking here. Lastly, if you are getting errors with the last command, you may need to go into the Ubuntu software center and search for libimobiledevice.
Step 2) – The next thing you will need to do is download the latest version of the Absinthe Jailbreaking tool from the iJailbreak Downloads Section or from one of the direct download links below. It is always recommend that you check the iJailbreak Download Section, however, to ensure that you are downloading the latest version (we do not always update these guides with the up-to-date versions).
Download Absinthe 0.3 (Linux)
Step 3) – Launch the Absinthe Jailbreaking tool, from the directory you downloaded it to, by clicking the Absinthe app shortcut. If you are confused about which version to launch please keep in mind that for x86 machines you will want to use the absinthe.x86 shortcut, and for 64-bit machine  you will want to use the absinthe.x86_64 shortcut.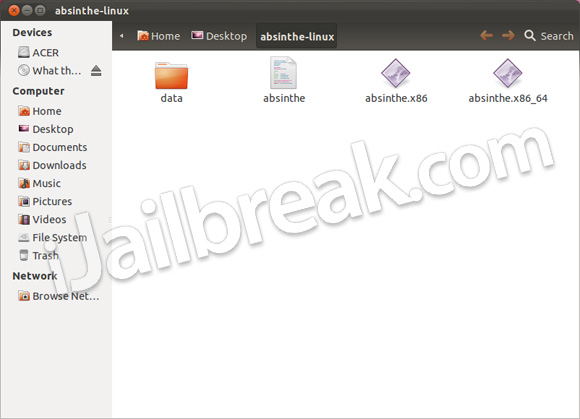 Step 4) – Once Absinthe is running you will need to plug your iPad 2 into your computer (if you have not done this already). Upon doing this Absinthe should recognize your iPad 2, and once this happens, you will need to click the Jailbreak button in the middle-right side of the screen.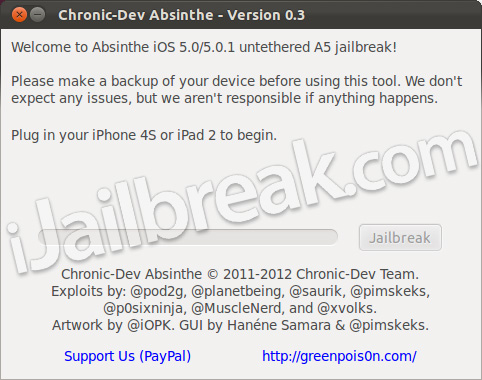 When you click the Jailbreak button your iPad 2 will look like it is being officially restored through iTunes; it should say something along the lines of "restore in progress."
Step 5) – Once your iPad 2 reboots you can slide-to-unlock it and then on your Springboard (homescreen) you should notice a new Absinthe icon. Tap this Absinthe icon now, the official GreenPois0n website should appear for an instant, and then your iPad 2 will reboot. Upon being rebooted you should notice that Cydia takes the place of the prior Absinthe icon. Congrats! You have just Jailbroken your iPad 2 Untethered running the iOS 5.0.1 firmware with Absinthe for Linux. As always, if you have any questions or thoughts related to this tutorial please leave them in the comments section below…