Apple released the 4.4.4 (9A406a) firmware for the Apple TV 2G yesterday, and to go along with this firmware update the FireCore Dev-Team released an update for Seas0nPass. In this updated version of Seas0nPass you can Jailbreak the 4.4.4 firmware that includes new features such as AirPlay Mirroring, Photo Stream, Trailers and a few other minor applications. In this How To guide from iJailbreak.com you will learn how to Jailbreak the Apple TV 2G running the 4.4.4 Apple TV firmware using Seas0nPass.
Jailbreak Apple TV 2G 4.4.4
Step 1) – First, you will need to do download Seas0nPass for Windows from our downloads section (mirror #1).
Step 2) – The next thing you will need to do is extract Seas0nPass (to the destination of your choice).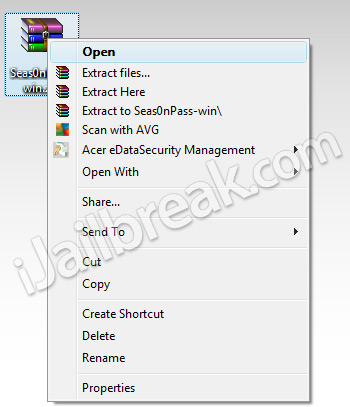 Step 3) – Once Seas0nPass is extracted you will need to double click the Seas0nPass.exe file.

Step 4) – When Seas0nPass has launched you will notice two options presented to you – Create IPSW and Boot Tethered.
You will need to Hold down the shift key, click the Create IPSW Button and then select the firmware version your Apple TV 2G is currently running (this should be 4.4.4).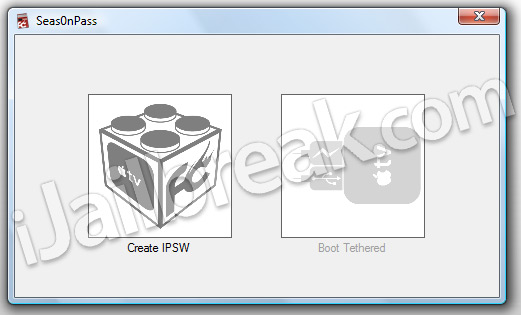 Step 5) – Seas0nPass now will begin creating your Jailbroken IPSW.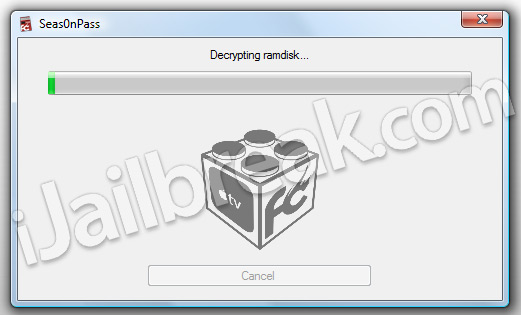 Step 6) – Once SeasonPass has created the custom IPSW you will be prompt to connect your Apple TV 2G into your computer and put it into DFU mode (follow the on-board instructions). Once your Apple TV 2G is in DFU mode Seas0nPass will automatically open iTunes and start the restore process.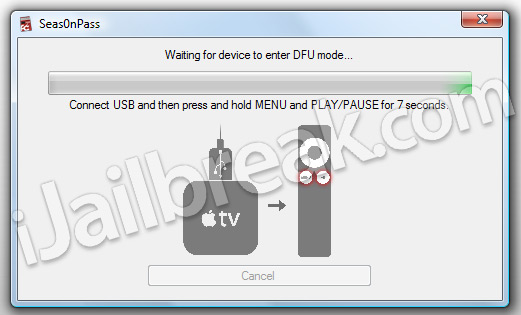 Your Apple TV 2G should now be Jailbroken on the 4.4.4 firmware. Congratulations!
Booting Tethered With Seas0nPass
As this is a tethered Jailbreak you will need to boot your Apple TV 2G using Seas0nPass anytime it loses power or you need to restart it. In order to boot your Apple TV 2G tethered you will simply need to launch Seas0nPass, click the Boot Tethered Button, and finally follow the instructions for putting your Apple TV 2G into DFU mode.
Note: The Apple TV MUST be disconnected from the computer (for at least a brief moment) after restoring in iTunes for the tethered boot process below to work properly.
If you have any questions or concerns please leave them in the comments section below…