A few hours ago we told you that the Dev-Team released RedSn0w 0.9.6RC15 for the iOS 4.3.3 untethered jailbreak. Though jailbreaking with RedSn0w is not an extremely hard process, we have written this guide for all of you who would like a helping hand. In this specific how-to guide from iJailbreak.com you will learn how to jailbreak your iPhone, iPod Touch or iPad running the iOS 4.3.3 firmware untethered using RedSn0w 0.9.6rc15.
Compatibility Note: The untethered iOS 4.3.3 jailbreak is not compatible with the iPad 2 at this time.
Step 1) – The first thing you will need to do is download RedSn0w 0.9.6rc15.
Download RedSn0w 0.9.6rc15 (Mac OS X)
Download RedSn0w 0.9.6rc15 (Windows)

Step 2) – Once you have downloaded RedSn0w 0.9.6rc15 to your desktop, you will need to launch it. Do this now by clicking the executable file (for Windows) or by clicking the application (for Mac OS X).
Step 3) – Once RedSn0w is up and running, you will simply need to browse for the iOS 4.3.3 firmware that corresponds to your iDevice.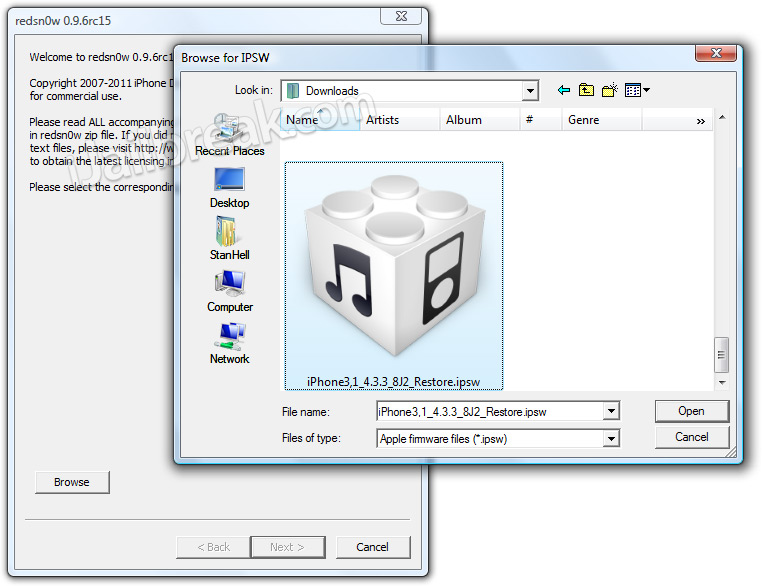 Windows Note: Your iDevice's firmware files are stored in the following directory:
Windows Vista & 7: C:UsersAppDataRoamingApple ComputeriTunesiPod Software Updates
Windows Xp: C:Documents and SettingsApplication DataApple ComputeriTunesiPod Software Updates
Mac OS X Note: Your iDevice's firmware files are stored in the following directory:
~/Library/iTunes/iPhone Software Updates
If you can't find your iDevice's iOS 4.3.3 firmware file, you can download your corresponding firmware file by clicking here (iPhone/iPod Touch) and clicking here (iPad).
Once you successfully select your firmware file through RedSn0w it will say "Processing firmware" then "IPSW successfully identified".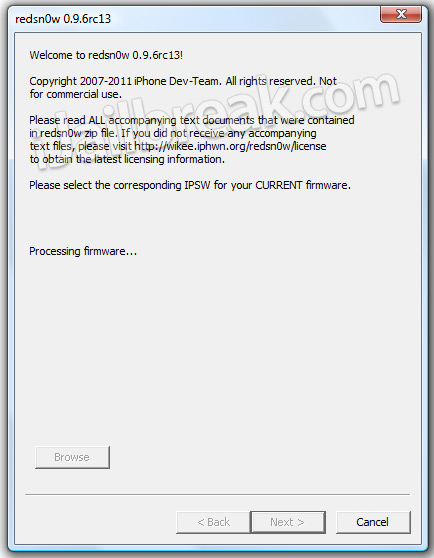 Click the next button to continue (when you do this RedSn0w will begin preparing jailbroken data).
Step 4) – The next screen you will be brought to is a screen that features multiple checkboxes. The only checkbox that must be enabled is Cydia (as this is the default jailbreak installer); the rest of the checkboxes are optional and should only be checked if you know what you're doing.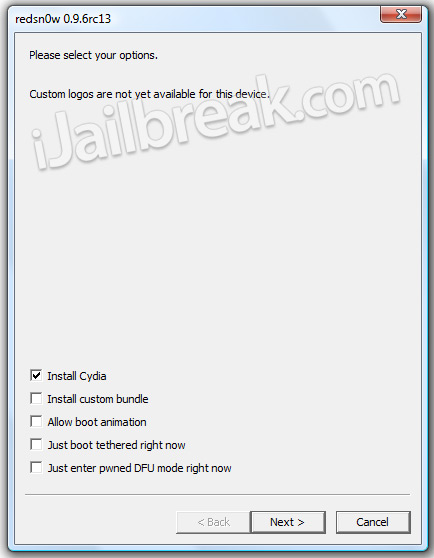 When you have ensured Install Cydia is checked you can click the next button.
Step 5) – From this next screen the only thing left for you to do is put your iDevice into DFU mode. You will need to make sure that you turn your iDevice off, and you plug your iDevice into your computer before clicking the next button.
Once you have done this, click the next button and follow the on-screen instructions.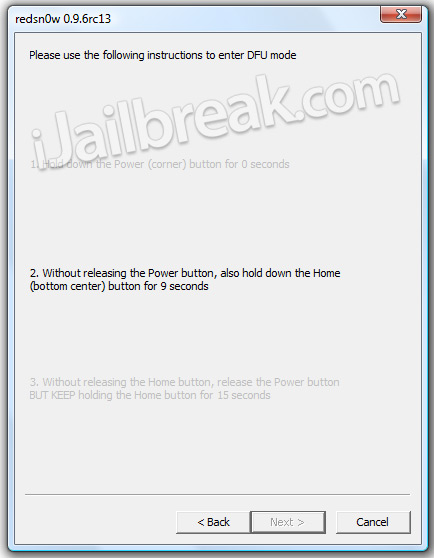 Step 6) – Once your iDevice is into DFU mode, RedSn0w will handle the rest of the jailbreaking process. You just need to sit back and watch RedSn0w perform its jailbreaking magic. Once your iDevice is done being jailbroken, it will reboot and you should see Cydia on your SpringBoard. This means the jailbreak has been carried out successfully. Congratulations on jailbreaking your iDevice untethered on the iOS 4.3.3 firmware.
Let us know if you were able to jailbreak your iDevice with RedSn0w 0.9.6rc15 in the comments section below. Also if you experienced any difficulties please share them with us and we will try our best to help you out.
Important Update: If you are running Windows 7 and are having problems, be sure to run with CPU affinity 1.
To do this:
Launch RedSn0w
Press CTR ALT DELETE
Go into the Processes Tab
Select RedSn0w.exe
Right click on the RedSn0w.exe and click the set affinity option
Select CPU 1 and deselect the rest of the CPU's
Click OK and continue using RedSn0w