The PwnageTool was recently updated to version 4.3.3 to support jailbreaking the iOS 4.3.3 firmware untethered on the iPhone/iPod Touch/iPad/Apple TV 2G. The only iDevice that this version of the PwnageTool does not support is the iPad 2G! If you are interested in jailbreaking your iDevice with the PwnageTool 4.3.3 please follow the how to guide below…
Step 1) – The first thing you will need to do is download the PwnageTool to your Desktop (click the download link below).
Download PwnageTool 4.3.3 (Not working? Click here)
Note: The PwnageTool tool is only available for the MAC OS X operating system. If you have Windows, it is possible to run the PwnageTool but only via VMWare (we may make a tutorial on how to do this at a later date). Please follow our RedSn0w 0.9.6rc15 how to guide which will show you how to jailbreak the iOS 4.3.3 firmware untethered for Windows by clicking here.
Step 2) – Once you have downloaded the PwnageTool, you are going to now run it. Once the PwnageTool is up and running, click okay to the pop-up window. Now if you have never used the PwnageTool you will notice there are many options presented to you. We will guide you through to process so do not get overwhelmed. The first thing you must do is click on the expert mode button in the top left hand corner of the screen (you will notice by default, Simple mode is selected, but we want Expert mode).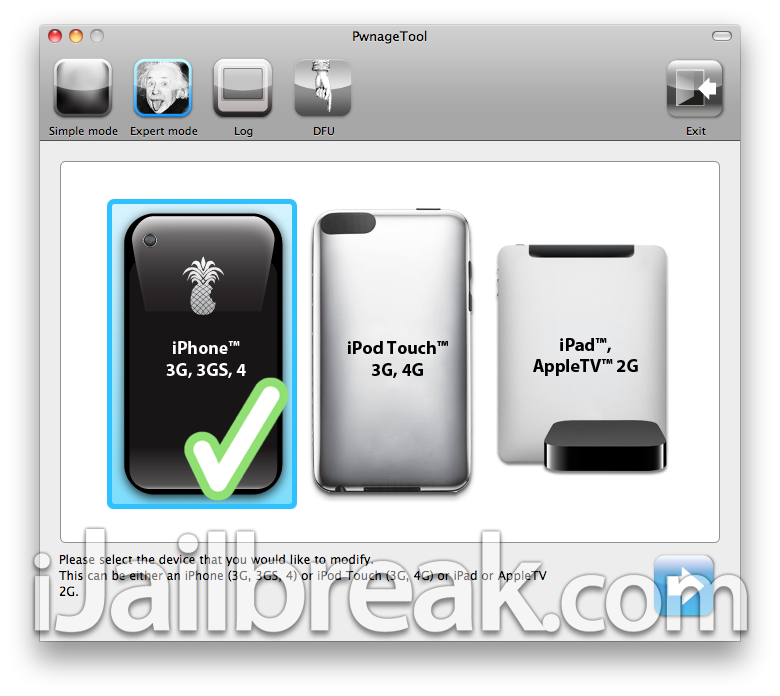 Now once you ensure Expert mode is selected, you will need to select the iDevice you are going to jailbreak, once you do select your iDevice a big check mark will appear over the one you selected. Click the Blue arrow to continue…
Step 3) – In the next screen you will be selecting the iOS 4.3.3 firmware that corresponds to the iDevice you are jailbreaking.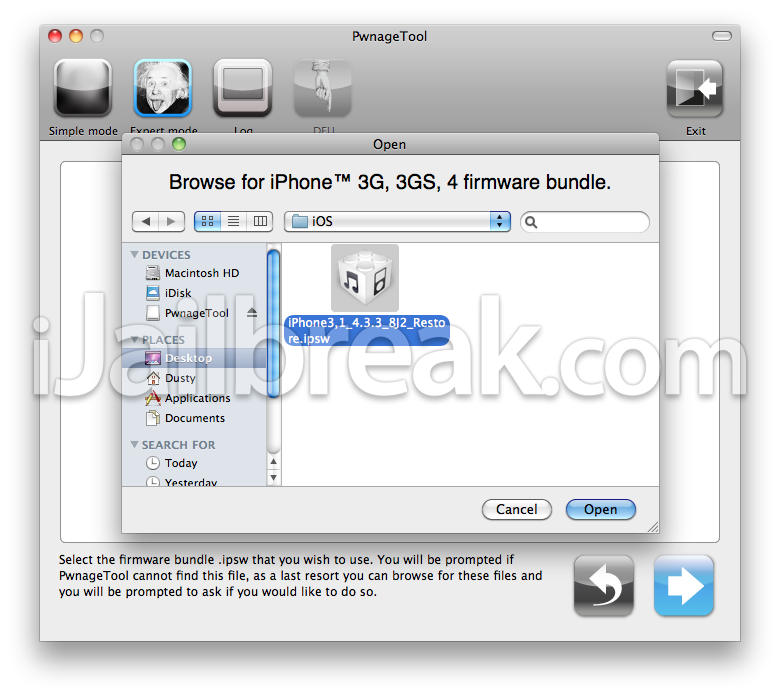 Mac OS X Note: Your iDevice's firmware files are stored in the following directory:
~/Library/iTunes/iPhone Software Updates
If you do not have the iOS 4.3.3 firmware you can click here (iPhone/iPod Touch) or click here (iPad) to download.
Once you have selected your firmware file, please click the Blue arrow to continue…
Step 4) – Once you have clicked the Blue arrow you should be at a screen with several options. It is from this screen you can go through the process of customizing your jailbreak.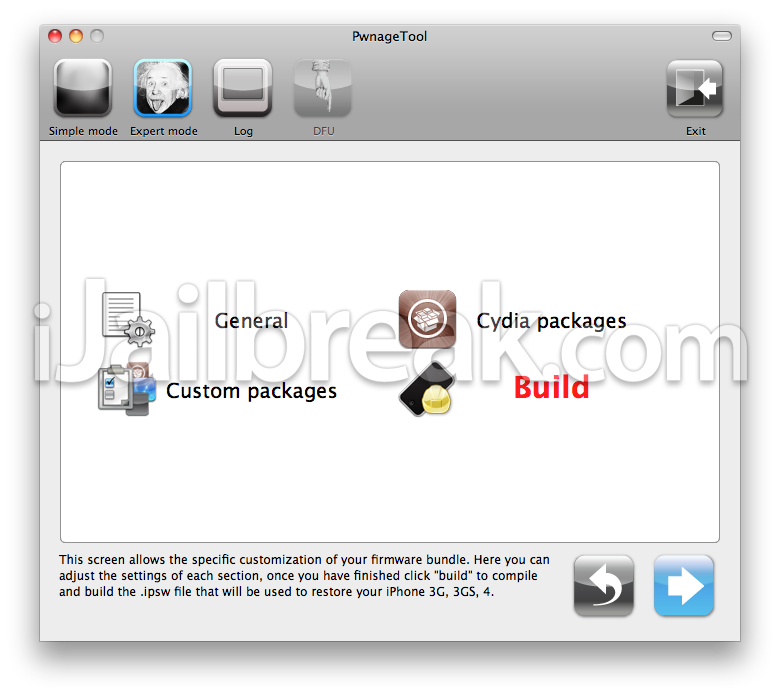 Here is a quick breakdown of what each of the tabs customize:
General Settings: From here you can customize features of your jailbreak such as root partition size (the amount of space dedicated to jailbroken apps), activation options for those of you using an unofficial carrier on your iPhone and you can also re-enable functionality for those on you jailbreaking older iDevices. Unlockers only: Ensure you click the activate the phone option if you are using an unofficial carrier on your iPhone.
Cydia Packages: In this area you can select Cydia packages to be pre-installed when you restore the custom firmware file to your iDevice.
Custom Packages: The only thing you need to ensure you do in this area, is that Cydia is selected to be installed.
Once you are done customizing your jailbreak, you will need to go back to the main screen and click the build button.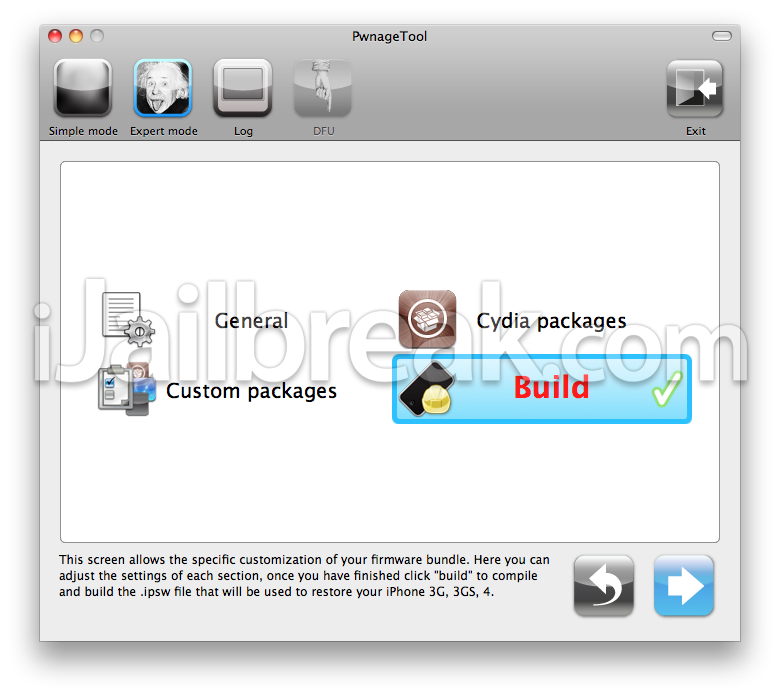 You will then need to select a directory to save your custom firmware file to. Once you do this you simply need to wait for it to build. This can take a few minutes…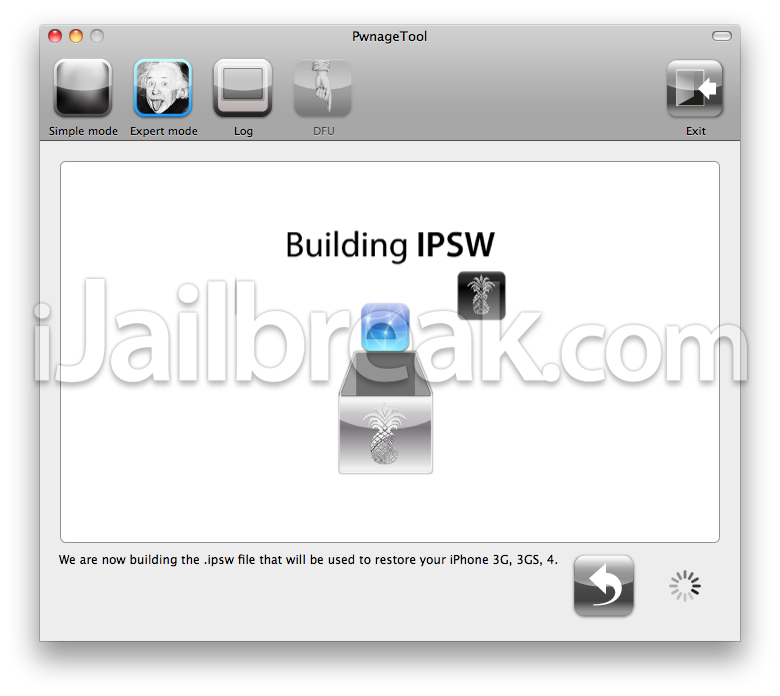 Step 5) – Once you have built your custom IPSW, you will need to put your iDevice into DFU mode so that you can restore this custom IPSW to your iDevice (through iTunes).
Follow the on-screen instructions that the PwnageTool presents to you:
Turn your iDevice off
Hold Power and Home buttons for 10 seconds
Now release the Power button but continue holding the Home button for at least 10 more seconds
You device should now be in DFU mode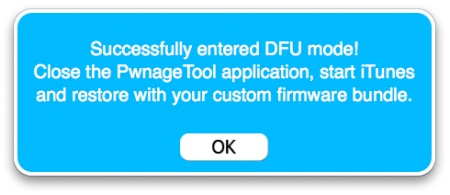 Step 8 ) – Once your iDevice is successfully in DFU mode, iTunes should pop-up saying your iDevice is in recovery mode (it is actually in DFU mode), iTunes will also prompt you to restore your iDevice.

Hold down the OPTION button and click on the restore button, you can now browse and select your custom firmware file you created. Once you have selected this firmware file, simply wait for it to be restored on your iDevice.
Note: Ensure you do not do anything to disturb your iDevice, while iTunes is restoring the custom iOS 4.3.3 firmware file.
Once your iDevice has been successfully restored to the custom iOS 4.3.3 firmware, you should notice your iDevice is now jailbroken untethered on the iOS 4.3.3 firmware (Cydia should be on your SpringBoard). Please leave any questions or comments in the comments section below. If you are having any kind of troubles we will try out best to help you.
If you want to now unlock your iPhone running the iOS 4.3.3 firmware please click here.