SBSettings is an essential Cydia utility for many jailbreakers, because it gives us immediate access to Settings toggles we use every day. It's theme-able, it's expandable, but it also is a utility that contains more depth and power than most users realize. The More button menu contains many hidden tools that advanced users should know about, but many of us don't.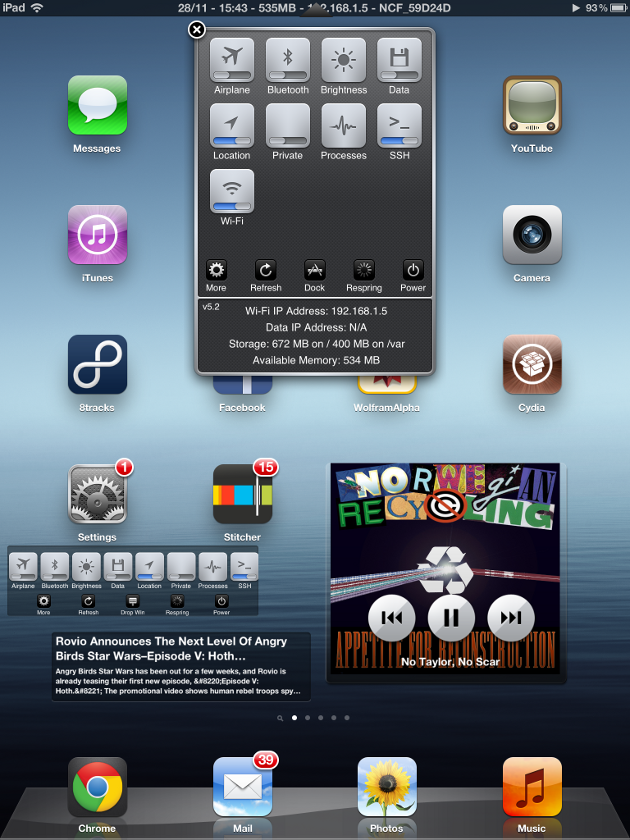 Basic Functions: The basic functions of SBSettings are features you are probably already familiar with, so we won't go into too much detail here. Most users think of SBSettings as the dropdown window or the toggle panel that appears in notifications. This is the panel where you can install and enable additional toggles through Cydia. You can also pin applications to the SBSettings panel, respring, reboot, and activate Safe Mode. You can set themes, set activation methods though activation, and even manage different lists for the Dropdown Window and Notification Center.
There's also an unassuming SBSettings Options menu under the SBSettings Setup header. Along with the settings you would expect for centering the dropdown window or disabling the dropdown animation, there's a section for Statusbar Options that allows for displaying the date, free RAM, your IP Address and WiFi SSD, all through the status bar–it can even change the clock to military time.
But that's not where the functionality ends. SBSettings contains advanced 'System Wide Options' header, which you might not have known were there–but can be incredibly helpful.
System Wide Options
Hide Icons: SBSettings contains a built-in menu that allows you to hide unwanted items from the SpringBoard. Never use the default calculator, calendar, or stocks pages? You might not be able to delete them normally, but you can take them out of sight and out of mind.
Mobile Substrate Addons: We've already covered Mobile Substrate Addons in its own troubleshooting article, but it's worth mentioning again. If you have a lot of tweaks on your iPhone, iPad, or iPod Touch, and you know one of them's acting up, but you don't know which one, you can save yourself the trouble of installing and uninstalling everything and disable groups of tweaks directly from the 'Mobile Substrate Addons' list–even tweaks that don't have toggles in Settings. Keep in mind that this tool is expressly for debugging purposes only–it should not be used as your day-to-day toggles panel, as you can screw up your phone if you're careless. WARNING: You should always make sure the tweaks in this panel are switched ON when you're uninstalling.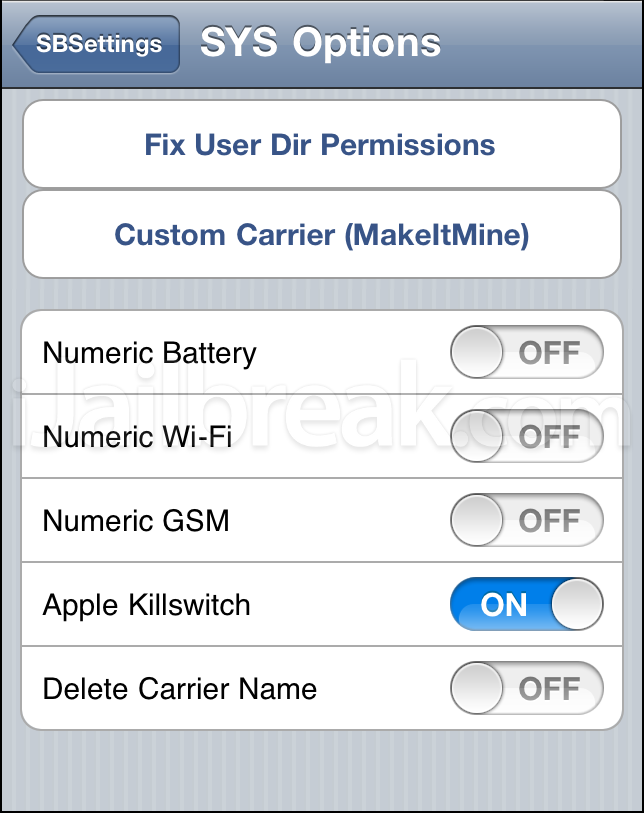 SYS Options: This page contains random features and toggles, but there are three items of interest. 1) There's a button that will set user permissions in Library and Media to 755–that you should not press, 2) a Custom Carrier button for the status bar, and more toggles. One of the toggles includes 3) the ability to disable Apple's Killswitch, which Apple could otherwise activate to disable any App Store app. (Altough the Apple Killswitch is a concern, as far as we know it's never been used to deactivate either legitimate or malicious apps.)
App Folders: By default, iOS' App Folders are an arcane mess of randomized hexadecimal gibberish which could take you hours to manually navigate through. We've already covered one method of quickly and permanently sorting through the randomized folder names in our Save Game Backup article, but if you want another method for poking around your program files SBSettings contains another method. Just click on any app on the list and you'll get the path to its application folder that you can look for in iFile or over a FTP client like WinSCP.

As you've seen, SBSettings isn't just a handy shortcut panel. The utility contains essential tools for jailbreak power users, some of which you might not have even realized were there.