The iPhone Dev-Team released an update for Redsn0w earlier which enables it to jailbreak iOS 4.2.1 which was released by Apple yesterday. The jailbreak is, however semi-tethered on newer devices. So any device but the iPhone 3G, older iPhone 3GS, and non-MC iPod touch 2G need a computer with redsn0w installed to boot the device into a jailbroken state.
I have just tried redsn0w out on my iPad and it worked flawlessly! Here's how to do it, the same process applies to other devices:
First download redsn0w from here, and of course update your device to iOS 4.2.1 in iTunes. Once you have done this open redsn0w and you will be presented with this screen:
Hit the "Browse" button and it will give you a popup to navigate to where the device's firmware is on your computer. (Popup shown below)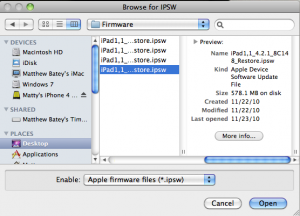 After selecting the firmware, you will be brought back to the first screen. Now just press "Next." redsn0w will now prepare itself and then give you some options. For this step all you need to do is make sure "Install Cydia" is checked and then press next again.
Now redsn0w will give you some on-screen instructions that will get your iPad into DFU mode. Just follow these carefully (there not too hard) and you'll be fine. :)
Once you've completed the previous step, redsn0w will now do the actual jailbreaking of the iPad and you can relax. Various things will happen on both the iPad and you computer:
Once done, you can hit finish in redsn0w and the iPad will start rebooting. This is where the tethered parts comes into play, unless you have a device previously mentioned that is unthethered. You iPad will boot, but no jailbreak apps will work. You will now need to open redsn0w again and follow the steps previously until you get to the option screen again. You now should only have "Just boot tethered right now" checked. Follow the DFU steps again and then your iPad will start rebooting with a nice Pwnapple :D
Now you can go on and open Cydia in the normal way and enjoy your jailbroken iPad on iOS 4.2.1.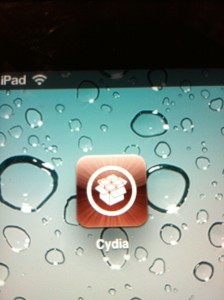 The process of booting tethered will have to be carried out every time you reboot if you want to enjoy the jailbreak stuff.
NOTE: This is not recommend on any device that you want to be able to unlock using ultrasn0w. Just stay away for now!