Just about an hour ago GreenPois0n RC5 was released, and with this release comes a fully untethered iOS4.2.1 jailbreak. This iOS 4.2.1 untethered jailbreak is stable, does not require the iOS 4.2b3 SHSH blobs, and right now ONLY works with the Mac OSX operating system (Sorry Windows users… Support will be coming soon don't worry).
As I am sure you already know, using tools like GreenPois0n and LimeRa1n are extremely easy to use. In fact they are so easy that a tutorial is not generally needed. Regardless of this, I am still going to provide you with a tutorial on using GreenPoison RC5 to untether the iOS4.2.1 firmware. As there are actually a couple of things you should know before just jumping the gun and jailbreaking your iDevice with GreenPois0n RC5.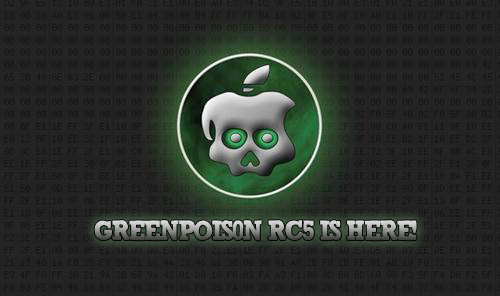 Before following this tutorial P0sixninja, the developer of GreenPois0n has made it quite clear that:
You must have a clean install of the iOS 4.2.1 Firmware (Yes, this means restoring)
This version does not hacktivate the iPhone
Right now this is MAC OS X only (Windows support coming soon)
Keeping the points above in mind, you can follow the steps below to jailbreak your iDevice with GreenPois0n RC5!
Step 1) – The first thing you are going to need to do is ensure your iDevice is running the iOS 4.2.1 firmware. This is the only firmware version that GreenPois0n RC5 supports. Note: You must also ensure that you are running a clean install of the iOS 4.2.1 firmware.
Step 2) – Once you are running a clean install of the iOS 4.2.1 firmware, you are going to have to download GreenPois0n RC5. You can do this by clicking our download link below.
Download GreenPois0n RC5
Step 3) – Once you have downloaded GreenPois0n RC5, you are going to need to launch GreenPois0n. When GreenPois0n is up and running you will now need to plug your iDevice into your computer via USB. Once your iDevice is successfully plugged into your computer, you can begin the jailbreaking process by clicking the jailbreak button (however make sure you are anticipating what comes next).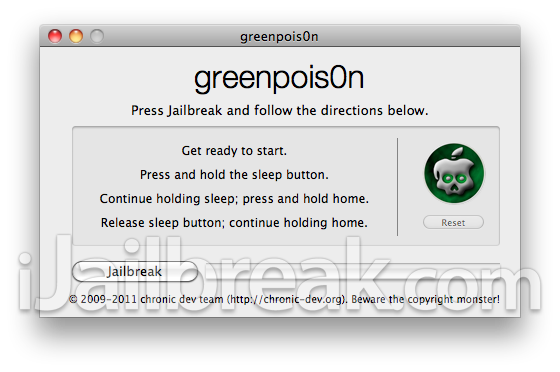 Once you click the jailbreak button you will then need to put your iDevice into DFU mode. GreenPois0n provides on-board instructions for putting your iDevice into DFU mode. Please follow the instructions exactly to avoid errors with your jailbreak.
Note: In case this is your first time jailbreaking, here is what to expect when putting your iDevice into DFU mode:
Get ready to start (5 seconds)
Press and hold the sleep button (3 seconds)
Continue holding sleep; press and hold home (10 seconds)
Release sleep button; continue holding home (10 seconds)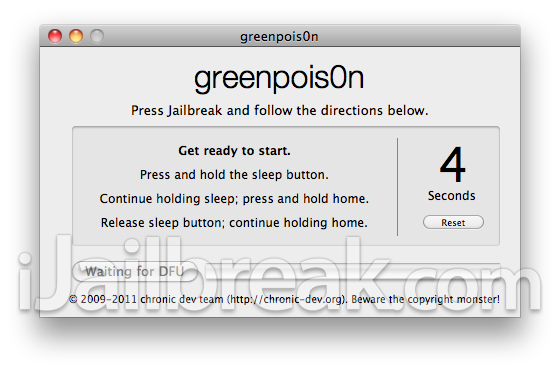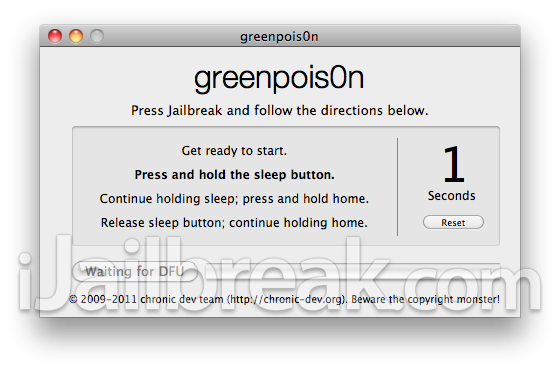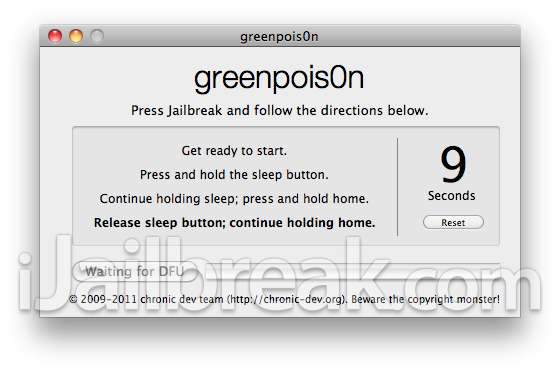 Step 4) – Once your iDevice has successfully entered DFU mode, GreenPois0n will begin jailbreaking your iDevice. Now you just need to sit back and wait for GreenPois0n to respring your iDevice into a jailbroken state.
When your iDevice does respring into a jailbroken state you will need to click the loader icon on your springboard to install Cydia (the 3rd party installer)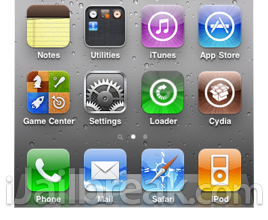 When you click the loader icon, you simply need to click on the Cydia tab and the loader.app will begin installing Cydia to your iDevice. Once Cydia has been successfully installed, you can delete the loader.app. Note: If Cydia is not displayed on your springboard after FIRST clicking the cydia tab through the loader.app, you may need to simply restart your iDevice.
Hopefully this tutorial helped you jailbreak your iOS 4.2.1 iDevice untethered! Let us know if you need any help, or run into any errors, we would be more than glad to help.