The Pangu team is based out of China and gave us the iOS 7.1.1 untethered jailbreak. This release was very unexpected and we weren't very sure if the jailbreak could be trusted.
Before Pangu, there was Evasi0n and they had a pretty good track record. Pangu came out of nowhere and gave us the iOS 7.1.1 jailbreak, which is why we weren't very sure of it at first. Despite the suspicions, users were eager to try the new jailbreak from Pangu.
The very first version of Pangu was only available for Windows users and in Chinese. Later on, an English version of the tool with Mac support was released. The Pangu jailbreak tool is compatible with any iOS device (iPhone, iPod Touch, iPad) running iOS 7.1 – iOS 7.1.1 or iOS 8 – iOS 8.1. If you're on any of these iOS versions, then you can use Pangu 7 or Pangu 8 tool to jailbreak your iOS device.
How To Download Pangu
You can download the latest versions of Pangu 7 and Pangu 8 to jailbreak iOS 7.1 – iOS 7.1.1 and iOS 8 – iOS 8.1, respectively, from the iJailbreak Downloads page. The latest versions of the Pangu jailbreak tool are available for both Windows and Mac OS X and comes in English.
How To Jailbreak iOS 7.1 – iOS 7.1.1 Using Pangu 7
If you're still rocking iOS 7.1 or iOS 7.1.1 on your iOS device, then you can jailbreak using the Pangu 7 jailbreak tool. You can follow our step-by-step guide on how to jailbreak.
Remember to create a backup of your iOS device before you jailbreak. The latest version of Pangu 7 has no bugs, so the jailbreak process should go smoothly.
How To Jailbreak iOS 8 – iOS 8.1 Using Pangu 8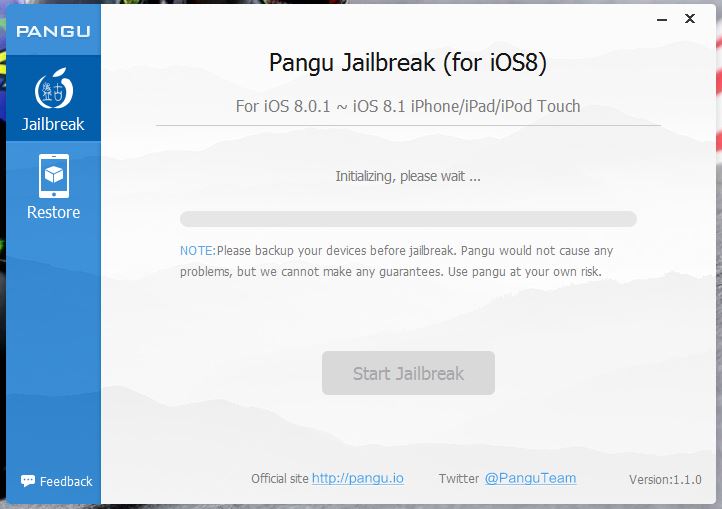 Are you running iOS 8 or iOS 8.1 and miss having a jailbreak? Well, not to worry as these iOS versions are still jailbreakable. Do not upgrade to any newer versions if you want a jailbreak, as the latest iOS 8.4.1 version is not jailbreak friendly.
To jailbreak iOS 8 – iOS 8.1, you can follow our easy guide on how to jailbreak using Pangu 8. The process is quite easy and bug free.
Something Went Wrong?
Did your jailbreak process not go as smooth as you expected? Well, try downgrading your iTunes version to see if that fixes the problem. Try restarting the jailbreak process and make sure you've followed our guide exactly. You cannot go back to iOS 8.1 or earlier if something goes wrong, as Apple isn't signing any of those versions anymore.