The moment is finally here! You can now Jailbreak your iPhone 4S, iPhone 4 or iPhone 3GS untethered on the iOS 5.1.1 firmware with Absinthe 2.0. Pod2G and numerous other hackers have worked hard to bring you this iOS 5.1.1 Untethered Jailbreaking solution, so don't forget to donate if you can.
If you are looking for a how to guide on how to Jailbreak your iPhone 4S, iPhone 4 or iPhone 3GS on the iOS 5.1.1 firmware untethered then you are in luck. In this how to guide you will learn how to Jailbreak your A5 or A4 iPhone running the iOS 5.1.1 firmware Untethered using the Mac OS X version of Absinthe 2.0.
Absinthe 2.0 iPhone 4S/4/3GS Jailbreak Mac OS X
Perquisites: The first thing you need to do before starting this how to is make sure your iPhone is backed up. As the Absinthe Jailbreaking tool was just released, there is a good chance that you may experience an error Jailbreaking it. Thus, it is always a good idea to make sure all your content on your iPhone is backed up.
Recommendation: It is our personal recommendation and Pod2G's that you restore your iPhone to factory settings on the iOS 5.1.1 firmware. This will dramatically reduce the chance you have of experiencing an error while Jailbreaking it. This is your call however, and is not necessary 90% of the time.
Step 1) – First things first. You will need to download the latest version of Absinthe 2.0 from the iJailbreak Downloads Section or from the direct download link below. It is always recommend that you check the iJailbreak Download Section, however, to ensure that you are downloading the latest version (we do not always update these guides with the up-to-date versions).
Download Absinthe 2.0 for Mac OS X (10.5, 10.6, 10.7)
Step 2) – With Absinthe 2.0 downloaded you will need to launch the Absinthe Jailbreaking tool, from the directory you downloaded it to (by clicking the Absinthe app shortcut).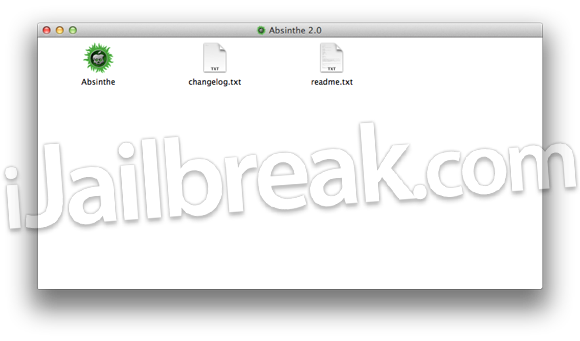 Note: If you get a message asking you whether or not you want to open "Absinthe" as it is a downloaded application, click the Open button.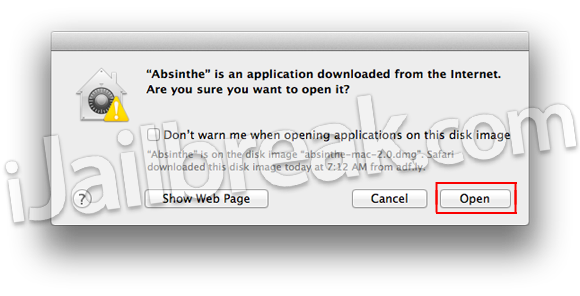 Step 3) – Once Absinthe is running you will need to plug your iPhone into your computer (if you have not done this already). Upon doing this Absinthe should recognize your iPhone, and once this happens you will need to click the Jailbreak button in the middle-right side of the screen.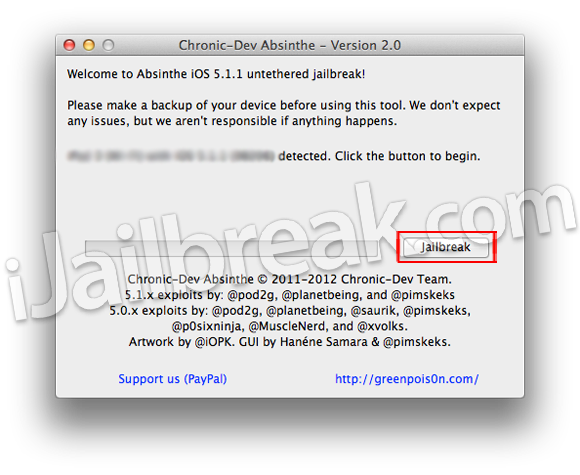 When you click the Jailbreak button your iPhone will look like it is being officially restored through iTunes; it should say something along the lines of "restore in progress."
Note: The Jailbreaking process can take anywhere from 5-minutes to 10-minutes so be patient. If you have not restored your iPhone then it could take much longer depending on the amount of content on your iPhone.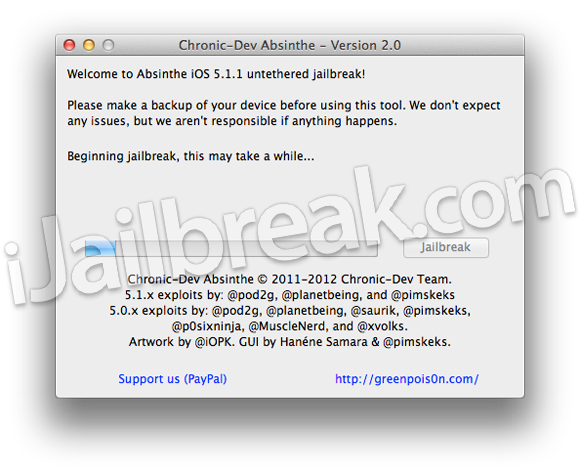 Step 4) – Once your iPhone reboots you can slide-to-unlock it and then on your SpringBoard (homescreen) you should notice Cydia. Tap on the Cydia icon and let it prepare its filesystem. Congrats! You have just Jailbroken your iPhone 4S, iPhone 4, iPhone 3GS Untethered running the iOS 5.1.1 firmware with Absinthe 2.0.
Hopefully this how to guide has helped you Jailbreak your iPhone 4S, iPhone 4, iPhone 3GS running the iOS 5.1.1 firmware using Absinthe 2.0 on Mac OS X. If you have any questions or thoughts related to this tutorial please leave them in the comments section.