One question that we have received numerous times, whether it be through comments or email, has been how do I backup my Cydia tweaks or applications to prepare for the iOS 5.1.1 Untethered Jailbreak? We have covered numerous utilities available in Cydia in the past to backup your iOS device's Cydia tweaks, but we thought it would be a good idea to bring some of these tweaks up again.
Backup Utility #1: PkgBackup (Paid)
PKGBackup is one of the most complete and probably one of the oldest Cydia tweak backup solutions available. It has all the bells and whistles from customizing which source you want to backup your tweaks to, to creating a schedule of when your tweaks are backed up. All of this functionality doesn't come cheap however, PKGBackup costs $7.99. If you are looking for the most complete backup solution available though, it is no doubt worth the price.
Backup Utility #2: AptBackup (Free)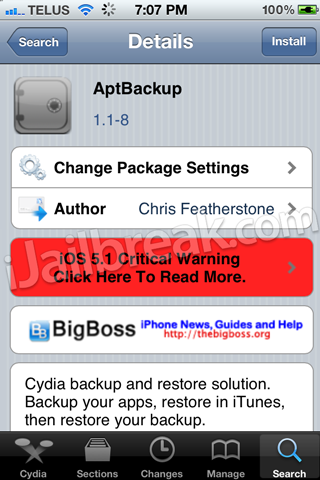 For those of you not looking to spend money on a backup solution then you may want to check out the Aptbackup utility. Although it does not feature any configurable options, it is probably one of the most simple backup solutions you can use. You see the way Aptbackup works is by simply launching the application, clicking the backup button and then backing up your iOS device through iTunes. When you want to restore your Cydia tweaks just simply restore your iTunes backup and then reinstall AptBackup and click the Restore button.
Backup Utility #3: xBackup (Paid)
The xBackup Cydia tweak will allow you to easily backup your Cydia tweaks directly from your iOS device. Upon downloading and installing xBackup, which costs $1.50, you simply click the Backup and Upload button and your tweaks will be automatically uploaded to the secure xBackup server. When you want to restore your Cydia tweaks you simply click the Download and Restore button and your tweaks will be back on your iOS device in a functioning state after syncing through iTunes.
Note: There are even a couple more backup solutions like OpenBackup (free), but it is not worth covering them all as the ones mentioned will get you by just fine.
It is no doubt that having to manually install Cydia tweaks after restoring/updating your iOS device is a pain, so make sure you are prepared by using on of the backup utilities mentioned. How do you backup your iOS device's Cydia tweaks? Share your responses and further thoughts in the comments section below.