Apple recently patched the TaiG jailbreak in iOS 8.1.3, however, the first and second beta of iOS 8.2 can still be jailbroken using the TaiG tool. The TaiG team have now released a new version of their jailbreak tool that supports iOS 8.2 beta 1 and beta 2 on all iOS devices.
If you had updated to iOS 8.1.3 and lost your jailbreak, then you can simply update to iOS 8.2 beta 1 or beta 2 and regain jailbreak. You'll need to be a developer to this though, unless you have other ways of installing a developer iOS build, then that'll work too.
According to the team, the public version of iOS 8.2 should also be jailbreakable once it's out. Unfortunately, the TaiG 1.3.0 tool doesn't work on iOS 8.2 beta 3-5 and on the iOS 8.3 betas. It remains to see if Apple manages to patch the exploits in iOS 8.2 when it's released to the public.
How To jailbreak iOS 8.2 beta 1 Or 2 Using TaiG 1.3.0 For Windows:
Before you begin, make sure to disable Find My iPhone/Touch ID/Passcode Lock and enable Airplane mode. Also, a fresh restore to iOS 8.2 beta 1 or 2 is recommended.
Download TaiG 1.3.0 from our downloads section.
Launch TaiG and connect your iOS device. It should be automatically detected.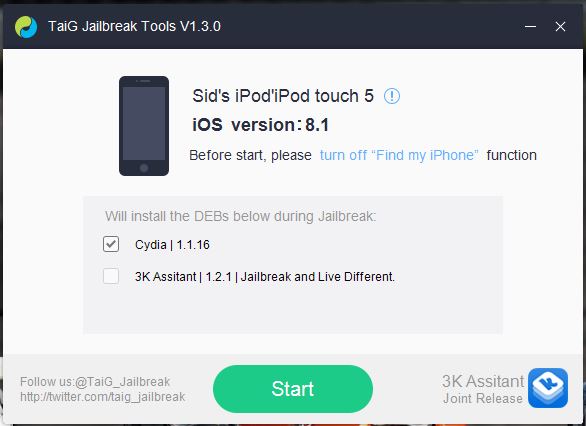 Now uncheck the box that says 3K Assistant and click on the Start button.
The jailbreak process should begin and should finish in a few minutes.
After reboot, disable Airplane mode and you should see Cydia on the homescreen.
Launch Cydia, let it load to start using your new jailbreak.
Now, if you come across a 'Can't find Apple driver' error, simply uninstall your iTunes and reinstall a freshly download version 12.1.1 64 bit. The error should be gone.
Enjoy your iOS 8.2 beta jailbreak!