i0n1c Looking Into Developing An Untethered iOS 4.3.5 Jailbreak?
Right now everyone is desperately waiting for Chronic-Dev to released Pod2G's iOS 5.0/iOS 5.0.1 Untethered Userland Jailbreak. Obviously because the iOS 5.0 firmware generation has been introduced, the majority of people have upgraded to it. Hacker @i0n1c has recently tweeted, however, that he may be looking into developing and iOS 4.3.5 Untethered Jailbreak for those still running iOS 4.3.5.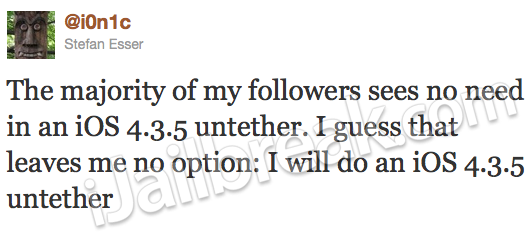 i0n1c has been known to tease the Jailbreaking community with past Jailbreaks, like when he released his Untethered iOS 4.3.1 Jailbreak in a locked .zip file. There has also been other events where i0n1c has teased his Twitter followers that we will not get into on this particular post. Thus this could be very well a joke as he states the reason he will even release the iOS 4.3.5 Untethered Jailbreak is because none of his followers see the need for it. We will keep you updated if anything actually develops on this, in the mean time please stay tuned and leave any thoughts in the comments section below…
Make sure you stay subscribed through our social media feeds, so that you never miss a beat, by liking us on Facebook, following us on Twitter and joining our circle on Google+.
Hey, you! Join the iJailbreak Insider for weekly newsletters, Jailbreak alerts, contests and more. (No spam, we promise)