I know a lot of you have been waiting for a "Top Cydia Tweaks 2012" related article, and you will be glad to know I have finally had a chance to get such a list together. The Cydia tweaks that I chose to be included on this list were tweaks that I consider to be "newer" Cydia tweaks and tweaks that provide unique functionality for your iPhone, iPod Touch or iPad. As far as I know all of these tweaks are compatible with the iOS 5.1.1 firmware and all iOS devices including the new iPad (iPad 3). So without further adieu, I present to you iJailbreak's top Cydia tweaks of 2012 for your newly Jailbroken iPhone, iPod Touch or iPad on the iOS 5.1.1 firmware.
Top Cydia Tweaks 2012
CleverPin ($1.99)
The CleverPin Cydia tweak will disable your iOS lockscreen when you are connected to a Wi-Fi network of your choice. Generally this would be your home Wi-Fi network because you should not need to be as worried about your iOS devices security when you are at your own house.
–> Click Here For More Information
AnyLockApp (Free)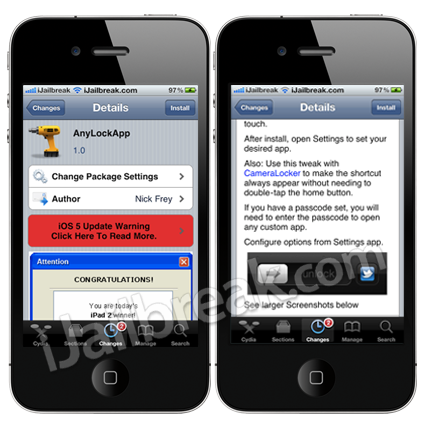 With the AnyLockApp Cydia tweak you can replace the camera icon shortcut on your lockscreen that appears when double tapping the home button with an application of your choice.
–> Click Here For More Information
Zephyr ($2.99)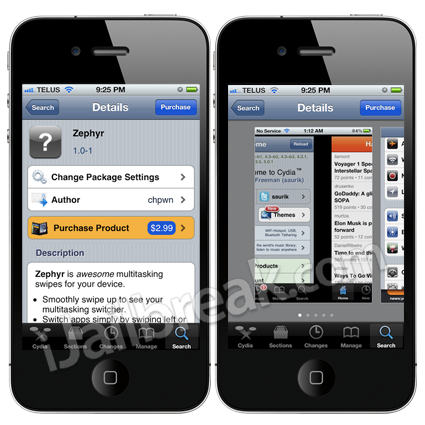 With the Zephyr Cydia tweak you can bring up the multitasking bar by simply swiping up from the bottom of your screen to the top of the screen. Additionally, the Zephyr Cydia tweak allows you to switch between applications by simply sliding right to left or left to right on your iOS devices screen. There are also numerous other gestures like swiping up to close applications.
–> Click Here For More Information
Dashboard X ($1.99)
Dashboard X brings widgets to your iPhone, iPod Touch and iPad that can be placed anywhere on your SpringBoard (homescreen). The Dashboard X Cydia tweak can place Notification Center widgets or Dashboard X specific widgets on your SpringBoard. There is even a handy Dashboard screen that can be accessed through a configured Activator action that will display various widgets as well.
–> Click Here For More Information
Quasar ($9.99)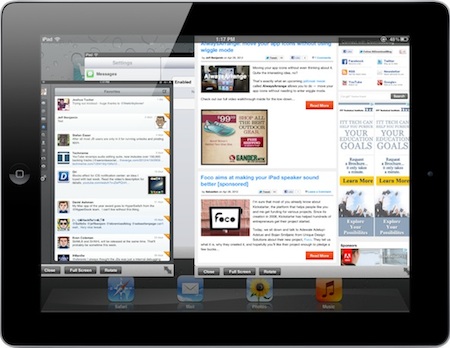 The Quasar Cydia tweak is the first of its kind and lets you manage multiple apps on the same screen, without having to switch between them (just like on a desktop computer). It's basically a windows manager that opens up apps in separate windows so you can work on them simultaneously. The tweak is iPad only, no doubt, and works just like the regular multi-tasking in iOS.
–> Click Here For More Information
SwipeSelection (Free)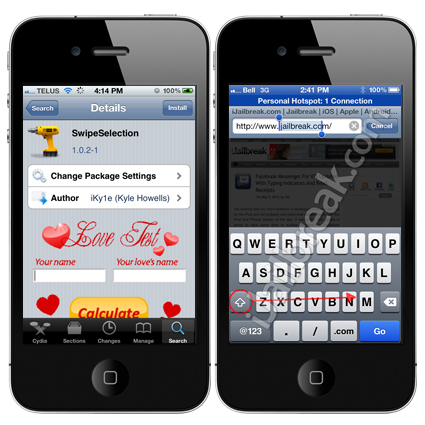 With SwipeSelection you can move the cursor by swiping a finger across the virtual keyboard and select by swiping a finger forward across the shift key. The selection is smooth and should feel natural to those familiar with selecting text on a desktop computer using shift and the arrow keys.
–> Click Here For More Information
Unfold (Free)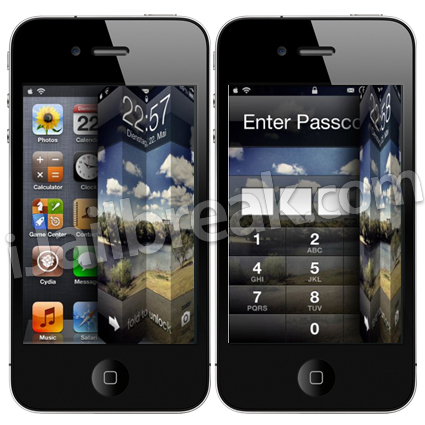 The Unfold Cydia tweak will bring a "Fold-To-Unlock" effect to your iOS device's lockscreen that is really quite amazing. It really is candy to the eye!
–> Click Here For More Information
Reveal ($1.99)
With the Reveal Cydia tweak installed you never have to worry about shortened notifications again as you can scroll horizontally through banner notifications, and vertically for lockscreen notifications. Additionally, you can tap a lockscreen notification and it will fully expand the message for you.
–> Click Here For More Information
Switchy ($1.00)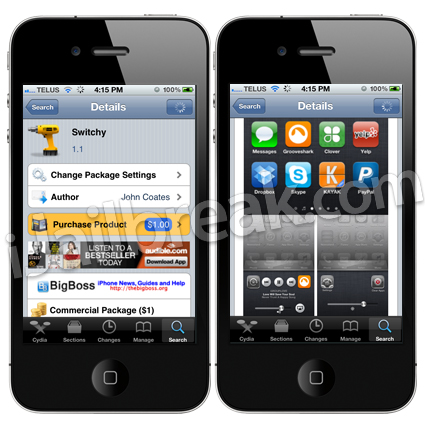 What the Switchy Cydia tweak does is essentially make the app switcher bigger. Not only does it have space for an extra row of tiles, it also brings the page indicator lights to the bar making it two and a half times bigger. Switchy puts all the music controls on one page, and includes a brightness slider as well as a button for clearing apps from the background.
–> Click Here For More Information
Firebreak (Free)
With the Firebreak Cydia tweak you can take panorama pictures on your iOS device with a gyroscope (iPhone 4/iPad 2 or newer). As long as you have a steady hand you will be pleasantly surprised with the quality of the panorama photos you can take! *Update* At this time this tweak is not compatible with iOS 5.1.1, but it is a tweak to keep an eye one when an update is released.
–> Click Here For More Information
Other Cydia Tweaks Worth Checking Out
IntelliScreenX ($9.99)
Springtomize 2 ($2.99)
Barrel ($2.99)
Gridlock ($0.99)
Activator (Free)
SBSettings (Free)
iFile ($4.00)
BiteSMS ($8.99)
Siri Cydia Tweaks Worth Checking Out
Hands-Free Control ($2.99)
Sireet (Free)
Lingual (Free)
AssistantExtensions (Free)
International Locations for Siri ($0.99)
Spite ($5)
As long as this list is I know I have missed Cydia tweaks that veteran Jailbreakers will surely recommend. There are just so many great Cydia tweaks out there that I could not possibly include them all. That is why I am going to turn it over to you to let us know what Cydia tweaks you consider to be "your top Cydia tweaks 2012". Please your responses in the comments section below.