A question that a lot of people have been asking is can you add the iOS 5 notification center to the Lockscreen? The answer to this question is no. By default you can not add the notification center to the lockscreen on your iPhone, iPod Touch or iPad.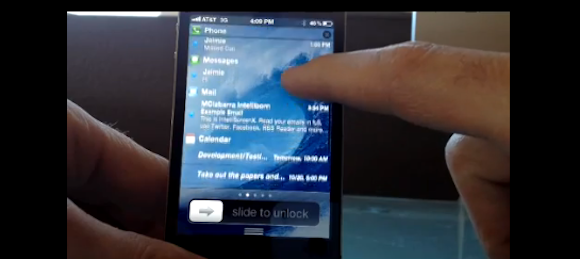 With an upcoming tweak by the developers of IntelliScreen called IntelliScreenX, however, you will be able to add the notification center to the lockscreen of your iDevice. IntelliScreenX will not only allow you to view the notification center from the lockscreen on your iPhone, iPod Touch or iPad. It also dramatically extends the functionality of the Notification Center by adding the following features:
Collapsible Sections
Top Shelf (A configurable bar that appears above notifications)
QuickSettings Widget (frequently used functions such as airplane mode and brightness controller)
View Full Emails, Calendar, and receive RSS, Facebook and Twitter updates
Much more…
If you would like more information on IntelliScreenX you can watch the teaser video below…
IntelliScreenX will be available sometime next week and will most likely cost $9.99 through the Cydia Store. While this may seem like a lot of money for a Cydia tweak, if you watched the teaser video above, you will notice this is not just some simple Cydia tweak. IntelliScreenX dramatically extends its' functionality of the iOS 5 Notification Center (adding numerous new features).
Note: If you purchased IntelliScreen within the last 30 days you will receive IntelliScreenX for FREE once it is released.