Earlier today we told you that developer @iH8Sn0w released a new version of iFaith, bringing iFaith to version 1.4. In iFaith v1.4 comes support for dumping iOS 5.0 and iOS 5.0.1 SHSH blobs on the iPhone, iPod Touch or iPad. This means if you dump your SHSH blobs on your iDevice running the iOS 5 or iOS 5.0.1 firmware, you could create a custom stitched IPSW and restore to that firmware (yes, this means you can downgrade on iOS 5). Which, if you have been keeping up with the latest Jailbreaking news, is quite impressive. This is because Apple has gotten rid of the ability to downgrade your iPhone, iPod Touch or iPad running the iOS 5/iOS 5.0.1 firmware; rendering tools like TinyUmbrella useless.
In case you are wondering the reason why iFaith allows you to downgrade your iDevice, it is because iFaith dumps the SHSH blobs directly off your iPhone, iPod Touch or iPad instead of fetching them from Apple's servers.
Note #1: At this time iFaith only works with the Windows operating system.
Note #2: You do not need a jailbroken iDevice to use iFaith, and iFaith is not compatible with A5 iDevices (iPhone 4S and iPad 2) at this time.
If you would like to learn how to save your iOS 5.0 and iOS 5.0.1 SHSH blobs on your iPhone, iPod Touch or iPad using iFaith v1.4, you are in luck. You see, in this How To guide from iJailbreak.com you will learn how to save iOS 5/iOS 5.0.1 SHSH blobs using iFaith v1.4 on your iPhone, iPod Touch or iPad.
Save iOS 5/5.0.1 SHSH Blobs
Step 1) – The first thing you will need to do is download iFaith v1.4 from the iJailbreak Downloads Section by clicking here.
Step 2) – Once you download iFaith v1.4 you will need to extract it to your Desktop (or whichever location you downloaded iFaith v1.4 to).
Step 3) – Next you will need to launch iFaith v1.4 by double clicking on the iFaith-v1.4.exe file.

Step 4) – With iFaith v1.4 up and running you will simply need to click the Dump SHSH blobs button.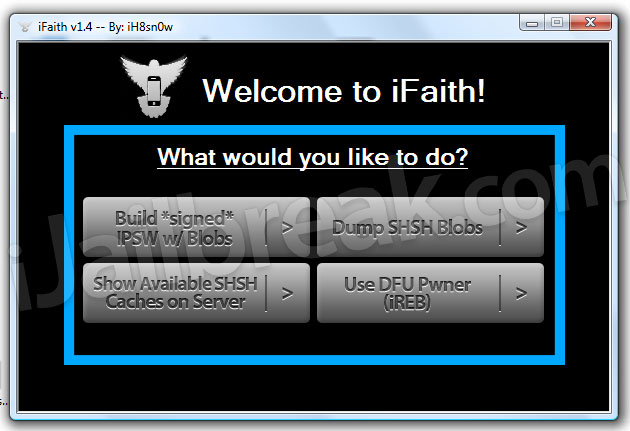 Step 5) – Read the instructions/information on the next window and then click the Proceed button followed by the Let's Go! button.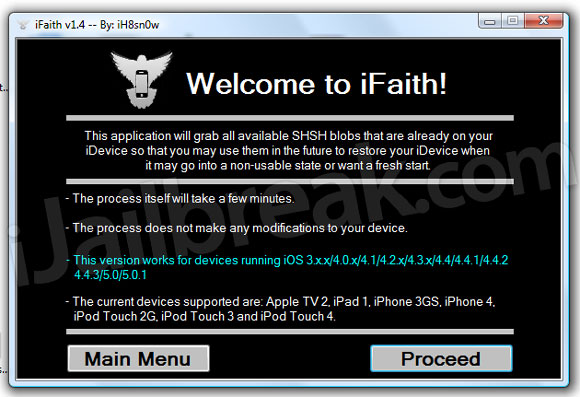 Step 6) – You will now be at a screen where you must put your iPhone, iPod Touch or iPad into DFU mode. Follow the on-screen instructions…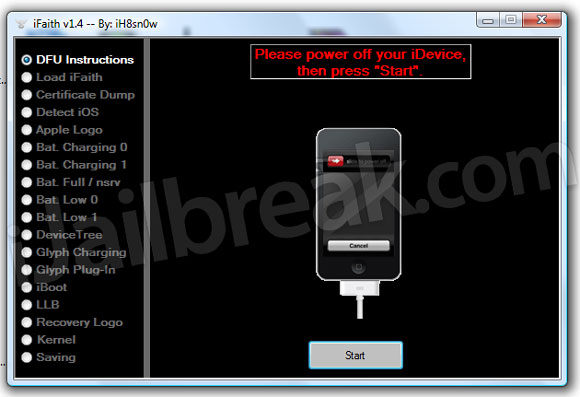 Step 7) – Once your iPhone, iPod Touch or iPad is in DFU mode iFaith v1.4 will begin grabbing your SHSH blobs.
Note: If iTunes opens during this process you will need to close it immediately.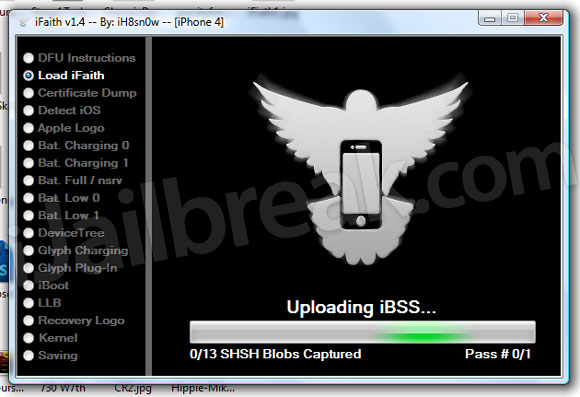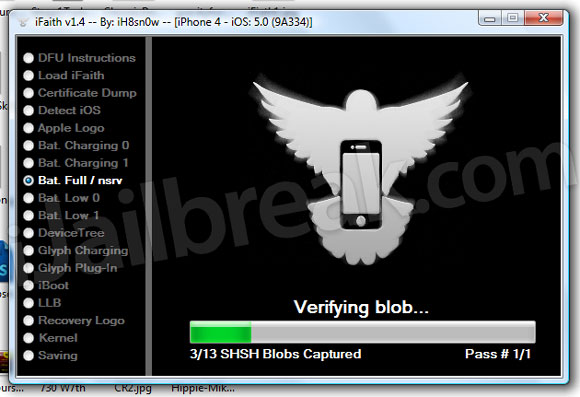 Step 8) – When the SHSH blob grabbing process is complete you will need to select a SAFE directory to store your SHSH blob cache.
After selecting this directory one final window will pop-up and you will be returned to the main screen.
Congratulations! You have just saved your SHSH blobs on the iOS 5.0/iOS 5.0.1 firmware on your iPhone, iPod Touch or iPad. With your SHSH blobs now saved, you will be able to downgrade in the future if you find yourself ever needing to. In order to actually downgrade you will simply need to click the Build Signed IPSW button. We will go into more detail on how to build a signed IPSW firmware file in the near future, but until that time please leave any questions or thoughts in the comments section below…