When Springtomize was first released it had hundreds of people raving about it. This is because Springtomize integrates numerous Cydia tweaks into one simple and easy to use Cydia tweak. Meaning, for example, you can customize the Statusbar, folders, dock, app labels and so much more all. With this in mind, it is without a doubt that Spingtomize is a great Cydia tweak, but what disappointed a lot of people was the fact that it was not compatible with the iOS 5.0 firmware; that is until now…
Spingtomize 2 has just been released into Cydia to be compatible with the iOS 5.0 firmware. Besides compatibility with the iOS 5.0 firmware, it adds dozens of new features such as the ability to customize the iOS 5 Notification Center. If you are looking for a Cydia tweak that will surly not disappoint, then Springtomize 2 is the Cydia tweak you should be checking out!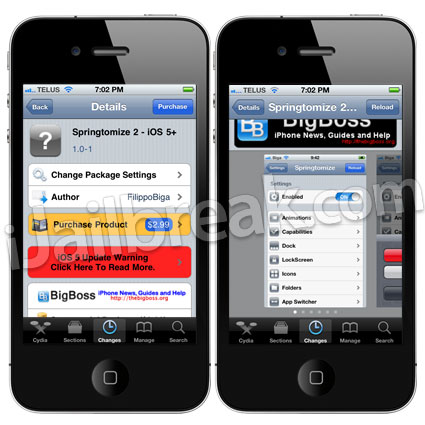 Springtomize allows you to customize your SpringBoard, to make it look and feel how you want. It provides plenty of options to modify even the littlest aspect of your device. Springtomize is really the only tweak you need to customize your device, and it provides all the settings you may need in a single, convenient interface.
You can download Springtomize 2 from the BigBoss repo for a price of $2.99. Let us know what you think about the Springtomize 2 Cydia tweak if you decided to purchase it for your iPhone, iPod Touch or iPad in the comments section.