A few days ago, Jaden told you about a new upcoming tweak called Unfold. The tweak that replaced the stock Slide to Unlock feature with a really cool fold to unlock lockscreen. We even showed you how the tweak worked and the animation looked really cool, a lot of users liked it. Well, now it's available for you to install.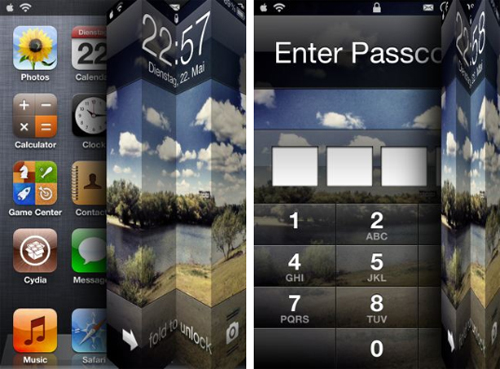 Unfold is now available in the BigBoss repo for free and does just what it is supposed to do. However, since this is an initial release, there are a lot of bugs and incompatibility issues with other tweaks to look out for. There are no settings to configure, just install and go. The tweak is said to be compatible with tweaks such as Lockinfo, Intelliscreen X, Camera Grabber, and Bulletin. It requires iOS 5 or higher to work. Also, you will lose the iOS 5.1 camera button after installing this tweak. The developer should probably look in to that. Apart from that, the tweak is just amazing. I specially like how smooth the folding animation is. For now, the tweak isn't iPad compatible, but such a thing would look really cool on the iPad.
Download Unfold for free from the BigBoss repo and tell us how you like it. Let us know if you're facing any problems or such.