How To: Install Siri On The iOS 5.1.1 Firmware With The Spite 3.0 Cydia Tweak
A couple days ago we told you that the Spire Cydia tweak would not be updated for the iOS 5.1.1 firmware. For a lot of people who were big Spire users on the iOS 5.0/5.0.1 firmware this was a disappointing thing to hear because Spire has been the most reliable and well developed Siri port to this date.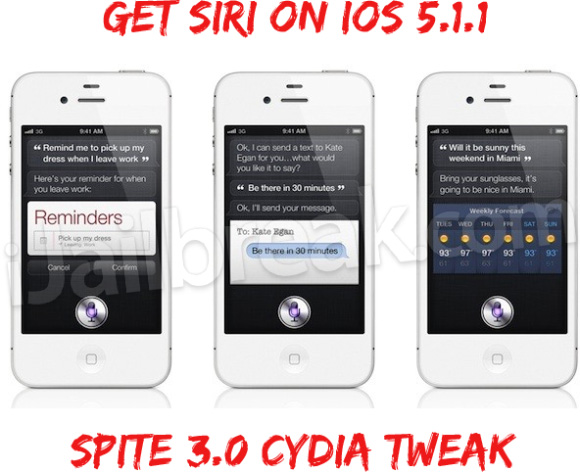 Luckily however, there is actually an alternative to Spire called Spite that definitely comes close to matching Spire and is in some cases faster than Spire (speed depends upon memory for flash storage in the device). The Spite 3.0 Cydia tweak works on the iOS 5.1.1 firmware and is compatible with all iOS devices including the new iPad (iPad 3). The only real downside to Spite is that you will need to pay $5 to download it from the VIP repository where it is hosted on.
Install Spire On iOS 5.1.1 With Spite 3.0
Note: Spite has been known to cause errors to your iPhone, iPod Touch or iPad upon being installed that can force you to restore your iOS device. Thus, please proceed at your own risk and back up your iOS device before continuing.
Step 1) - The first thing you will need to do is purchase a VIP membership to the Technetec repository by clicking here for a one time fee of $5.
Step 2) - Now, open the Cydia.app and add the following repository by going into the Manage Tab > Sources Section > Tapping the Edit Button > Tapping the Add Button:
Step 2) - Install Spite 3.0 to your iPhone, iPod Touch or iPad now by searching for it through the Search tab or by going into the Technetec source section.
Step 3) - Once Spite 3.0 has been installed you will need to reboot your iPhone, iPod Touch or iPad and you should now have Siri on your iOS device Jailbroken on the iOS 5.1.1 firmware Untethered. The only thing you need now is a Siri proxy server, and what better way to find one than by visiting of proxy server list by clicking here.
Congrats! You should now have the Spire alternative Spite working on your iOS device Jailbroken on the iOS 5.1.1 firmware Untethered. If you have any questions or further thoughts please leave them in the comments section.
Make sure you stay subscribed through our social media feeds, so that you never miss a beat, by liking us on Facebook, following us on Twitter and joining our circle on Google+.
Hey, you! Join the iJailbreak Insider for weekly newsletters, Jailbreak alerts, contests and more. (No spam, we promise)