We've noticed that certain apps and tweaks are not currently functioning in iOS 5.1.1. We started off with a small list and asked the iJailbreak community to contribute to the compatibility list of working apps (and apps that don't  yet support iOS 5.1.1). Here's the list so far:
Working
Activator – An app launcher essential for many tweaks
Airblue Sharing – Share files over WiFi
Sliderwidth – Adjust width of lock screen slider
AndroidLock XT – Android-style lock password
AppList – Allows Cydia apps to see what's installed on your iPhone
AppLocker – Sets passwords to apps
AssistantExtensions – Plug in voice commands for Siri
Barrel – Adds 3D effect to springbord
BytaFont – Change iOS fonts
BiteSMS – Send SMS messages outside your phone plan
BlurriedNCBackground – Aesthetic tweak for Notification Center
Brightslide – Adjust brightness with a gesture
Callbar – Overhauls iPhone notifications for incoming calls.
Celest Blutooth – Bluetooth file transfer
Cleverpin – Lockscreen password settings
Color Keyboard – Keyboard themes
Copic – Displays pictures in contacts
Cydelete – Allows Cydia apps to be deleted like iTunes apps
Dashboard X – Wigets in SpringBoard
Dockhide – Hides the app dock
DoNotDisturb – Disables alerts and banners
Dreamboard – Springboard themes, WinterBoard Alternative
FakeCarrier – Custom carrier name
Five Icon Dock – Expands the dock to five icons
Foldericonlagfix – Open folders faster
Forecast – Weather widget on lockscreen
gpSPhone – ZodTTD's GBA emulator
Graviboard – Makes springboard icons float
Gridlock – Arrange icons however you want
iBlacklist – Filter unwanted calls and SMS
iCleaner – Free up space
iFile – Browse the iOS filesystem
iKeyWi – Adds 5th row of customizable keys to keyboard
Infinidock – Scolling dock with infinite files
Infinifolders – Allows for folders with over 12 apps
Infinite Tweet – Tweetlonger integration for posts longer than 140 characters.
IntelliScreenX – Lock screen widgets
iShakeLock – Shake To Lock
iSmart Dialer – Adds functionality to phone dialer
LocationHolic – Spoof locations
Mail Enhancer – Signatures, custom notifications, quiet hours, highlighting, HTML
Mobile Notifier – Alternate notifications system
MobileTerminal – UNIX-like terminal command line
MusicCenter – Music widget for notification center
My3G – FaceTime over 3G
NC Settings – SBSettings for Notification Center
Now Listening – Displays songs in banner
OpenSSH – Allows for SSH communication
Poof – Takes apps of springboard
Protube – Download YouTube video and audio
Remove BG – SBSettings toggle to kill background apps
SbSettings – Toggles WiFi, 3G, SSH, and more
Speed Intensifier – Speeds up interface
Spite – Siri Port for iOS 5.1.X
Springtomize 2 – Springboard customization
SwipeBack – Swipe back through iOS menus
SwipeSelection – Highlight text from the virtual keyboard
TetherMe – Adds tethering options on all carriers
UnlockFX – Slide to unlock animations
Weather Icon – Live weather icon displays current weather
WiFiFoFum – WiFi scanner and 'wardriving' utility
WiFi Passwords – Keeps a list of your Wifi passwords
WinterBoard – Custom SpringBoard themes
Wraparound – Infinite horizontal scrolling
Zephyr – Multitouch gestures, app switching, notification center peeking
Zeppelin – Replace Carrier name with custom logo
Not Working
Display Recorder – records iPhone display
Firebreak – Enables panoramic camera
Hands-Free Control – Siri voice activation without home button
Mame4iOS Reloaded – Arcade emulator
Music Controls Pro – Music control and display settings
nes4iphone – Zodttd's NES emulator
RetinaPad – iPhone retina graphics in 2X mode
Rotation Inhibitor – Prevents screen rotation
SMS Flooder – Annoy your friends with repeat SMS messages
snes4iPhone – Zodttd's SNES emulator
Spire – Grant Paul's Cydia port
Switchy – Expands the iPhone's native app
Partially Working
Belfry – Install stock iPhone apps on iPad
BlurriedNCBackground on iPad
Slidetomod – Does not hide lock screen camera
Disputed
IntelliscreenX on iPad
RetinaPad – iPhone Retina graphics on iPad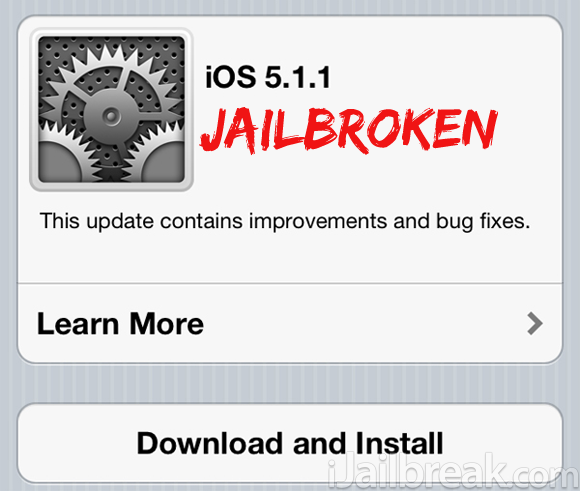 As you can see, we have a sizable list of apps that work. What we still need are reports of apps that haven't been carried over to iOS 5.1.1. If you notice an app that isn't working, please mention the issues in the comments section. Not only will it help people decide whether to upgrade to iOS 5.1.1, but it will help us get in contact with developers who haven't updated their apps for the new firmware.
Remember, if you get HTTP/1.1 500 Internal Server Errors (or similar messages) while downloading apps in Cydia, please don't report the apps as non functioning. The error message only means that the apps couldn't be downloaded in the first place, likely because the server was busy with too many requests. It has nothing to do with the app's compatibility.
UPDATE #1: You can find an updated Cydia tweak and application list by clicking here.