Hot on the heels of the Dream Team releasing the iPhone 4S iOS 5.0.1 Jailbreak, developers have been rushing to release their Siri Cydia tweaks and update their other Cydia tweaks for compatibility with the iPhone 4S. It has been a huge weekend for everyone in the Jailbreak Community and we're just as excited as you are to jailbreak our iPhone 4S's and install all of our favourite tweaks. It is no question that in Cydia you can find tweaks upon tweaks to fine-tune your iOS device to your liking. If you are new to Cydia, however, and don't know what tweaks are for you then don't worry. We have you covered in this list of  the top 10 Cydia tweaks for your jailbroken iPhone 4S.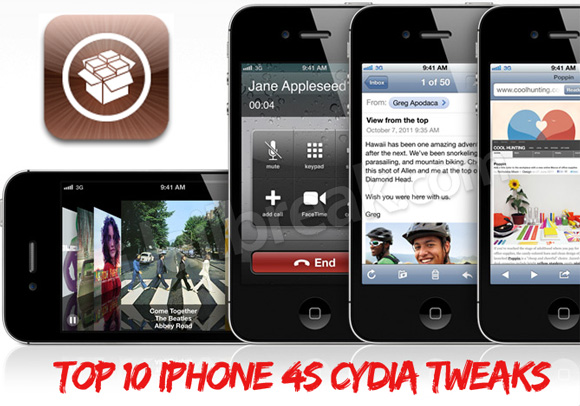 Top iPhone 4S Cydia Tweaks
Tweak #1 : IntelliScreenX
If you are a frequent user of the Notification Center, then this tweak is for you. IntelliScreenX further enhances the Notification Center to your liking, and makes reading the things that are important to you a breeze. You can set up pages for your Twitter, Facebook, RSS Reader, and your Mail account. Also with the ability to access IntelliScreenX from the lockscreen, this tweak will make your social life much more accessible on your 4S.
-> For more details on IntelliscreenX click here
Tweak #2 : SBSettings
This tweak has been around for a very long time, and has long been a reason for users to jailbreak. SBSettings gives you the ability to access all of your favorite toggles via a simple Activator gesture (swipe across status bar, pull down from status bar, etc.). SBSettings comes with many default toggles like WiFi, Bluetooth, Airplane Mode, 3G, Brightness, and many more. There are tons of other toggles that you can find in Cydia.
-> For more details on SBSettings click here
Tweak #3 : Activator
Activator is the reason tweaks like SBSettings can be used. It gives you the ability to set a custom gesture to launch the app/tweak of your preference or toggle your brightness, change songs, lockscreen, etc. You will find that Activator makes getting things done much easier on your 4S. Many tweaks have Activator integration and you can set gestures for anywhere on your 4S to specific places like your homescreen, in applications, and when you are on the lockscreen.
-> For more details on Activator click here
Tweak #4 : VoiceUtils
One of the biggest features of the 4S is Siri. Now that you have jailbroken your 4S, you will find that there are many ways you can further enhance Siri. VoiceUtils gives you the ability to respring, reboot, shut down and enter safe mode all by using your voice. This is all the tweak can do for now, but if you combine it with the Hands-Free Control Cydia tweak you will find the limits to Siri are endless.
-> For more details on VoiceUtils click here
Tweak #5 : The "Infini" Tweaks
The "Infini" Tweaks are InfiniDock, InfiniFolders and InfiniBoard. These tweaks unleash your SpringBoard and pushes the SpringBoard to its limits. They remove the Apple boundaries of how many apps you can have in your dock, in a folder, or on your SpringBoard. If you are a user that likes to have as many apps as your iPhone 4S allows and you want more features on your homescreen, then these tweaks are for you.
-> For more details on InfiniDock click here
-> For more details on InfiniFolders click here
-> For more details on InfiniBoard click here
Tweak #6 : biteSMS
If you are a frequent SMS user like myself, then biteSMS is for you. What this tweak does to texting and iMessage on your 4S is almost revolutionary. Once you have this tweak installed, you will find a very in-depth settings page in the biteSMS app. You will be able to set a Scheduled SMS, set a Passcode Lock, manage your Templates, add Signatures to your texts, and much more. Two of the biggest features of this tweak are Quick Compose and Quick Reply. Quick Compose gives you the ability to compose a text from anywhere on your 4S, and Quick Reply will give you the ability to reply from a text from anywhere on your 4S.
-> For more details on biteSMS click here
Tweak #7 : Springtomize 2
Springtomize 2 is the Alpha-Dog when it comes to customization tweaks. With this tweak you will be able to customize almost every aspect of your 4S. You will find about a million tweaks in Cydia that allow you to change different things about your device, but with Springtomize 2 it is an all-in-one and also comes in at a much cheaper price than purchasing all of those other customization tweaks. If you are big on making your 4S unique to your liking, then Springtomize 2 is for you.
-> For more details on Springtomize 2 click here
Tweak #8 : The "Safari-Tab Combo"
The "Safari-Tab Combo" is a combination of the two jailbreak tweaks, GridTab for Safari and Tab+. With these two tweaks you will be able to have open as many tabs in Safari as you wish, and see them in a 2×2 or a 3×3 layout. I have found that there is no lag to having many tabs open at the same time and the layout looks very nice.
-> For more details on GridTab for Safari click here
-> For more details on Tab+ click here
Tweak #9 : iFile
iFile is the ultimate file-explorer tweak for your 4S. With this tweak you will be able to access/edit any file on your device, but be careful, do not change anything if you do not know what it is, as this might cause you to have restore your iPhone. On the bright side, iFile gives you access to viewing the file-system, changing permissions, and viewing or editing a variety of files. It includes support for most music file formats and video files.
-> For more details on iFile click here
Tweak #10 : Twitkafly
To pretty much sum up this tweak, it is a lot like a "biteSMS for Twitter" with less settings. This is a great tweak if you frequently use Twitter on your 4S. It adds a QuickCompose button to the bottom left of your Notification Center for composing a new tweet to any of your followers. It also comes with a very nice QuickReply feature that allows you to reply to tweets straight from your Notification Center. The interface looks great and the developer also added in Activator integration.
-> For more details on Twitkafly click here
Bonus for Siri : Change the color of your Siri mic
As an extra I would like to present to you is a Cydia tweak(s) that allows you to change mic color for Siri. I Hope you enjoy!
-> Change the mic color for Siri
Well that's it folks, I hope you have enjoyed this article and have found many of these tweaks useful on your jailbroken iPhone 4S. In the meantime, check out our article on the Top 15 Tweaks for your Jailbroken iPad 2 and let us know what tweaks you've found useful, and how you've enjoyed your iPhone 4S jailbreak in the comments below…