Ryan Petrich, the developer of Activator, recently updated Activator to version 1.5.8. This new version includes the following:
Add menu triple press event
Add Show Volume Bar action
Use the default volume behavior when Camera requests volume events
Fix missing icons on iOS5
Improve scrolling performance in Settings
Improve memory use
Make notification center action toggle
Decrease hold event times
Add safe mode message
Better volume event support
Improve orientation change performance
Fix double-tap lock crash on iOS
For those who don't know: Activator is one of the most popular Cydia applications for your jailbroken iPhone, iPad and iPod Touch. Activator allows you to assign gestures to launch specific applications and tweaks installed from Cydia. You can watch the video embedded below for an example of how Activator works.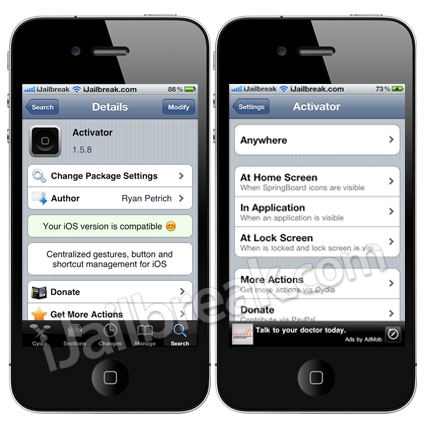 Activator v1.5.8 is available free through the BigBoss repo on Cydia. Let us know in the comments how this update worked for you.