Great news for all Jailbreakers! The iOS 7 Untethered Jailbreak called Evasi0n 7 has been released by the Evad3rs and it is now available to download for both Mac OS X and Windows.
We also want to note that the team who put together this Jailbreak (@pimskeks, @planetbeing, @pod2g, and @MuscleNerd) IS accepting donations, so please feel free to donate via PayPal if you're able! All proceeds from your contributions will go to Public Knowledge, Electronic Frontier Foundation and Foundation for a Free Information Infrastructure to help protect your right to Jailbreak. You can also donate on the official Evasi0n site (same as PayPal); scroll down and click the green Contribute button.
Although Jailbreaking with Evasi0n 7 isn't too complicated, if you would like a helping hand here's a step-by-step tutorial for Mac OS X and Windows.
iOS 7 Untethered Jailbreak Compatibility
Below is a list of devices and firmware version that the jailbreak will work on. If you are unsure of your firmware version go to the Settings app, select General > About and you should look  for Version:
iPhone 4: iOS 7.0 through 7.0.4
iPhone 4S: iOS 7.0 through 7.0.4
iPhone 5: iOS 7.0 through 7.0.4
iPhone 5S: iOS 7.0 through 7.0.4
iPhone 5C: iOS 7.0 through 7.0.4
iPod touch 5G:iOS 7.0 through 7.0.4
iPad 2: iOS 7.0 through 7.0.4
The New iPad (third generation): iOS 7.0 through 7.0.4
iPad With Retina display (fourth generation): iOS 7.0 through 7.0.4
iPad Mini: iOS 7.0 through 7.0.4
iPad Mini with Retina display: iOS 7.0 through 7.0.4
iPad Air: iOS 7.0 through 7.0.4
Important: If you have a lower firmware version than iOS 7.0.4, it is recommended to update to iOS 7.0.4 before jailbreaking DIRECTLY THROUGH iTUNES. Those who have updated to a firmware version over-the-air (OTA) have a significantly higher risk of running into issues with this Jailbreak. You will also want to disable your passcode.
Before continuing from this point, it is also a good idea to backup your data using iTunes or on iCloud (Settings > iCloud > Storage & Backup > Back Up Now) just in case anything goes wrong.
Now, let's get started.
How To Jailbreak iOS 7 Untethered With Evasi0n7
First, you'll need to download the Evasi0n7 Jailbreaking tool. The download is available from the iJailbreak Downloads Section or via the direct links shown below:
Mac OS X: box.com, mega
Windows: box.com, mega
After downloading, unzip the file.
Then, make sure your compatible iOS device is connected via USB, and only one device, right-click the Evasi0n7 icon and choose open from the menu to launch it. You may be prompted to allow an application from a new developer – click Open. Windows users should just be able to open it by double clicking the executable file.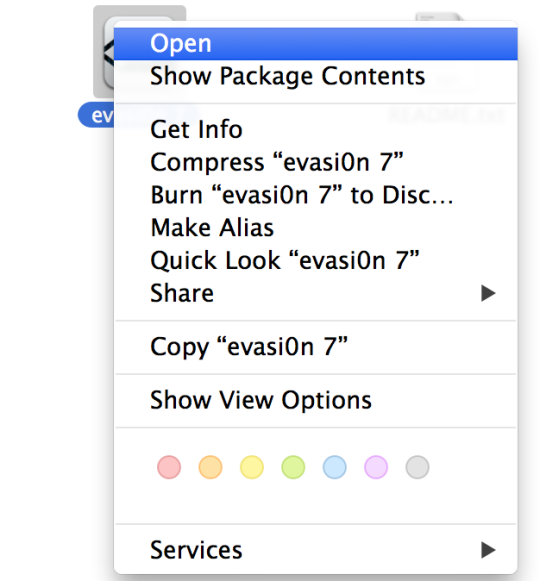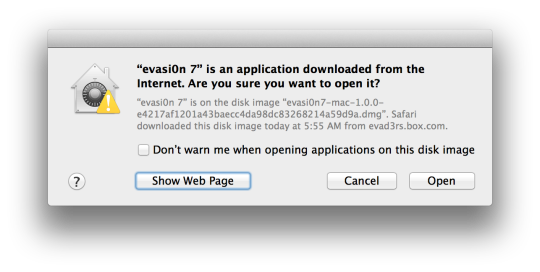 You will see the evasi0n home screen, and evasi0n should tell you your device (and firmware version) is detected. Click the Jailbreak button to begin.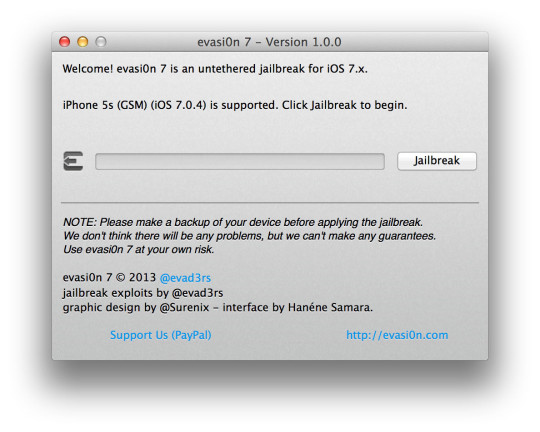 During this phase, evasi0n will then go through many status messages while it jailbreaks your device. This process can take up to 5 minutes. Do not touch or unplug the device during this process.
At the end of this process, evasi0n will let you know there is now a new Evasi0n 7 icon on your iOS Device, and to unlock your device and tap the icon. ONLY TAP THE ICON ONCE, LEAVING YOUR DEVICE CONNECTED. It will restart and continue the process.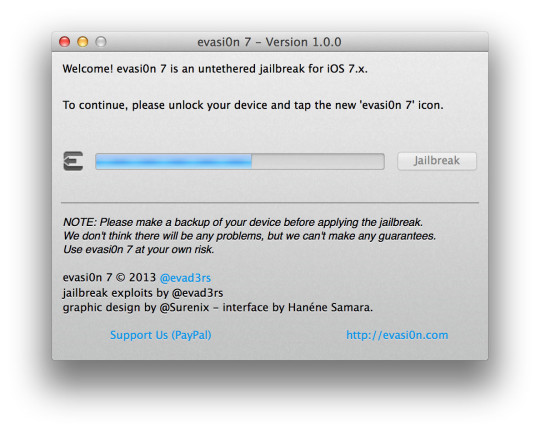 After restarting, evasi0n 7 will run through more status messages as it continues to Jailbreak your iDevice.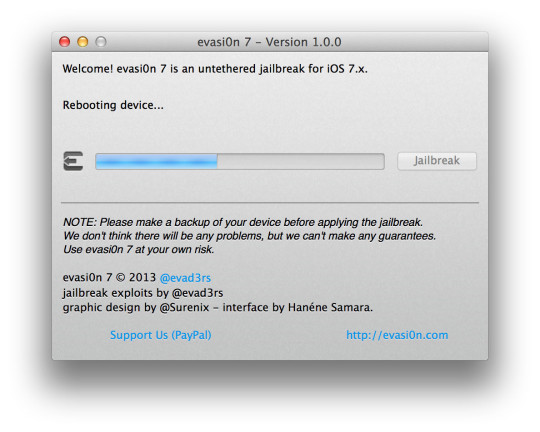 When it is ready, Evasi0n7 will ask you to unlock your device to continue. Do so, and the device will reboot once again.
You will then get more messages on the progress, and finally a message saying done.
Cydia should now be on your iOS Device. You can press Exit in Evasi0n7 now and your Jailbreak is complete.
And that's it you now have a Jailbroken device. A nice Christmas gift to all.
On a side note, Jay Freeman (@Saurik) tweeted this, for those who cared about WinterBoard.
For those who only care about WinterBoard: as I expected, I got core functions working on iOS 7 ;P. (Not pushed yet!) http://t.co/D84CI5OWLT

— Jay Freeman (saurik) (@saurik) December 22, 2013
And there is an image attached to the tweet.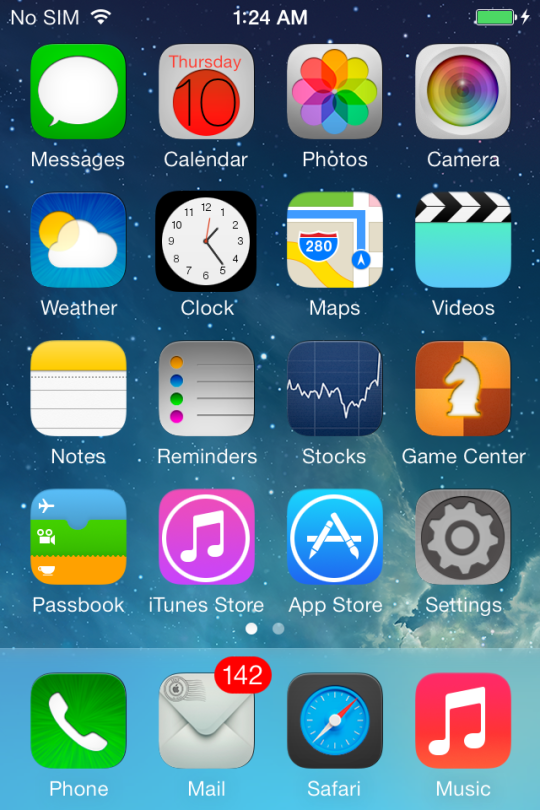 And here's another tweet from @Pod2G worth keep in mind.
Tweaks relying on mobilesubstrate have issues with early release of evasi0n. Keep away from that for the moment, we're working on a fix.

— pod2g (@pod2g) December 22, 2013
So, that's it for now. Happy Holidays. Let us know if you have any questions in the comments section.
Don't Miss More Coverage On Evasi0n7: