Absinthe is the successor to the GreenPois0n jailbreaking tool and was developed in collaboration between many developers in the jailbreaking community; including the iPhone Dev-Team, Chronic Dev-Team and Pod2G. This jailbreaking tool only does untethered jailbreaks on the iOS 5 firmware generation and came in three iterations: the actual Absinthe tool, a command-line version for advanced users, and also integration in RedSn0w.
A lot of people have wondered how Absinthe got its name, and there is many theories. It turns out however, that the name Absinthe was a homage to the GreenPois0n tool. Absinthe is actually an alcoholic beverage then is generally green in color and poisonous in high concentrations. As such the name Absinthe fits this tool well.
Like GreenPois0n, Absinthe is a one-click jailbreaking solution and does not encompass some of the advanced features of jailbeaking tools such as RedSn0w. Once you click the Jailbreak button the jailbreaking process will commence and you just sit back and watch your iPhone, iPod Touch, iPad or Apple TV become jailbroken.
Individuals who have never jailbroke before and want to make the process as simple as possible will benefit from using one-click jailbreaking tools. Other tools such as Sn0wBreeze and the PwnageTool provide additional features for customizing your jailbreak, but often times are only used by individuals who are tech-savvy or have had past experience jailbreaking. It's not really that these tools are harder to use, but rather that the process takes longer.
Absinthe is cross compatible with Mac OS X, Windows and even Linux. As Absinthe is compatible with all operating systems there is nothing preventing you from using it, besides which firmware versions and devices it is compatible with.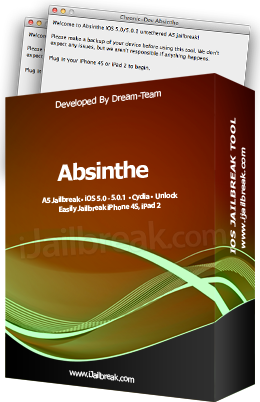 Absinthe Device Compatibility
Absinthe is compatible with all iOS devices that can run the iOS 5.0.1 or 5.1.1 firmware. You can take a look at the devices and firmware versions Absinthe currently supports below. Keep in mind that we will update the Absinthe compatibility chart if new versions of Absinthe are released to ensure it is always up to date.
Latest Absinthe Untethered Jailbreak: iOS 5.1.1
Absinthe iPhone Support
iPhone 6s Plus: Not Supported
iPhone 6s: Not Supported
iPhone 6 Plus: Not Supported
iPhone 6: Not Supported
iPhone 5s: Not Supported
iPhone 5c: Not Supported
iPhone 5: Not Supported
iPhone 4S: iOS 5 (iOS 5.0, 5.0.1, 5.1.1)
iPhone 4: iOS 5 (5.1.1)
iPhone 3GS: iOS 5 (5.1.1)
Absinthe iPad Support
iPad Pro: Not Supported
iPad Air 2: Not Supported
iPad Air: Not Supported
iPad Mini 4: Not Supported
iPad Mini 3: Not Supported
iPad Mini 2: Not Supported
iPad Mini: Not Supported
iPad 4: Not Supported
iPad 3: iOS 5 (iOS 5.1.1)
iPad 2: iOS 5 (iOS 5.0.1, 5.1.1)
iPad 1: iOS 5 (5.1.1)
Absinthe iPod Touch Support
iPod Touch 6G: Not Supported
iPod Touch 5G: Not Supported
iPod Touch 4G: iOS 5 (iOS 5.1.1)
iPod Touch 3G: iOS 5 (iOS 5.1.1)
GreenPois0n Apple TV Support
Apple TV 4G: Not Supported
Apple TV 3G: Not Supported
Apple TV 2G: iOS 5 (iOS 5.0.1/5.1.1)
How To Download Absinthe
You can downloaded the latest version of Absinthe from the GreenPois0n website, maintained by the Chronic Dev-Team. iJailbreak also maintains a downloads section that contains the latest version of Absinthe. Visit the iJailbreak Downloads Section and download the version of GreenPoi0n that is bold. This signifies that it is the latest version.
The Basics Of Absinthe
Absinthe is a Jailbreaking tool where you do not lose any data on your iPhone, iPod Touch, iPad or Apple TV after Jailbreaking. This is because Absinthe does not erase any data during the Jailbreaking process. Some Jailbreaking tools like The PwnageTool require you to restore your device to complete the Jailbreaking process. This results in all the data on your device being erased. Although this method of Jailbreaking has its advantages, it is inconvenient to lose all your data and thus Absinthe is ideal for those who do not fancy having to backup everything on their device.
Unlike Jailbreaking tools like RedSn0w that are consistently updated to support Jailbreaking new firmware versions tethered – a type of Jailbreak that means your iPhone, iPod Touch or iPad will not reboot without the aid of your computer if it loses power – Absinthe only supports Untethered Jailbreaks. This means your iOS device will function as normal once Jailbroken and will not require the assistance of your computer to reboot.
How To Launch Absinthe Correctly
Absinthe needs to be launched a certain way on Mac OS X and Windows. If you are running Absinthe on Windows you will need to ensure you grant it administrative privileges by right clicking it and selecting the 'run as administrator option'. On Mac OS X 10.8 Mountain Lion, because of the new Gatekeeper software, there is also a trick to running Absinthe. You will need to first hold down the control button and then select the 'open' option.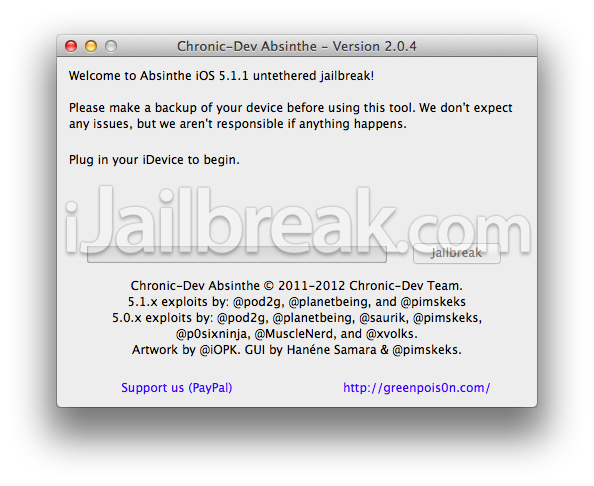 How To Jailbreak With Absinthe
As Absinthe is a one-click Jailbreaking solution, it is an extremely easy process to go about Jailbreaking your iPhone, iPod Touch or iPad. iJailbreak has written numerous guides for Jailbreaking your iOS device with Absinthe that can be accessed from the How To Jailbreak Section. These guides include screenshots, and are specific to each firmware version Absinthe supports. As the Jailbreaking process with Absinthe is essentially the same for all firmware versions however, you can follow the generalized guide below as well.
Note: It is recommended, at the minimum, that before you start following this guide you should backup your iOS device. Better yet restoring your device to factory settings through iTunes has shown to reduce the chances of encountering an error while using Absinthe to Jailbreak your device.
The first thing you will need to do is download Absinthe. As mentioned previously this can be done from the iJailbreak Downloads Section.
Next you will need to plug your iPhone, iPod Touch, iPad or Apple TV into your computer via USB. Once you have done this launch Absinthe; keeping in mind the points discussed previously on how to launch Absinthe correctly on both Mac OS X and Windows.
Once you launch Absinthe, the tool should recognize your device, and once this happens, you will need to click the Jailbreak button in the middle-right side of the screen. When you click the Jailbreak button your iOS device will look like it is being officially restored through iTunes; it should say something along the lines of "restore in progress." Keep in mind that the Jailbreaking process can take anywhere from 5-20 minutes depending on if you restored your device or not prior to Jailbreaking it.
After the Jailbreaking process is complete you should see a new Absinthe icon (only if you are Jailbreaking iOS 5.0.1 or 5.0). Tap on this icon now and then your device should reboot automatically, and instead of the Absinthe icon you should see a Cydia icon on your home screen. Congratulations! As long as you see Cydia on your iPhone, iPod Touch or iPad then your device is Jailbroken (You will not see a Cydia icon when Jailbreaking the Apple TV because it is not compatible with it).
As you have probably realized, Jailbreaking with Absinthe is an extremely simple process. We hope you have found this in-depth analysis of Absinthe useful, and once again if you are experiencing errors or need an extra hand using Absinthe, please follow a guide through our How To Jailbreak section.