Admit it, you have experienced this problem. You just jailbreaked your iDevice and realized that you have opened up for a whole, new world of possibilities, ready to assault your device. The very first thing you go ahead and install is, of course, WinterBoard. You reboot your device (as Cydia prompts you to), and then THIS happens!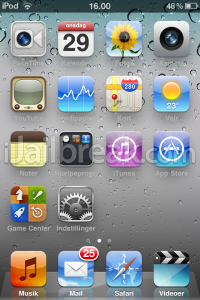 A typical homescreen after installing WinterBoard. Notice the grey icon labels…if you can.
But don't worry, there is a fix for it, and the fix is in fact already inside WinterBoard. What you want to do is go ahead and launch Winterboard.app. When you have done that, you should apply the "White Icon Labels" option as displayed on the picture: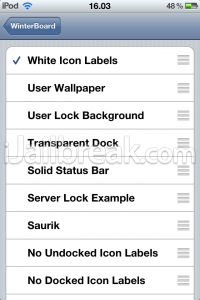 You should choose the White Icon Labels fix as shown on the picture above.
When that is done, just hit the Homebutton and your device will automatically respring. When you unlock your device, it has been fixed!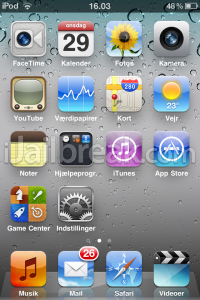 The Springboard with the fix applied. Notice that the dock icons, are still untouched.
If you need any help or anything, just leave a comment below, and I will be answering it as soon as possible.