Now that an iOS 8 jailbreak is out, a lot of you will want to install your favorite tweaks from Cydia. Of course, you will have to install Cydia first, then update Cydia substrate to enjoy the tweaks. However, since this is a new jailbreak, not all your favorite tweaks are going to be compatible.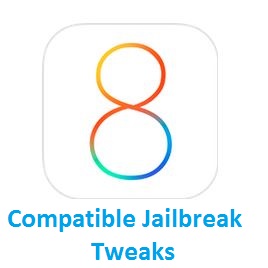 To make things easier for you, iDB has compiled a list of tweaks that are working with the iOS 8 jailbreak and a list of tweaks that aren't. Some of these will not work perfectly and could result in crashes, resprings and reboots. Tread carefully!
Here's a list of tweaks that are working on iOS 8:
Action Menu
AllDrop
AnyAttach
Apple File Conduit 2
Applocker
AppInfo
AndroidLock XT
Bars
Better Folders
Battery Percentage Enabler
BatteryLife
BatteryStatusBar
BetterPasscodeKeypad
BetterPowerDown
BetterWifi7
Bloard
bluePill
Blur Remover
BlurBar
BlurredMusicApp
BlurryBadges
BlurryBar
BlurryContrast
Boxy 2
BTstack
Burst mode
BytaFont 2
CamToggleBlur
CamVolZoom
CamZoomNoReset
CCHide
Chrome Downloader +
Classic iTunes
ClearFolders
CleverPin
ColorFlow
CyDelete
Cydia
Cylinder
Disable Parallax Effect
DisableCoverFlow7
Disk Pie
DotsGoDown
Effects+
EQUALarm
EXRingtones
f.lux
FaceOff 7
FakeCarrier
FakeClockUp
Facebook Unlimited Chat Heads
FBNoNeedMessenger
Filza File Manager
FiveIconDock
Flipswitch
Flurry
FolderCloser
FolderCustomizer
FullCameraLog
GhostPrefs
GroovyLock
HideMe7 Lite
IB Graphics Selector
IconRenamer
iCleaner
iCleaner Pro
Icon Renamer
Impulse
Instahancer
IntelliscreenX
iTouchsecure
iTunes Radio Scrubber
iTransmission 4
iTunes Radio Unlimited
iWidgets
JellyLock7
KeyShortcut Pro
Keywi 2
LabelShift
libhide
Live Effects Enabler
LocationFaker
Lock Screen Tool
LockHTML3
Lockify Pro
LockSpeed
LockKeyboard
Lumos
MaskMuter
MobileTSS
Mobius
MxTube
NewTerm
Nightmode
Nitrous
No Carrier Name
No Dock Labels
No Glint
NoAdStoreOpen
NoCameraGrabber
NoCoverFlow7
NoLockBounce
NoMotion
NoPageDots7
NoSlowAnimations
NoSpot
NoUpdateCircles
OpenSSH
OpenSSL
Pandora Downloader
PandoraSkips
PasswordPilot
Phantom for Snapchat
Poof
Power Tap
PowerApp
PreferenceLoader
Protube
RaiseToCall2
Record 'n' Torch
RocketBootstrap
RoundScreenCorners
SameStatus
Savegram
SbOpaqueClarity
Shazam On Start
ShowCase
SimplePasscodeButtons
Simplock
SiriNoConfirm
SixBar
SleekCode
SnapMoreText
Snes9x EX+
Snooze
SocialEnhancer
SpeedyHomey
SpotLock
StatusModifier
StatusPeek
Still Capture Enabler 2
SwipeShiftCaret
Tabless
Tage (updated)
TapToUnlock7
TimePasscode Pro
ToneEnabler
TransparentCameraBar
TransparentVolume
True iRadio
Tweebot 2 Classic Sounds
TypeAndTalk
unBold
Uniformity
UnlimTones
Unrestricted Folders Naming
vColor
Video Zoom Mod
Vine++
VirtualHome
Wifi Passwords
WhatsApp+
Zeppelin
Here's a list of tweaks that aren't working on iOS 8:
Activator
Asphaleia
Aria
Auki
Auxo 2
BiteSMS
CallBar for iOS 7
CCLoader
CCToggles
Cloaky
CommCenter Patch
Fancy
iBlacklist
iFile
Messages Customiser
Multitasking Gestures
MyWi 7
Priority Hub
Safari Download Enabler
Sicarius
SleekSleep
Slices
Springtomize 3
TetherMe
TinyBar
The iOS 8 jailbreak is just two days old and within the coming weeks, most tweaks should be updated to work on iOS 8 – 8.1. Have you tried any of the jailbreak tweaks in the list? If you have anything to add to the list, please use the comments section.