Alkaline is a free Cydia tweak, developed by magn20, which allows you to theme your iOS 7 battery icon in the Status Bar without using WinterBoard as show in the picture below.
After installing Alkaline head over to its preference pane in Settings where you will find two options for themes (Bolus and Habesha). The theme Bolus is a slimmer version of the default battery icon found iOS 7. The theme Habesha uses bars and when it gets below 10% the lines will turn into numbers.
Users can create their own themes or they will be able to find other themes created for Alkaline in Cydia to install. After selecting a theme, users will need to respring their device inorder for the effect to take place. Alkaline provides a respring button in its main settings page after you select a new theme.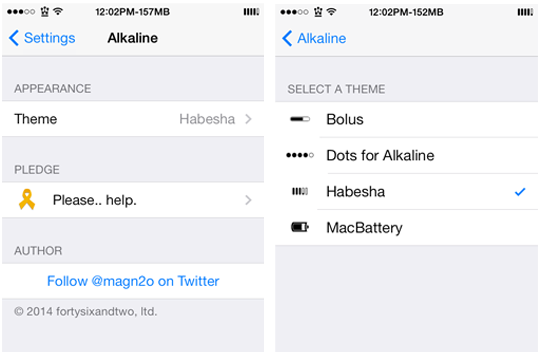 Users will find a donation link, which is a pledge to help fight Neuroblastoma, a form of cancer. There are three links (NMTRC, Alex's Lemonade Stand and Because of Ezra). Because of Ezra is operated by Kyle Matthews, owner of ModMyi.
Let us know what you think of the tweak in the comments.