Today a brand new tweak was released called AltKeyboard, developed by Sentry and coded by Alan Yip, that allows you to type non-alphabetic characters from your default keyboard view, without having to switch back and forth between iOS keyboard modes.
By default, if you wanted to type a question mark for example you would need to tap the 123 key, hit the question mark key and then tap the 123 key again. Even if you took advantage of the hold and swipe gesture that will automatically bring you back to the characters keyboard you still need to tap the 123 key.
With AltKeyboard install, however, you simply flick up on a key to input its alternate numeric or special character (this is displayed at the top of the key). Now typing a question mark is a simple as flicking up. Any of the other special numeric or special characters work the same way.
If you do go into the other keyboard view now you will also have options to type operator keys such as + or minus without going into the #+= keyboard view.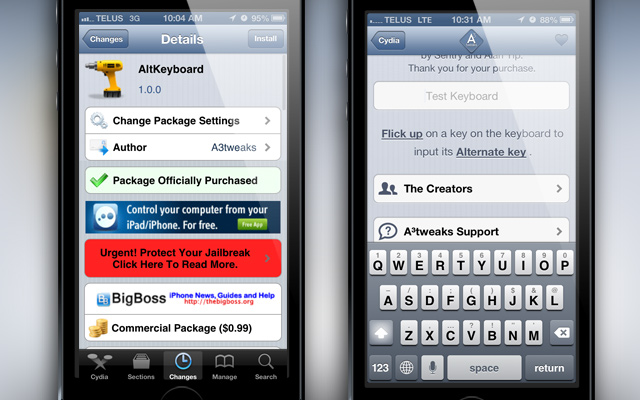 You really have to experience AltKeyboard for yourself to understand how much it increases your typing speed. Some might argue it makes the keyboard look too cluttered, but I would take an increase in typing speed over aesthetics of the keyboard any day.
If you are interested in AltKeyboard you can find it in the BigBoss repo for $0.99. There is no configurable settings, but a panel will appear in the Settings app with more information about the tweak. Let us know what you think of the tweak in the comments and be sure to check out our video review.