We reported last week that Apple would be releasing the iOS 6.1.2 firmware before February 20th and this is exactly what the fruit company has gone on to do. Only moments ago Apple released iOS 6.1.2 to the masses and it includes bug fixes for the Exchange calendar bug that we previously brought to your attention. This Exchange bug was so bad that AOL had to temporarily disable the ability to manage meetings with Exchange on devices running iOS 6.1. As a result it worked closely with both Apple and Microsoft to come up with a solution.
The update weighs in at about 107 megabytes and can be downloaded over-the-air or through one of the direct links shown further down in this post. For those of you who are Jailbroken on iOS 6.x, do not update to iOS 6.1.2 until we get confirmation from the Evad3rs whether or not Apple patch the Evasi0n exploit.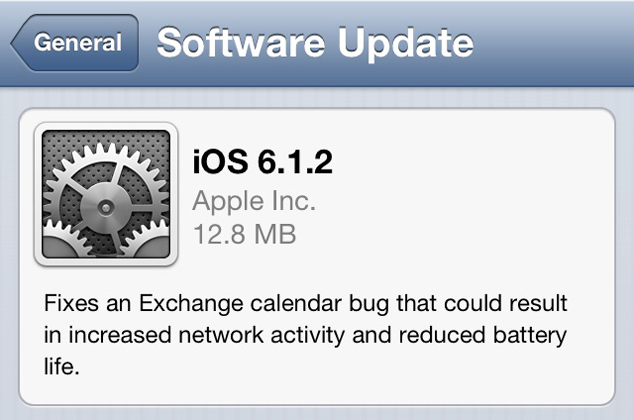 The iOS 6.1.2 firmware comes with a build number of Build 10B146 for most devices, the only exception being certain models of the iPad that come with a 10B147 build number. You can download iOS 6.1.2 from the direct download links below:
We will keep you updated when word is available whether or not iOS 6.1.2 is Jailbreak safe. Until that time please stay tuned.
Update #1: iOS 6.1.2 is likely jailbreak safe, an Evasi0n update should follow shortly. More information is available by clicking here.
Update #2: Evasi0n 1.4 has been released with support for jailbreaking iOS 6.1.2 untethered on iPhone, iPod Touch and iPad. You can download Evasi0n 1.4 by clicking here.
Update #3: Learn how to jailbreak iOS 6.1.2 untethered on the iPhone, iPad or iPod Touch with Evasi0n 1.4 by clicking here.