Planetbeing has tweeted moments ago that the iOS 6.1.2 firmware is looking good. Meaning it will likely be Jailbreakable in a future update of Evasi0n. According to his tweet, he has managed to test the iPhone 5 and iPad Mini Wi-Fi, both of which are still susceptible to the Evasi0n iOS 6.x Untethered exploit.
Apple released the iOS 6.1.2 firmware earlier today that includes bug fixes for the Exchange calendar bug that we previously brought to your attention. It is great that iOS 6.1.2 is likely Jailbreak safe as it means we will be able to Jailbreak on an extremely stable firmware version, which will have very little flaws, if any. The Exchange calendar bug is actually a big deal, and forced AOL to ban devices running iOS 6.1 on their corporate network.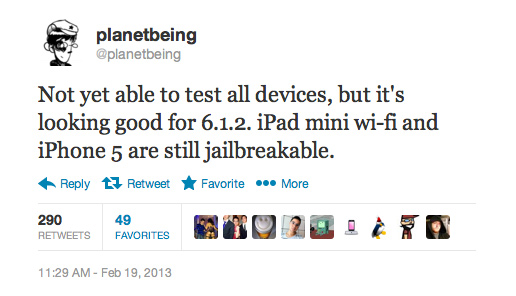 We will update this article once more testing has been done to confirm that iOS 6.1.2 is 100% Jailbreak safe, but it is extremely unlikely Apple would patch the exploit on some iOS devices and not others. In the mean time, still hold off on updating to iOS 6.1.2 as it is not known how long the Evasi0n update will take.
Update #1: Evasi0n 1.4 has been released with support for jailbreaking iOS 6.1.2 untethered on iPhone, iPod Touch and iPad. You can download Evasi0n 1.4 by clicking here.
Update #2: Learn how to jailbreak iOS 6.1.2 untethered on the iPhone, iPad or iPod Touch with Evasi0n 1.4 by clicking here.