That was fast! Only a few hours after Planetbeing tweeted iOS 6.1.2 was Jailbreak safe, the Evad3rs have updated Evasi0n to version 1.4 to support Jailbreaking the iOS 6.1.2 firmware Untethered on all iOS devices.
For those of you who don't know what iOS 6.1.2 patches, it fixes a bug relating to Microsoft Exchange. It is always nice to be running the latest firmware version and as such we would recommend updating to iOS 6.1.2 while you still can. As once Apple releases a firmware version above iOS 6.1.2 you won't be able to update to it; and that firmware version will very likely patch Evasi0ns Untethered iOS 6.x exploit.
Updating to iOS 6.1.2 can't be done over-the-air as Evasi0n blocks this functionality on Jailbroken devices, but it can be done through iTunes. You don't necessarily have to restore your device to iOS 6.1.2 (even though that is recommended), you can just click the update button.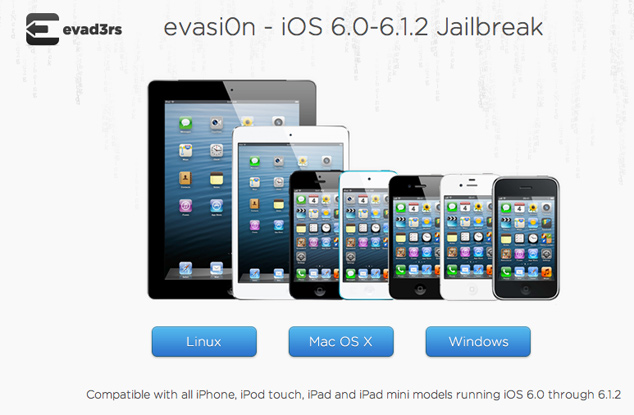 Jailbreaking with Evasi0n is the exact same process as it has always been. We will have an updated how to guide out soon though, but you can follow our old guide and make out just fine as long as you use Evasi0n 1.4+. You can download Evasi0n 1.4 from the iJailbreak Downloads Section or from one of the direct links shown below:
Download Evasi0n 1.4 for Mac OS X
Download Evasi0n 1.4 for Windows
Download Evasi0n 1.4 for Linux
Update #1: Learn how to Jailbreak iOS 6.1.2 Untethered by following our tutorial here.