Only a few minutes ago we told you that Chronic Dev's big announcement was an update on the iOS 5 Untethered Jailbreak. This big announcement from Chronic Dev appeared in the form of a blog post on GreenPois0n.com and talked about why an Untethered iOS 5 Jailbreak was never released. It turns out, it was because Apple had patched most of their exploits they had found.
Apple managed to patch these exploits, due to the fact that every time you sync your iPhone, iPod Touch or iPad iTunes sends crash reports to Apple. These crash reports are how Apple stays one step ahead of the Jailbreaking community. To solve this problem, Chronic Dev have released a tool to turn this crash reporting ability against Apple. This tool is called Chronic-Dev Crash Reporter and with one click of a button it will disable Apple to take crash reports off your iPhone, iPod Touch and iPad. More importantly, Chronic-Dev Crash Reporter will send your iOS Device's crash reports to a private Chronic Dev server. That will allow Chronic Dev to have access to large database of crash reports, which can lead to exploits, which can further lead to Jailbreaks for us all.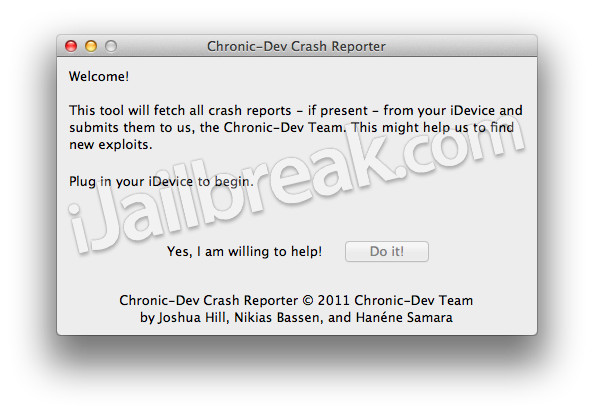 If you would like to download Chronic-Dev Crash Reporter you can do so by clicking the download link below:
Note: At this time Chronic-Dev Crash Reporter is only for Mac OS X. A Windows version is coming within the next 24 hours.
We urge all of you to download Chronic-Dev Crash Reporter now. You will be greatly benefiting the Jailbreaking community by helping Chronic Dev find untethered iOS 5 exploits! Keep in mind that a How To guide for using the Chronic-Dev Crash Reporter tool will be published soon, so stay tuned. If you have any questions or thoughts please leave them in the comments section below.
UPDATE #1: Windows version of Chronic-Dev Crash Reporter is available here.
UPDATE #2: How To: Use Chronic-Dev Crash Reporter To Help Find Untethered iOS 5 Jailbreak Exploits [Mac OS X]