Chronic Dev have released a new tool to stop Apple from taking your iOS Device's crash reports, and instead re-directing these crash reports to Chronic Dev servers. With possession of these crash reports, Chronic Dev will have a large database of flaws in the iOS operating system, that can hopefully provide an endless source of exploits for future untethered Jailbreaks. This new tool released by Chronic Dev is called Chronic-Dev Crash Reporter.
When Chronic-Dev Crash Reporter was first released it was only for the Mac OS X operating system. Now, however, you can download Chronic-Dev Crash Reporter for the Windows operating system.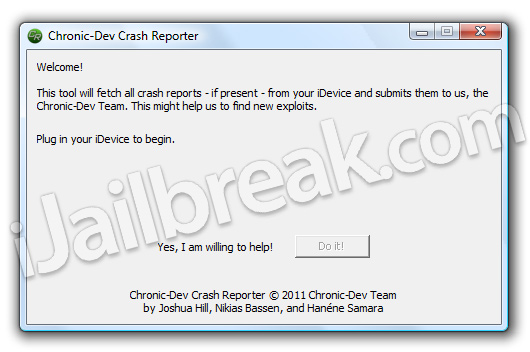 If you have a currently Jailbroken iPhone, iPod Touch or iPad then there should be no reason why you should not use this tool. It is extremely easy to use, and only requires you to click a single button! You can go ahead and download Chronic-Dev Crash Reporter for Windows by clicking on the download mirror below.
Note: It took me awhile to get Chronic-Dev Crash Reporter working on Windows. First of all, this is because certain Virus Protection programs (like AVG) detect this tool as a virus, when it is not. Second of all, Windows Firewall likes to block the uploading of these crash reports. Disabling these features for a short period of time may be necessary to use Chronic-Dev Crash Reporter on Windows.
Please let us know if you have any questions or thoughts you would like to share in the comments section below…
UPDATE #1: Mac OS X version of Chronic-Dev Crash Reporter is available here.