If you're looking to jailbreak your iPhone, iPod or iPad running iOS 9.2 up to 9.3.3, then look no further as Pangu is your solution to everything.
For those of you who don't know, a brief summary of jailbreaking is essentially opening your iOS device up to editing and the ability to install tweaks that Apple doesn't want you to install.
So, you've got your iOS device and you're running a compatible version, here's what you need to do to. (Don't forget, all of this is completely reversible using a simple software restore)
Step 1
Go to www.pangu.io – This is the only official pangu website, all the others are fakes and will most likely try to scam you.
The language will normally automatically adjust using your source country.
Step 2
You should hopefully be greeted with the following page (Written 23rd September 2016 – This may have changed since).
Simply click on the centre red button to download and you'll be taken to another page.
Step 3
Don't worry! This looks much more complicated than it actually is!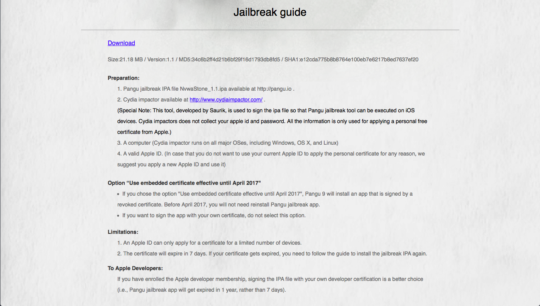 All of the text within the guide is probably confusing you, so allow me to explain.
Starting at the top…
Size, Version, MD5 and SHA1: You don't need to worry about these at all. MD5 and SHA1 are essentially verification codes.
Pangu Jailbreak file: An iPA is an Application essentially. Pangu, and Cydia, are apps. The app simply needs putting on your device an alternative way to how Apple would prefer you to do. Hence the need to download it.
Cydia Impactor: Fancy phrasing for install program. This is the program that will run on your computer (Mac, Windows & Linux).
Embedded Certificate: Sometimes, app developers such as Ubisoft, like to test how there games work on real devices, so they install a certificate to allow them to install said app, without downloading from the app store. All this certificate does, is allow you to install the app to jailbreak your device. Nothing More.
Anyway, back to the guide.
Step 4
Download both the 'Cydia Impactor' (fancy installer name) and the iPA file to a folder on your desktop. I recommend keeping them in the same folder just so you don't lose them.
Unzip the 'Cydia Impactor' using the default unzipping tool and run it. A small window should open up that looks like the one in.
Step 5
Connect your iOS device to your computer using a fully working cable, not one that you have to bend to get to work as this could cause corruption during the jailbreak, which just adds more confusion!
Step 6
Open up the folder that you kept the iPA in and simply drag it over to where your iPhone name is and drop it when you see the "copy" popup label.
Step 7
Once thats done, we're almost onto the easy stuff now!
Now you simply need to enter your iTunes email login and password. Don't worry, these aren't 'sold on' or anything, just sent directly to Apple's servers.
Step 8
A big scary warning will pop up now, simply ignore it unless you have an active, iOS developers account.
The warning is pictured below, however you only need to worry if you develop apps and submit them to the App Store
Again, there is no need to worry.
Step 9
It's time to sit back and relax for a while now.
The 'Cydia Impactor' will automatically sort everything out in the background and install the app you dragged over earlier, onto your device. The only error notification is normally if your Apple ID or password was wrong.
Unlock your device and head to the settings app, ignore anything new that may have been installed on the home screen, its not ready for you just yet.
So, the route is : Settings -> General -> Device Management
There will be a new profile using your Apple ID that you entered earlier as the developers name. Simply tap on it and, if prompted, say you trust the profile.
Step 10
Click the home button to exit out of settings and take a browse on your iOS device and find the Pangu App. It should be installed like any other app, if not, try rebooting your device.
Step 11
Click the start button and let your device work its magic. Once it's done you will find a new app named Cydia, and you have now officially jailbroken your device.
Congratulations.
Did you find this guide helpful? Leave a comment down below about what you plan to do with your newly jailbroken device and don't forget to 'like' us on Facebook to stay updated when we post a new article.