Apple released the iOS 6.1.2 firmware to fix an Exchange calendar bug and to a lot of peoples surprise, the fruit company never patched the Evasi0n iOS 6.x Untethered exploit. As such, the Evad3rs released Evasi0n 1.4 with support for Jailbreaking the iOS 6.1.2 firmware Untethered on all iOS devices.
It is recommended that everyone update to iOS 6.1.2 so you can be running the latest firmware version and be Jailbroken before Apple releases another firmware update to fix the Evasi0n iOS 6.x Untethered exploit. As once Apple releases a new firmware version you will not be able to strictly update to iOS 6.1.2.
In order to update to iOS 6.1.2 you will need to do an update or restore through iTunes (a restore is always recommended). You cannot update to iOS 6.1.2 over-the-air because it is restricted with all devices Jailbroken with Evasi0n, and for those non-Jailbreakers updating over-the-air to a new firmware versions is not compatible with Evasi0n. You will need to follow our preparation guide for more information.
In this tutorial you will learn how to Jailbreak your iPhone, iPod Touch or iPad running iOS 6.1.2 with Evasi0n. Keep in mind that the steps are universal for all firmware versions.
iOS 6.1.2 Untethered Jailbreak With Evasi0n
Step 1: The first thing you will need to do is download Eavsi0n 1.4 for Windows, Mac OS X or Linux. This can be done by using one of the links below or through the iJailbreak Downloads Section.
Download Evasi0n 1.4 for Mac OS X
Download Evasi0n 1.4 for Windows
Download Evasi0n 1.4 for Linux
Step 2: With Evasi0n downloaded you will need to extract it. On Mac OS X you will find a .dmg file that upon being clicked you will be able to drag the files to your desktop, but one Windows you will have a .zip file that can be extracted by right clicking on it and then clicking the extract to folder option.
After the Evasi0n Jailbreaking tool has been extracted find the Evasi0n app / .exe file. On Windows you will need to right click on it and then click the Run as administrator option. On Mac OS X 10.8 Mountain Lion and above you will need to hold down the control button on your keyboard, click the Evasi0n app and then the Open option to get past Gatekeeper.
Step 3: With Evasi0n up and running you will need to plug your iPhone, iPod Touch or iPad into your computer via the USB cable (upon doing this Evasi0n should recognize your device). Before you proceed any further you will also need to ensure you disable your lockscreen passcode if you have one enabled. This can be done by launching the Settings app, going into the General tab, followed by Passcode Lock and then tapping Turn Passcode off.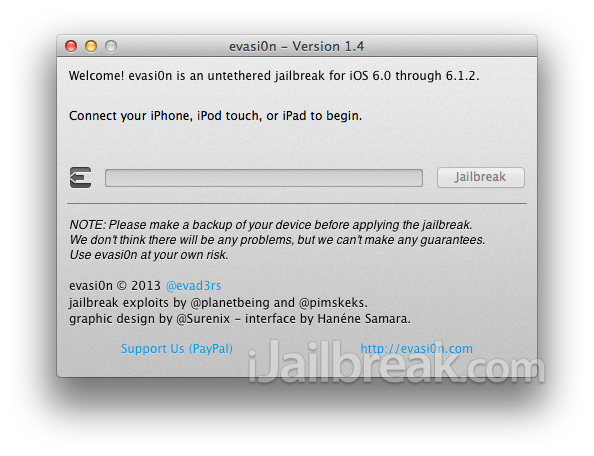 Step 4: With your lockscreen Passcode disabled, iPhone, iPod Touch or iPad plugged into your computer and iTunes closed you can click the Jailbreak button. The process will now begin and you should see the progress bar moving forward.
Sit back and do not touch your computer until Evasi0n tells you to unlock your device and search for a newly created icon by the name of Jailbreak.
When you see this message simply follow its instructions.
Unlock your iPhone, iPod Touch or iPad
Find the newly created Jailbreak icon on your homescreen
Tap this icon ONCE, it will launch and quickly close itself. This is normal.
Step 5: You will then see the Evasi0n Jailbreaking tool start back up again and the progress bar should start moving. When the Jailbreak is complete you will see a "Done!" message displayed . This means the Jailbreak was successful! You will now just need to sit back until your iOS device automatically restarts, which might take a several tries.
Step 6: When your device restarts it will display a white background with an Evasi0n logo. This is again part of the Jailbreaking process and you will see messages like Setting up Cydia, Clearing SpringBoard cache etc.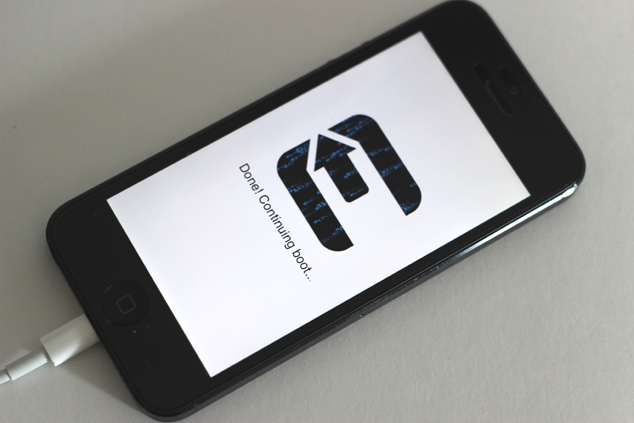 Once everything is finished being configured your device will be brought to the lockscreen. In which case you can unlock your device, find the Cydia icon on your SpringBoard and be on your way!
Your iPhone, iPod Touch or iPad should now be Jailbroken Untethered on iOS 6.1.2. That wasn't so bad was it? For those that are new to the Jailbreaking scene make sure you check out our Top Cydia tweaks and top Siri tweaks section to find some of the best tweaks available.