Earlier today we told you how to unlock your iPhone 3GS, iPhone 4 or iPhone 4S running the iOS 5.0 firmware plus on any baseband version with SAM (Subscriber Artificial Module). The process, while long, was not very complicated and allowed the average person to unlock their iPhone within 15 minutes. Which is not bad considering this is a free software unlocking solution.
If you managed to successfully unlock your iPhone using SAM then you will want to make sure you back up your activation ticket, generated after unlocking your iPhone. Although we did show you guys how to do this briefly, we thought it would be a good idea to go slightly more depth on the subject. Thus, in this how to guide you will learn how to backup your unlocked iPhone's activation ticket for future use.
Backup iPhone's (SAM) Activation Ticket
Step 1) – The first thing you will need to do is download a program to view your iPhone's file-system. You can use an SSH client like WinSCP (Windows) or Cyberduck (Mac OS X). The program I recommend download however, is called iExplorer and is compatible with both Windows and Mac OS X. The easiest method of course though would be to simply use the application iFile available in Cydia. Thus, this is the file-system explorer program I will be using for the rest of this how to guide.
Step 2) – When you have an iPhone file-system explorer application you will need to navigate to the following directory:
/var/root/Library/
Step 3) – Once you are in the directory shown above you will need to tap on the edit button in the top right hand corner of the screen. Upon doing this you will notice a circle will appear next to each directory.
Tap the circle next to the Lockdown folder and click the Archive icon located at the bottom of the screen. Now simply name your archived version of the Lockdown folder something you will remember (include the carrier name).
Step 4) – Find your archived file (should be located at the bottom of the list) and then tap the circle next to it and click the email button.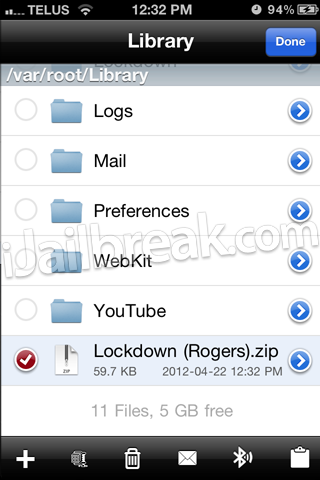 From here you will simply need to email yourself the file. Once you have done this your iPhone's activation ticket is backed up for future use, and you can rest easy knowing your unlock has been preserved.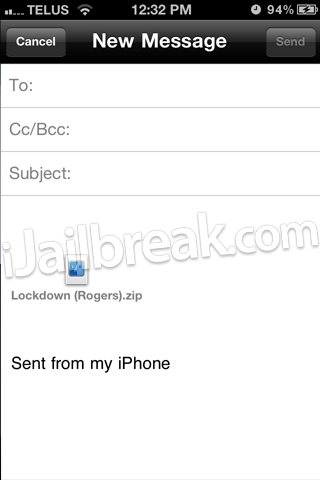 Please keep in mind that if you plan on using multiple SIM cards you should repeat this method on each one. If you have any further questions or thoughts please leave them in the comments section below.
Update #1: Is this method too complicated? Did it not work? Why not use RedSn0w to automatically backup your iPhone's activation ticket. Click here for more information.