As much as I love my Mac computer and couldn't think about living without it, there is still some tasks such as programming that I prefer doing on my Windows computer. Windows has a lot of things going for it, but it just isn't up to par with Mac OS X in terms of stability. I can count the number of times my Mac computer has let me down on my fingers, as for my Windows computer, well I would start having to take a tally on my white board.
Another thing that I found with Mac computers is that they don't get bogged down as much as Windows PCs. I have always found that after about 6 months to a year of adequate use on a Windows computer it gets bogged down and sluggish. There are a lot of things that you can do when your computer gets to this point such as defragging or deleting unnecessary files, but I have found that doing a restore or factory reset is the best way to regain performance.
If you feel like it has come to the point where you need to restore or factory reset your Windows 8 computer and have tried using the array of programs Microsoft includes with your PC such as Disk Defragmenter and Disk Cleanup then you are in luck. In this tutorial you will learn how to restore and reset your Windows 8 to factory settings.
Step 1) – The first thing you will need to do is access the charms bar by moving the mouse to the right side of the screen or by pressing the Win Key along with the C key. Once the charms bar has been invoked click the Settings button.
Step 2) – From the Settings menu click on the Change PC Settings button.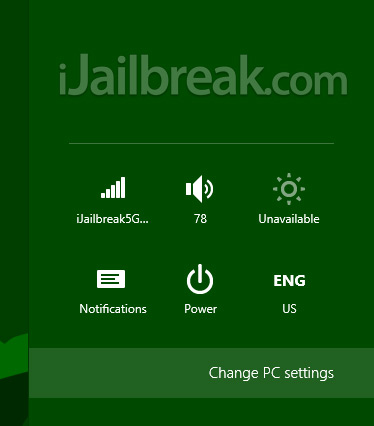 Step 3) – Go into the general tab from the menu on the left side and scroll down until you see two options:
Refresh Your PC: With this option you can reset your Windows 8 computer to its default configuration and all of your personal files will remain. This option is really only if you played around with Settings you shouldn't have and can't seem to revert them.
Remove Everything From Your PC: With this option you can actually reset your Windows 8 computer to its factory settings as you are essentially reinstalling Windows 8. This way you can start fresh and hopefully regain the performance you had when you first purchased your computer. Keep in mind that you will obviously lose all personal files so make sure you back them up on an external hard drive or to the cloud.
Choose whichever option is applicable to your current situation and then proceed to following the brief on-screen instructions.
Note: As long as there is an active Windows 8 recovery partition on your computer then this will work without any hassle. If your computer does not have one however, you will require the purchased Windows 8 installation media.
As you can clearly see, Microsoft has made the process of doing a factory reset much easier than before and it will certainly be appreciated by its customers. Let us know if you have any further questions or thoughts regarding the Windows 8 restore process in the comments section below.