Not long ago we shared with you a method for changing your iPhone or iPad's carrier logo without requiring a Jailbreak. The method involved simply using an application called CarrierEdit. The only unfortunate aspect to CarrierEdit was that it was only compatible with Mac OS X.
Thankfully however, a developer by the name of Dany Lisiansky has stepped up to the plate and developed a Windows version called CustomCarrierLogo. The process for applying custom carrier logos to your iPhone or iPad is almost identical to using CarrierEdit, but regardless we will walk you through the entire process.
Step 1) – The first thing you will need to do is download CustomCarrierLogo. If don't currently have Zeppelin logos on your computer then you can download some pre-made ones that come with CarrierEdit. Don't forget, if you would like to make your own carrier logos you can follow our tutorial.
Step 2) – Once you download CustomCarrierLogo extract it and then launch the program by double clicking the executable file. Once CustomCarrierLogo is up and running you will need to press the Let's Get Started Button.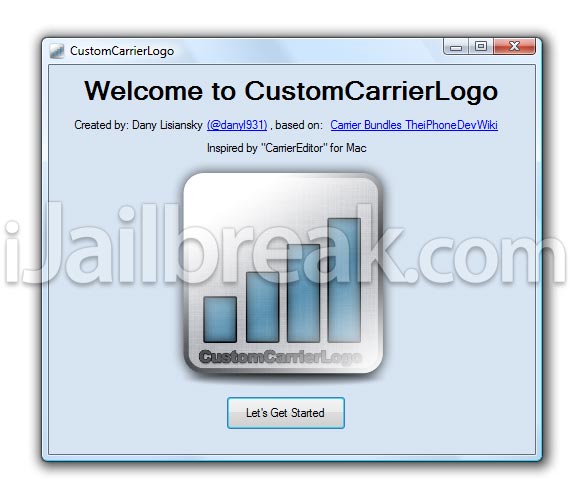 Step 3) – You will now come to a screen with many options. The first thing you will need to do is enter your carrier version. For CustomCarrierLogo to work it needs to update your carrier version and as all carriers have different versions CustomCarrierLogo needs to know your specific carrier's version. In order to find your carrier version simply launch the Settings app, tap on General, then about and finally scroll down until you see carrier. Enter whatever version is displayed to you in the Current Carrier Version Field.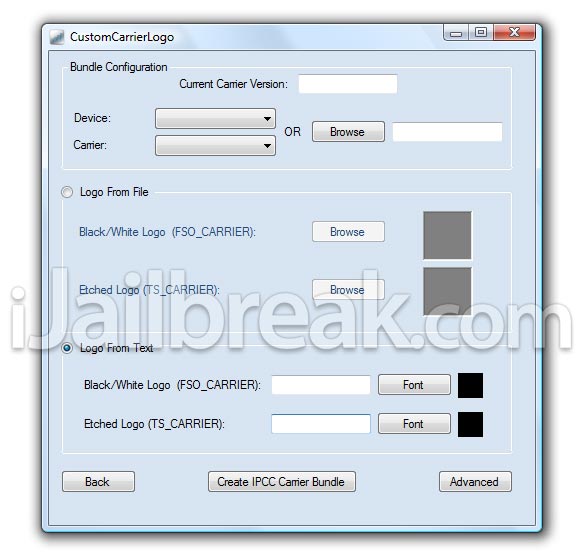 Once you have done this select your Device and Carrier from the drop down list. Finally you will either need to select Logo From File or Logo From Text. If you have a Zeppelin logo on hand use that, if not you can make your carrier logo out of plain text as well. Once you have finished selecting all the applicable options your screen should look something like the one depicted below.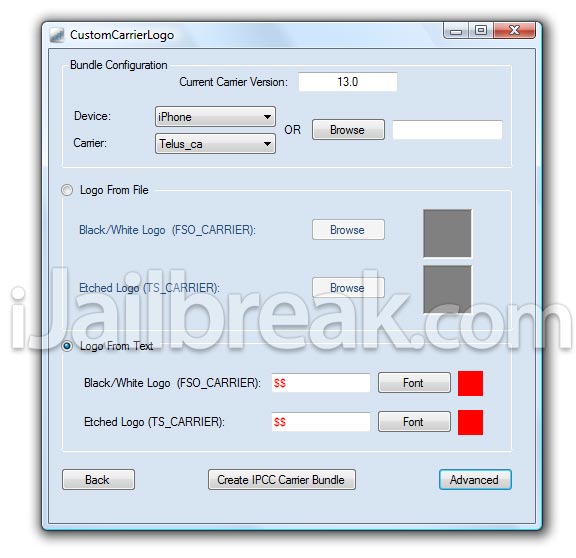 Step 4) – If your screen looks like the one shown above, click the Create IPCC Carrier Bundle button. Doing this will create two .ipcc files on your desktop. One will be a backup of your default carrier logo, it will contain the word original, and the other will be the newly created carrier logo.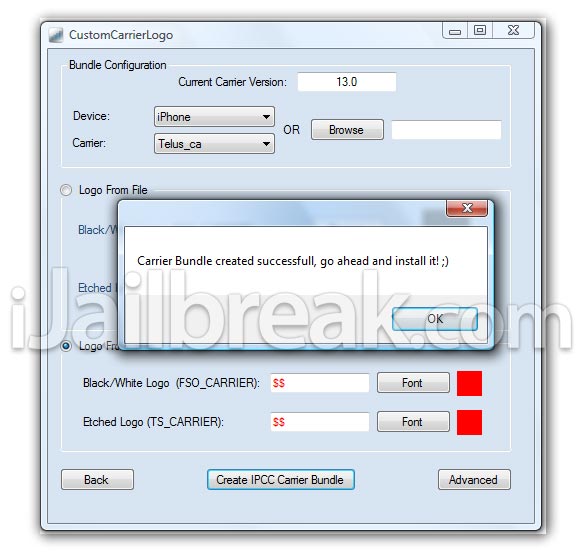 Step 5) – To actually install your custom carrier bundle you will simply need to plug your iPhone or iPad into your computer, select your device within iTunes, holding down the Shift key and then click the Restore button. Now select the .ipcc file. Keep in mind that this will not actually restore your device to factory settings, no data will be lost.
In a couple seconds the custom carrier logo should be applied to your device. If you don't see your carrier logo applied simply reboot your device. To revert back to your default carrier logo simply use the original .ipcc file saved on your desktop and repeat the process from step 5.