Yesterday we told you that Apple had patched their activation servers to fix the server-side bug that the new SAM iPhone unlocking method relied on. This means you will no longer be able to unlock your iPhone using SAM, and will need a SIM interposer solution instead. For those that did manage to unlock their iPhone with SAM it is extremely important that you back up your iPhone's activation token. If you do not do this and something goes wrong where you are forced to restore your iPhone, it will not remain unlocked. Thus, the importance of backing up your iPhone's SAM activation token should not be taken lightly.
In the past we have told you how to back up your iPhone's SAM activation token manually and with RedSn0w. With the Cookie Cydia utility being released yesterday however, this brings a third option into the picture. As such, in this how to guide you will learn how to back up your iPhone's (SAM) activation ticket for future use using the Cookie Cydia utility.
Backup Activation Ticket With Cookie
Warning: This method uploads your activation token to a 3rd party server (Weiphone).
Step 1) – The first thing you will need to do is launch Cydia from your SpringBoard (homescreen) and go into the Search tab. Once in the search tab you will simply need to search for:
Cookie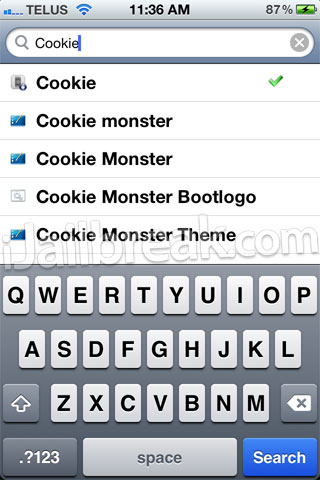 Step 2) – When you see Cookie on your search results tap on it and install it to your iPhone.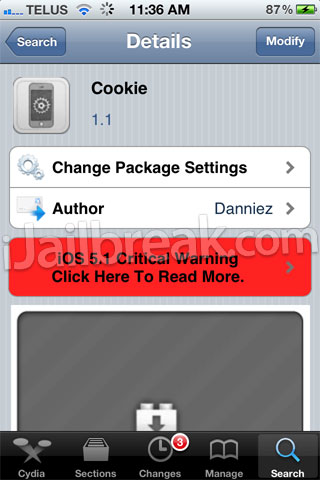 Step 3) – With Cookie installed you will need to launch it from your SpringBoard.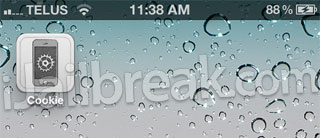 Step 4) – With Cookie up and running you will be presented with your iPhone's UDUD and IMSI strings. We suggest double checking to make sure these strings are correct before moving on. You can do this by plugging your iPhone into your computer via USB, launching iTunes, selecting your device from the list in iTunes and going int the Summery tab. From here you will simply need to click on the word "serial number"  beside the picture of your iPhone and you will see your UDID, and if you keep on clicking you will see your IMSI string as well.
Note: Obviously also ensure that you do not have a UDID faker installed.
Step 5) – Once you have double checked your UDID and IMSI strings you can go ahead and click the Backup Activation button.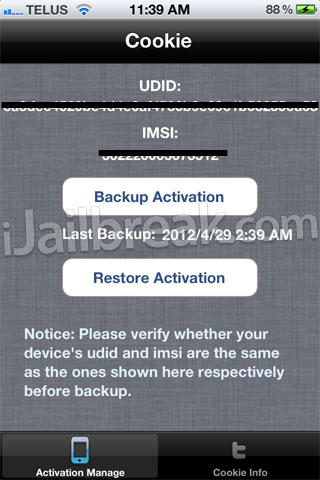 After clicking the button your Activation Ticket will be uploaded to the cloud and will be available for you when you want to Restore your activation ticket (this is done by simply clicking the Restore Activation button).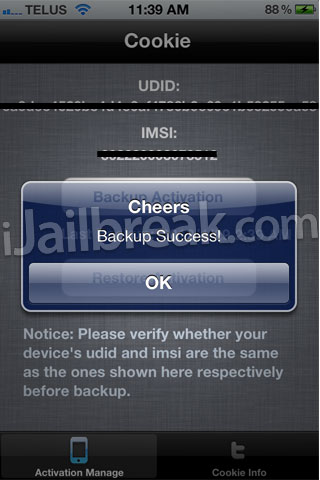 If you are not comfortable backing up your activation tickets to a 3rd party server then we recommend using either RedSn0w or doing it manually through SSH. It is no doubt that using the Cookie Cydia utility however, is the quickest and easiest way to back up and even restore your iPhone's (SAM) activation token. Please leave any further questions or thoughts in the comments section below…