Earlier in the week, we mentioned that the Verizon iPhone has been jailbroken with GreenPois0n RC5 b4. This guide will show you how to jailbreak a Verizon iPhone 4 untethered on iOS 4.2.6 using GreenPois0n. If you need to jailbreak iPhone, iPod Touch or iPad untethered on iOS 4.2.1, follow our guides: Mac OS X or Windows.
Step 1) – The Verizon iPhone is currently limited to running only the iOS 4.2.6 firmware. This means you will not need to worry about running a specific firmware version, like in our other two tutorials.
As you do not need to worry about your firmware version, the very first thing you are going to need to do is download the latest version of GreenPois0n. You can do this by using one of our download mirrors below:
Step 2) – Once you have downloaded GreenPois0n RC5 b4, you are going to need to launch GreenPois0n. When GreenPois0n is up and running you will now need to plug your Verizon iPhone 4 into your computer via USB. Once your iPhone is successfully plugged into your computer, you can begin the jailbreaking process by clicking the jailbreak button (however make sure you are anticipating what comes next).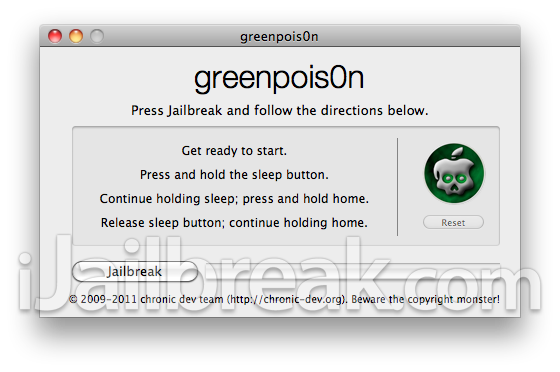 Once you click the jailbreak button you will then need to put your iPhone into DFU mode. GreenPois0n provides on-board instructions for putting your iPhone into DFU mode. Please follow the instructions exactly to avoid errors with your jailbreak.
Note: In case this is your first time jailbreaking, here is what to expect when putting your iPhone into DFU mode:
Get ready to start (5 seconds)
Press and hold the sleep button (3 seconds)
Continue holding sleep; press and hold home (10 seconds)
Release sleep button; continue holding home (10 seconds)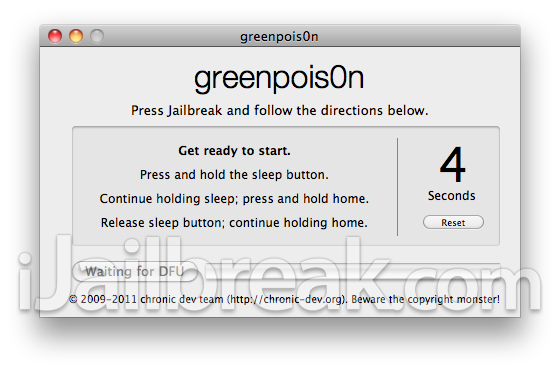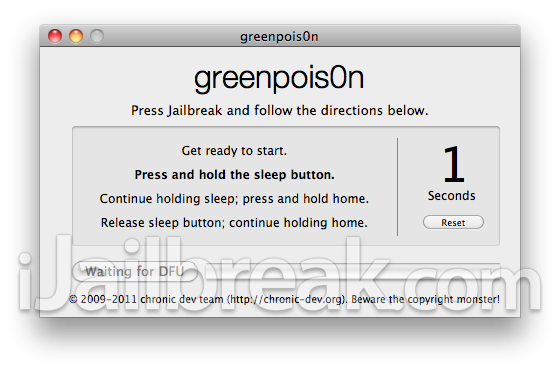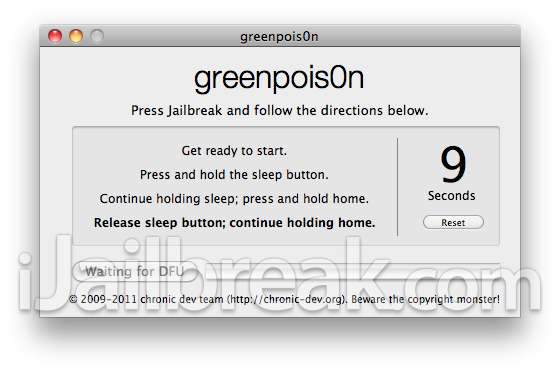 Step 3) – Once your iPhone has successfully entered DFU mode, GreenPois0n will begin jailbreaking your iPhone. Now you just need to sit back and wait for GreenPois0n to respring your iPhone into a jailbroken state.
When your iPhone does respring into a jailbroken state you will need to click the loader icon on your SpringBoard to install Cydia (the 3rd party installer).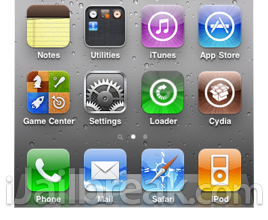 When you click the loader icon, you simply need to click on the Cydia tab and the loader.app will begin installing Cydia to your iPhone. Once Cydia has been successfully installed, you can delete the loader.app. Note: If Cydia is not displayed on your SpringBoard after FIRST clicking the cydia tab through the loader.app, you may need to simply restart your iPhone.
Hopefully this tutorial helped you jailbreak your Verizon CDMA iPhone 4 on iOS 4.2.6 untethered! Let us know if you need any help, or run into any errors, we would be more than glad to help.