Apple released the iOS 6.1.3 firmware yesterday for the iPhone, iPod Touch and iPad. This firmware brought about bug fixes and improvements for Japan Maps. Unfortunately these bug fixes were to do with patching Evasi0n, and as such iOS 6.1.3 is not able to be Jailbroken Untethered… that is unless you have an A4 device.
As A4 devices are Jailbroken for life thanks to the LimeRa1n bootrom exploit they can be Jailroken on all firmware versions, including iOS 6.1.3. It is indeed a tethered Jailbreak however, which means in order to reboot it will need to be plugged into a computer with RedSn0w installed. Newer devices like the iPhone 5 or iPad Mini cannot yet be Jailbroken because there is not bootrom exploit for those devices and that means an entirely new vulnerability needs to be discovered and worked into a Jailbreaking solution.
Considering iOS 6.1.3 does not provide any reason to upgrade and lose your Untethered Jailbreak it is not recommended users update. If you did by accident however, you can follow the steps below for Jailbreaking iOS 6.1.3 tethered with RedSn0w on Mac OS X or Windows.
iOS 6.1.3 Jailbreak Compatibility
Supported Devices:
iPhone 4 CDMA
iPhone 4 GSM
iPhone 3GS (Untethered Jailbreak if old-bootrom)
iPod Touch 4G
Supported Operating Systems:
Keep in mind that most of the screenshots in this tutorial show RedSn0w running on Windows, but the user interface looks nearly identical on Mac OS X as well. To learn more about RedSn0w you can visit our official RedSn0w section.
How To Jailbreak iOS 6.1.3
Note: Before following this tutorial your iPhone or iPod Touch should be running iOS 6.1.3.
Step 1: The first thing you will need to do is download RedSn0w 0.9.15b3 for Windows or Mac OS X using the download mirror below or through the iJailbreak Downloads Section. You will also need to download the iOS 6 firmware for the device you are Jailbreaking, which can be found in the downloads section.
Download RedSn0w 0.9.15b3 (Windows)
Download RedSn0w 0.9.15b3 (Mac OS X)
Step 2: Once you have downloaded RedSn0w 0.9.15b3 you will need to extract it. On Mac OS X this should be done automatically, but one Windows you can do this by right clicking on the zip file and then clicking the extract to folder option.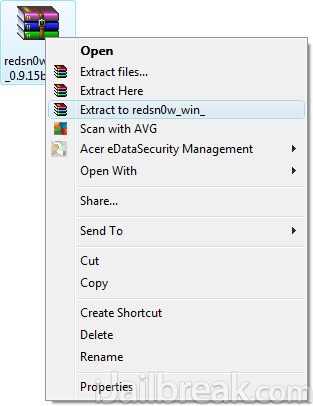 When RedSn0w has been extracted find the redsn0w file. On Windows you will need to right click on it and then click the Run as administrator option. On Mac OS X 10.8 Mountain Lion and above you will need to hold down the control button on your keyboard, click the RedSn0w app and then the Open option to get past Gatekeeper.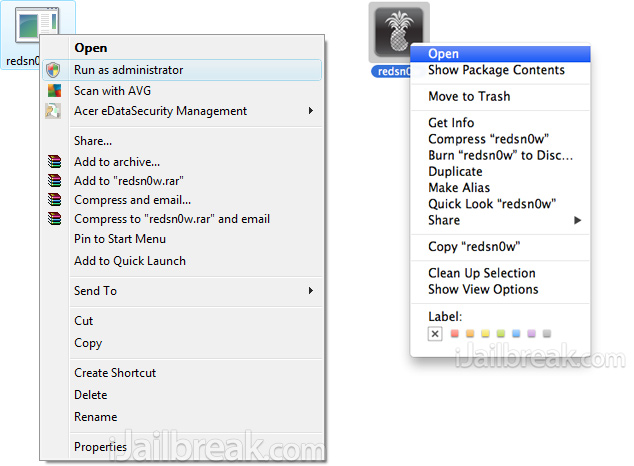 Step 3: With RedSn0w up and running you will need to simply click the Extras button.
Step 4: Next click the Select IPSW button and select the applicable iOS 6 firmware file for your device. After RedSn0w successfully recognizes the firmware you will need to click the Back button, followed by the Jailbreak button.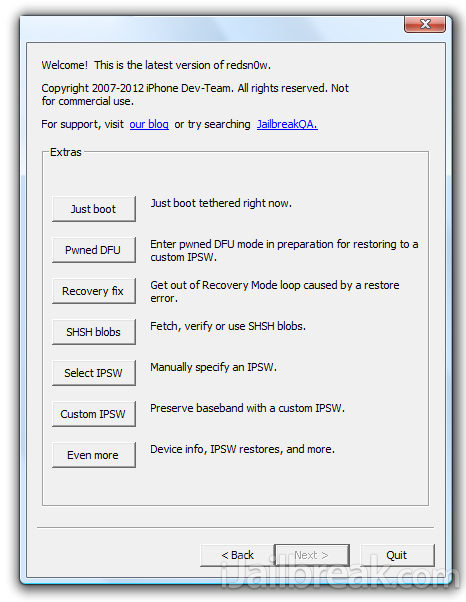 Step 5: Once you click the Jailbreak button you will be presented a screen with preparation instructions for entering DFU mode. Read through these instructions, power off your iPhone or iPod Touch if you haven't already, and then click the Next button.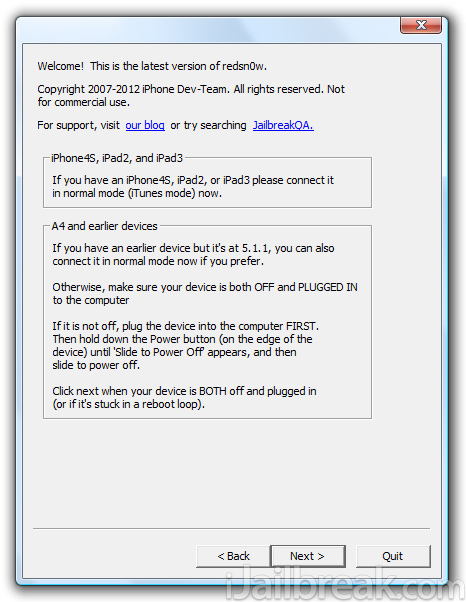 Once you click the Next button you will need to execute the steps shown on-screen, which are:
Hold down Power (corner) button for 5 seconds.
Without releasing the Power button, also hold down the Home (bottom center) button along with the Power button for 10 seconds.
Without releasing the home button, stop holding down the power button for up to 15 seconds.
Step 6: After you have entered DFU mode, RedSn0w will begin processing the iOS 6 firmware.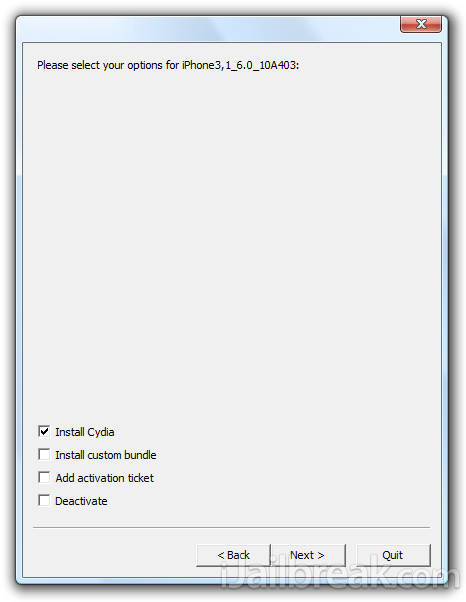 When the firmware has been processed you will come to a screen with a few options for your Jailbreak. Ensure that the "Install Cydia" option is checked, and then click the Next button to begin the actual Jailbreaking process. 
Step 7: RedSn0w will now begin jailbreaking your iPhone or iPod Touch. DO NOT interrupt or use the computer during this time. When the iOS device is finished being jailbroken it will reboot into a non-Jailbroken state (or in some cases will not make it past the Apple logo). This is because you have a tethered Jailbreak and will need to boot it using RedSn0w.
Step 8: Launch RedSn0w again if you exited out of it, click the Extras button, click the Select IPSW button, browse for your device's iOS 6 firmware again and then click the Just Boot button. You will now need to put the iPhone or iPod Touch into DFU mode again. Once your iOS device is in DFU mode it will boot into a Jailbroken state.
Note: Remember that you will need to repeat Step 8 every time your iPhone or iPod Touch loses power.
As you tricked RedSn0w into thinking you were running iOS 6, while you were actually running iOS 6.1.3, your iPhone or iPod Touch is now Jailbroken tethered on iOS 6.1.3. If you have any further questions let us know in the comments section below.
For more jailbreak guides, how to's and tutorials for iPhone, iPod Touch, iPad and Apple TV, check out iJailbreak's How To Jailbreak section.