With a lot of people running the iOS 5 beta series firmware, I am sure downgrading back down to the official iOS 4.3.3 firmware has crossed your mind. As the iOS 4.3.3 firmware is not the latest iOS firmware, however, you will need to have saved your iOS 4.3.3 SHSH blobs. If you have saved your iOS 4.3.3 SHSH blobs we recommend following this how to guide, if you have not saved your SHSH blobs or do not know if you have we recommend following our other How To guide.
Note: The iOS 4.3.3 firmware can be Jailbroken and it is an untethered Jailbreak, however, you must have saved SHSH blobs on the iOS 4.3.3 firmware. Follow our step-by-step guides in our How To Jailbreak section.
Step 1) – The first thing you are going to need to do is download TinyUmbrella (the version in bold) to your computer from our downloads section (TinyUmbrella 5.00.10 Mac OS X/TinyUmbrella 5.00.10 Windows).

Step 2) – Before you actually launch TinyUmbrella we will need to edit a file first. You see, in order to make iTunes use Saurik's SHSH server you are going to need to edit the hosts file on your computer.
If you are on Windows navigate to the following directory:
\Windows\System32\drivers\etc\
If you are on Mac OS X navigate to the following directory00:
/etc/
When you are in the corresponding directory specified above you will need to edit the hosts file and add the following line:
74.208.105.171 gs.apple.com
When you add this line to the hosts file ensure that it saves (you will need administrative permission) and then continue to step 3.
Step 3) – After you have edited the hosts file you will now need to launch TinyUmbrella. Do this now and then plug in your iDevice into your computer and you should presented with a list of currently saved SHSH blobs. Ensure that you see iOS 4.3.3 in this list of saved SHSH blobs or you will not be able to downgrade your iDevice from the iOS 5 Beta 1-7 firmware to the iOS 4.3.3 firmware.
When you have double checked, click the Start TSS Server button.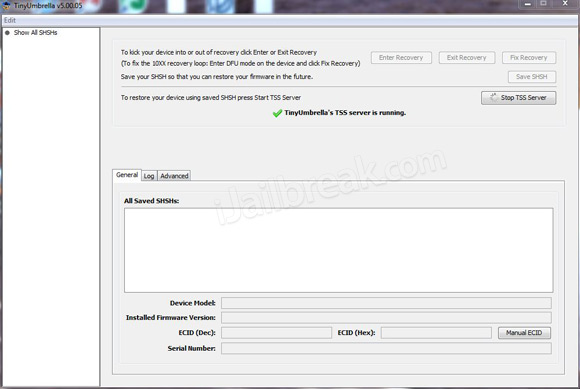 Step 4) – Once the TSS Server has been enabled you will need to launch iTunes. With iTunes up and running click on your iDevice and then hold down the Shift key (Windows) or Alt key (Mac OS X) and click Restore button. Upon doing so a new dialog window will appear where you will need to select the firmware file you wish to restore to. Do this now, and your iDevice will begin being restored.
Note: As always you will need to put your iDevice into DFU mode before restoring it.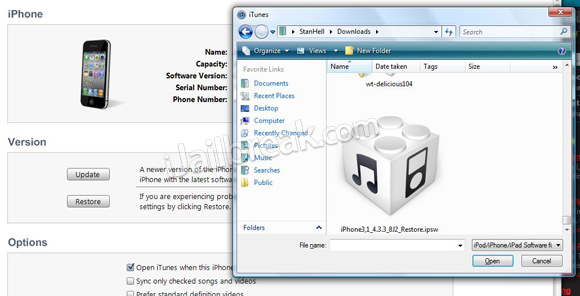 Step 5) – Once your iDevice has finished restoring you should encounter error 1015. When you receive this error all you will need to do is launch TinyUmbrella and click the Exit Recovery Mode button. Upon doing this your iDevice should reboot and function as normal. Congratulations, you have now downgraded your iDevice (If you do not receive error 1015 that is okay as well).

If TinyUmbrella cannot kick your iPhone, iPod Touch or iPad out of Recovery Mode please use RecBoot instead which can be found in the iJailbreak Downloads Section (RecBoot v2.2 Mac OS X/RecBoot v1.3 Windows/RecBoot v1.3 Linux).
Troubleshooting
Restoring your iDevice can often times be a troublesome task full of errors. If you are experiencing errors what we suggest doing is restarting your computer, close all running applications besides TinyUmbrella and iTunes, and then plug your iDevice into a USB port you have not plugged it into before (or one that you usually don't plug it into) and restart the restoration process. When you have tried the advice given above you may need to do the following:
Go into the Advanced Tab and uncheck the following: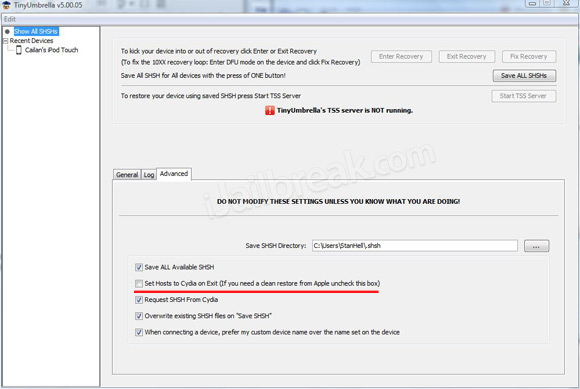 When you Uncheck Set Hosts to Cydia go back to step 1 and try saving restoring your iDevice again.
Hopefully this how to guide has cleared up some confusion on downgrading your iDevice to a lower firmware version using TinyUmbrella. For more downgrading guides visit our How To Downgrade section. Let us know if you had success downgrading to the iOS 4.3.3 firmware in the comments section below…