When you try and restore your iPhone, iPad, iPod Touch iTunes sends a request to Apple to sign the IPSW with the ECID (Exclusive Chip ID) of your device. This request process is actually what an SHSH blob is. Apple implemented the SHSH blob system so that they can force users to only upgrade to the latest iOS firmware and of course prevent downgrading. To get around this limitation imposed by Apple, Saurik (the creator of Cydia) figured out a way to trick iTunes into contacting Cydia servers instead of Apple's servers. This means as long as you have saved SHSH blobs (for the firmware you are downgrading to) you should be able to downgrade without troubles.
Earlier in March we told you two methods for downgrading your iPhone, iPod Touch or iPad from the iOS 5.1 firmware. The first method involved using iFaith to downgrade from the iOS 5.1 firmware to the iOS 5.0.1/iOS 5.0, while the second method involved using TinyUmbrella and required you to edit your hosts file to downgrade from iOS 5.1 to the iOS 4 firmware generation.
One reoccurring iTunes error that we have noticed a lot of you experiencing was iTunes Error 3194. If you have been experiencing iTunes Error 3194 it essentially means that there was an error while iTunes was trying to connect to Cydia's servers. Luckily there is an easy fix for this error that involves simply using TinyUmbrella. Thus, in this how to guide from iJailbreak.com you will learn how to fix iTunes Error 3194 on your Windows or Mac OS X computer.
How To Fix iTunes Error 3194
Step 1) The first thing you will need to do is head on over to the iJailbreak Downloads Section and download the latest version of TinyUmbrella.
Step 2) Now you will need to connect your iPhone, iPod Touch or iPad to your computer via the USB cable.
Step 3) Launch TinyUmbrella from the location you downloaded it to.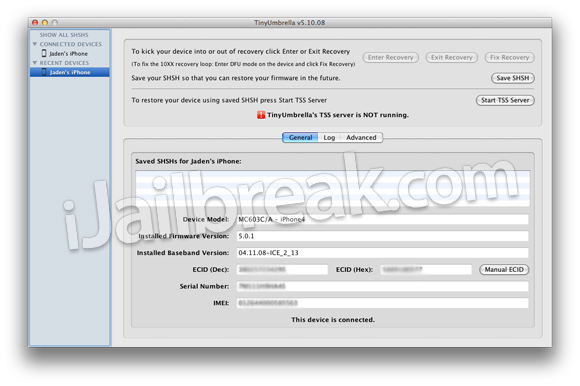 Now click the Save SHSH button. You will now need to wait for TinyUmbrella to download all of your saved SHSH blobs present on Cydia's server to your computer.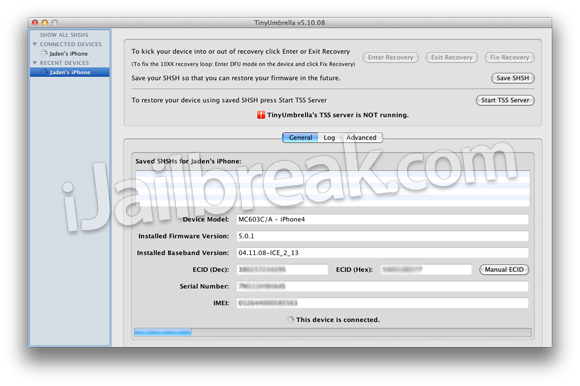 Step 4) Once your SHSH blobs have been all downloaded you will need to click the Start TSS Server button.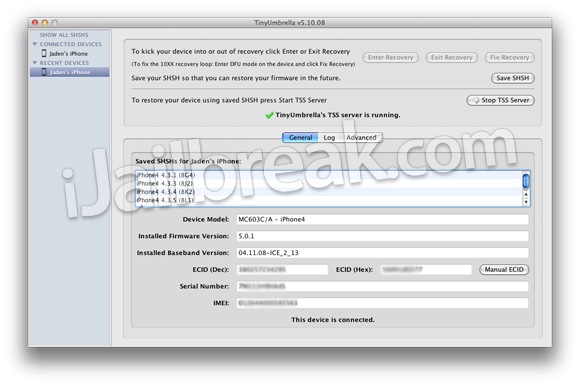 Step 5) When you have clicked the Start TSS Server button you will need to go into the log tab and search for the following two lines:
TSS Server Started!
TSS Accepting connections…
If you see these two lines it means everything is functioning correctly.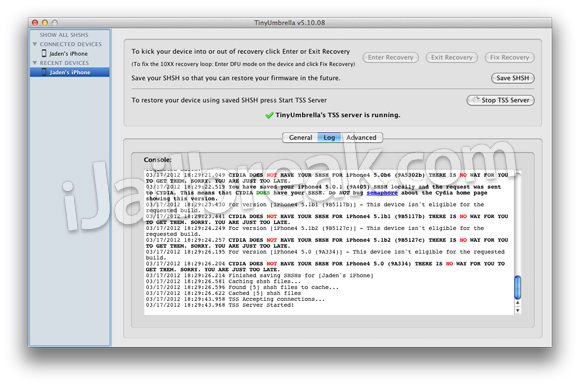 You should always double check however, by launching your browser and going to http://gs.apple.com. If you are re-directed to Cydia's homepage it means iTunes will be able to successfully connect to Cydia's servers.
Step 6) You should now be able to launch iTunes and start the restoration process of the firmware you are trying to downgrade to.
Congratulations! You have just learned how to fix iTunes Error 3194 on your Windows or Mac OS X computer. If you still have any further questions or are experiencing issues please leave them in the comments.