Spire is known to us as the first legal Siri port, unfortunately however Spire is not yet compatible with the newest version of iOS (5.1). The reason why Spire is not compatible with iOS version 5.1 yet is simple, the developers stopped making Spire… or at least have not had time to update it.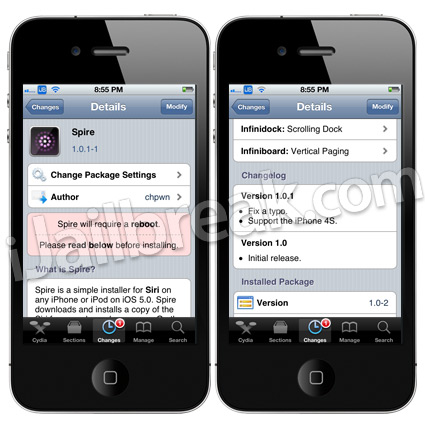 Don't worry though, a new alternative is available to Spire called Spite. Spite is a much faster than spire, but is still in beta. Depending on your device and how many gigabytes of flash storage it has, Spite may or may not work. Thus, it is important to keep in mind that on some devices Spite will not work and you will have to restore for you device to work again.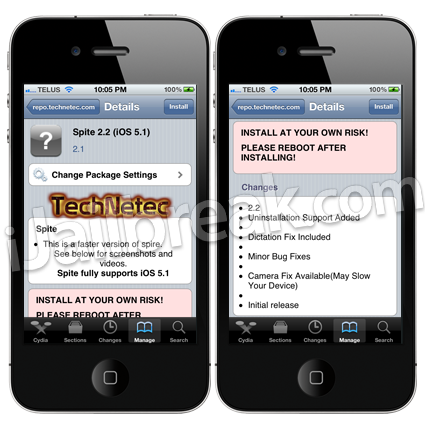 If you would like to get Spire working on your iOS device running iOS 5.1 then you will be glad to know in this how to guide from iJailbreak.com you will learn how to do just his by installing the Spite Cydia tweak.
How To Install Spite Cydia Tweak
Note: If you are using an iPod Touch 4G or 8GB, you will have to restore. So do not proceed. If you are using an iPhone 4 8GB or 16GB the Camera.app will not work. So proceed at your own risk.
Step 1) – Open the Cydia.app and add the following repository:
repo.technetec.com/beta
Step 2) – Install Spite (5.1) or if you are on 5.0.1 or 5.0 and you want the new and faster Spire get Spite (5.0.1).
Step 3) – Reboot, if you are using 5.1, you most likely have a tethered jailbreak. So boot tethered using RedSn0w.
Note: The i4Siri proxy will not work, since when you try to install it, it says you need Spire. It should be updated when Spite is out of beta though.
Enjoy Spite/Spire, and tune in for more tutorials on Siri, Spire/Spite proxies and of course for an announcement when Spite comes out of beta. Please leave any further questions or thoughts in the comments.
[Written by Yahya Kisana]