The Spire Cydia tweak allows you to easily install the Siri GUI (graphical user interface) on your non-iPhone 4S device. The only problem with the Spire Cydia tweak is that users still need to find a working Spire Proxy Server or create their own.
In february we told you about a free Spire Proxy Server called The Three Little Pigs that relied on iPhone 4S owners donating their keys to keep their service alive. Although this method of providing a free Spire Proxy Server can be reliable at times, when there are too many people trying to connect via the same keys things become slow and frustrating. Thus, if you are looking for an alternative to The Three Little pigs Spire Proxy Server then you may want to try i4Siri.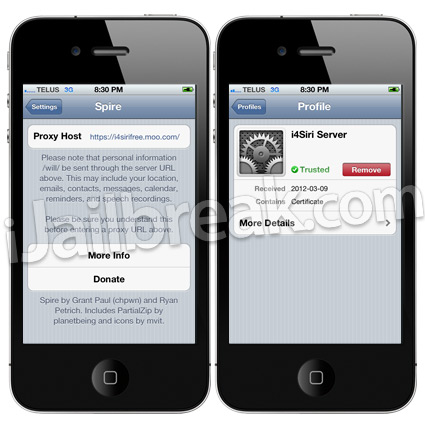 The i4Siri team have recently been working on creating a functional Spire Proxy Server that does not rely on iPhone 4S keys. The way they went about accomplishing this is by creating a hybrid server using siriServer by Eichhoernchen and SiriProxy by plamoni. This allowed them to get rid of the requirement of contacting Apple's servers, as instead Google's text to speech API is used for command processing. This of course also has its own pros and cons, but allows the i4Siri Spire Proxy Server to function independently.
With the recent success of creating an alternative solution for Siri command processing the i4Siri team have announced that their Spire Proxy Server has now been launched to the public.
Our developers have worked hard, and with months of data analysis, testing, and tweaking; We now have a stable product to be enjoyed by many thousand more people for free. Our numbers through this beta have been staggering, with over 2,000 participants, and more then 1,500,000 requests made you have proved to us the demand is there.
If you would like to use the i4Siri Spire Proxy Server on your non-iPhone 4S device with Spire then you will be glad to know the details on how to do this can be found below.
Configure The i4Siri Proxy Server
Step 1) – The first thing you will need to do is obviously install the Spire Cydia tweak to your iPhone, iPod Touch or iPad.
Step 2) – Once Spire has been installed, go into the Settings.app, tap on the general tab, then the Siri tab and finally toggle Siri to the ON position.
Step 3) – Go back to the main Settings menu and tap the Spire tab. Enter the following URL:
 https://i4sirifree.mooo.com/
Step 4) – Now go to the following address in mobile safari and install the certificate to your iOS device.
 http://i4siri.com/installcertificate.html
Congratulations! You should now be able to hold down the home button to activate Siri and have "her" answer your questions. Please leave any questions or further thoughts on the i4Siri Spire Proxy Server in the comments section below…
Note: For more information on i4Siri and to donate to the developers to keep this service alive please visit their website by clicking here.