Chrome for iOS is a great browser however, it lacks the ability to download files just like other iOS browsers. This new Cydia tweak called Chrome Download Enabler will get the job done though.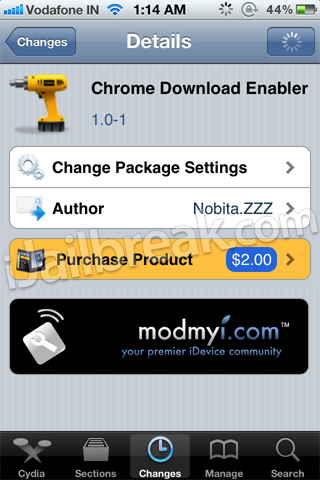 If you have been wanting to download files using Chrome for iOS, here's a nice treat for you. But, don't expect too much, because this tweak isn't easy on the eyes. Chrome browser for iOS is beautiful, while Chrome Download Enabler isn't. On the other hand, it does download files for you and "gets the job done."
Keep in mind that you cannot open files after they are downloaded, unless you have iFile or other file manager installed on your iOS device. If you do want to see what you have downloaded, you'll have to visit http://download/. The tweak also shows you the current download status when you visit http://download/ in Chrome.
That's it! No options to be configured, just a plain simple downloader for Chrome. Chrome Download Enabler is available in ModMyi for $2.00, which is not very cheap. Hence, think twice before purchasing this tweak. Of course it works, but you may not have the best experience! Try it out and tell us what you think.