Despite the fact that there is no official iOS 6 Jailbreak, never mind an Untethered iOS 6 Jailbreak, it is still worth noting that the folks over a SiriPort.ru have updated SiriPort (Original) to support the iOS 6 firmware generation. This means you can currently install Siri on an unsupported iOS device such as the iPhone 4 running iOS 6 that is Jailbroken using our unofficial method.
SiriPort ended up being very popular on the iOS 5.1.1 firmware and allowed a lot of people to get Siri functioning without the need of a proxy server. Keep in mind however, that as all your queries are being ran through privately owned servers, if you would like to maintain your privacy, this probably isn't the best solution for you.

As we mentioned earlier, SiriPort (Original) has been updated to be compatible with the iOS 6 firmware generation and it really is one of your best options to get Siri fully functioning on older generation iOS devices. Thus, in this tutorial you will learn how to install SiriPort (Original) to your iPhone 4/3GS or iPod Touch 4G/3G running the iOS 6 firmware (the process is more-or-less the same).
Install Siri On iPhone Or iPod Touch Running iOS 6
WARNING: it is absolutely critical to ensure you backup your iPhone or iPod Touch prior to following this tutorial. Although a lot of people have had success installing SiriPort it has been known to cause endless boot loops, which result in having to do a factory reset to your iPhone or iPod Touch.
Step 1) – The first thing you will obviously need to do is Jailbreak your iPhone or iPod Touch running the iOS 6 firmware. You can follow our unofficial guide by clicking here, or check the How To Jailbreak Section for a more up-to-date guide.
Step 2) – Next you will need to add the official SiriPort repo. To do this launch Cydia, go into the Manage tab, followed by the sources section and then tap Edit > Add and type in the following repository shown in the quoted area below:
http://repo.siriport.ru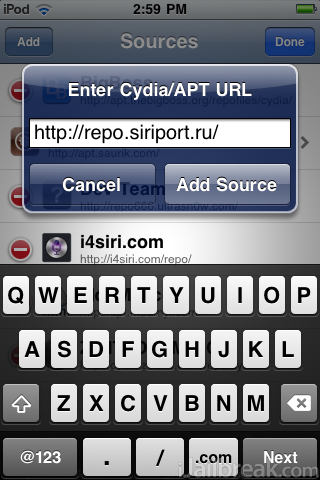 Step 3) – With the repository successfully added, go into SiriPort repo tab and find the following package:
SiriPort (original) iOS 6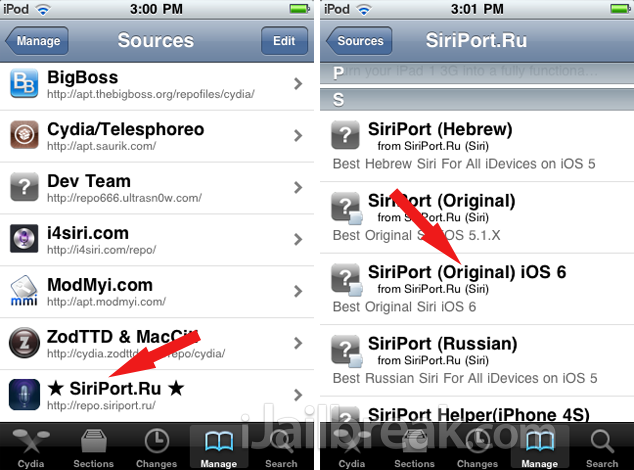 Step 4) – Once you see SiriPort (original) iOS 6 on the search results you will need to tap on it and install it to your iOS device.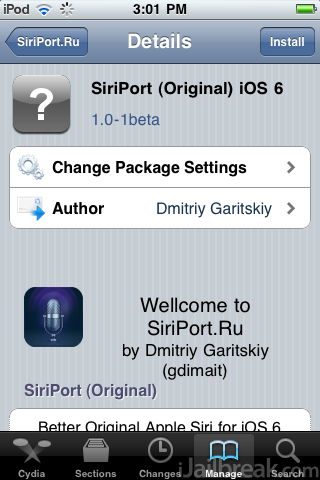 Step 5) – With SiriPort now installed on your iOS device you will need to launch the Settings app and find the SiriPort (Original) section. Once inside the SiriPort (Original) section you should see a button that says Install Certificate. Click this button now and follow the steps for installing the certificate.
Step 6) – Once the certificate has been installed reboot your iOS device.
Step 7) – Now simply invoke Siri and say "Hi". If Siri does not respond in a few minutes you will need to reboot and repeat this process until you get Siri to reply to you. Once Siri does reply to you, it is working and you now have Siri functioning on your older generation iOS device running the iOS 6 firmware.
Note: On our previous tutorial on installing SiriPort our readers reported it took them up to an hour of continuous Siri prompting before it connected. Be patient.
If you followed all the instructions correctly and wore your lucky underwear you may have just gotten Siri working on your iPhone 4/3GS or iPod Touch 4G/3G. Please share your experience with SiriPort (Original) iOS 6 and any questions or further thoughts you may have in the comments section below.