Apple patched the exploits used by TaiG to jailbreak iOS 8.4 in the latest iOS 8.4.1 update. This meant that users who upgraded to iOS 8.4.1, could no longer jailbreak. We didn't expect anyone to try and jailbreak iOS 8.4.1 since iOS 9 is just a few weeks away.
But, the Pangu team has managed to jailbreak iOS 8.4.1 and demoed the same jailbreak during a HackPwn2015 security conference that took place this Friday.
Don't be excited though, as the team only demonstrated that iOS 8.4.1 can be jailbroken, but didn't actually show an iPhone running the jailbreak.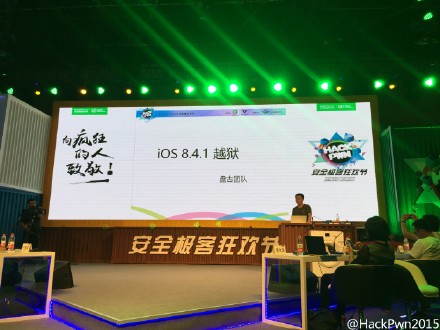 Apple is scheduled to release iOS 9 next month and it would an utter waste if the team were to release a jailbreak now. Instead, they could use the exploits to try and jailbreak iOS 9.
The team will not release an iOS 8.4.1 jailbreak, as mentioned on the Chinese site Weibo. We don't think it is necessary at this moment. Apple is still signing the iOS 8.4 firmware, which means you can simply downgrade if you're on iOS 8.4.1. Once the window is closed, then you will have to wait for iOS 9 and hope for a working jailbreak to be released soon.
We haven't heard anything from TaiG about the iOS 8.4.1 jailbreak. Apple fixed plenty of exploits in iOS 8.4.1, yet the Pangu team managed to jailbreak it. Looks like the team has some exploits hidden under their sleeve, probably waiting for the right time to unleash them!
Who do you think will bring us the iOS 9 jailbreak first? Also, would you rather have a jailbreak for iOS 8.4.1 or wait for iOS 9?