Now that a Mac version of the Pangu8 jailbreak tool is available, it is our duty to write a how to jailbreak article on the same. So here it is.
The Pangu team released the Mac version of iOS 8 – 8.1 jailbreak on Sunday after a long wait. The Windows version was released a while ago, but development for the Mac was undergoing. Not anymore. You can now download Pangu8 for Mac 1.0.0 from our downloads section and go about jailbreaking your iOS device.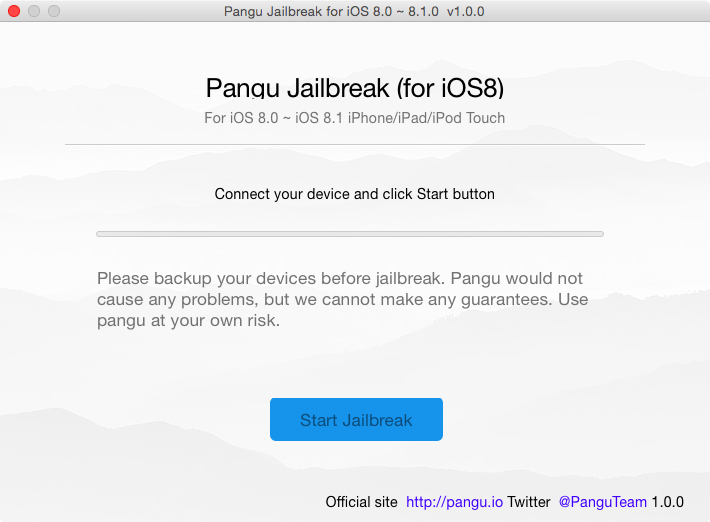 Here's a step-by-step guide on how to jailbreak your iPhone, iPod Touch or iPad on iOS 8 – 8.1 using Pangu8 for Mac. Before you begin, it is highly recommended that you disable Find my iDevice, do a fresh restore from iTunes if you had updated using OTA, turn on Airplane Mode and make sure you have backed up your device on iTunes.
Double-click on the Pangu8 for Mac DMG file. It should extract and save to the desktop.
Right click on the Pangu8 app and select Open and plug your iOS device to the Mac.
If your iOS device isn't detected, unlock your device and a pop-up should appear. Tap on Trust.
Once your device is detected and the Start Jailbreak button turns blue, click on it.
A page with warnings will appear on the Pangu8 tool. Click on 'Already did' to proceed.
The jailbreak process should now begin. A screen saying Slide to Upgrade should appear on your iOS device. Slide to upgrade.
Your device should reboot and you will see Pangu and Cydia icons on your Homescreen.
If for some reason the Pangu app on your homescreen has no icon, you need to perform the jailbreak again.
That's it! You have successfully jailbroken your iOS device using Pangu 8 for Mac. Easy, wasn't it? It's now time to try some of your favorite tweaks.